You enjoy roadtrips and are not afraid to drive during winter? You're dying to explore Iceland but don't know when to go or how to plan your next vacation? We have a good news for you: you found the right place! Going to Iceland is like visiting another planet, everything looks surreal, the landscapes are breathtaking, no doubts this will be one of the best country you'll visit!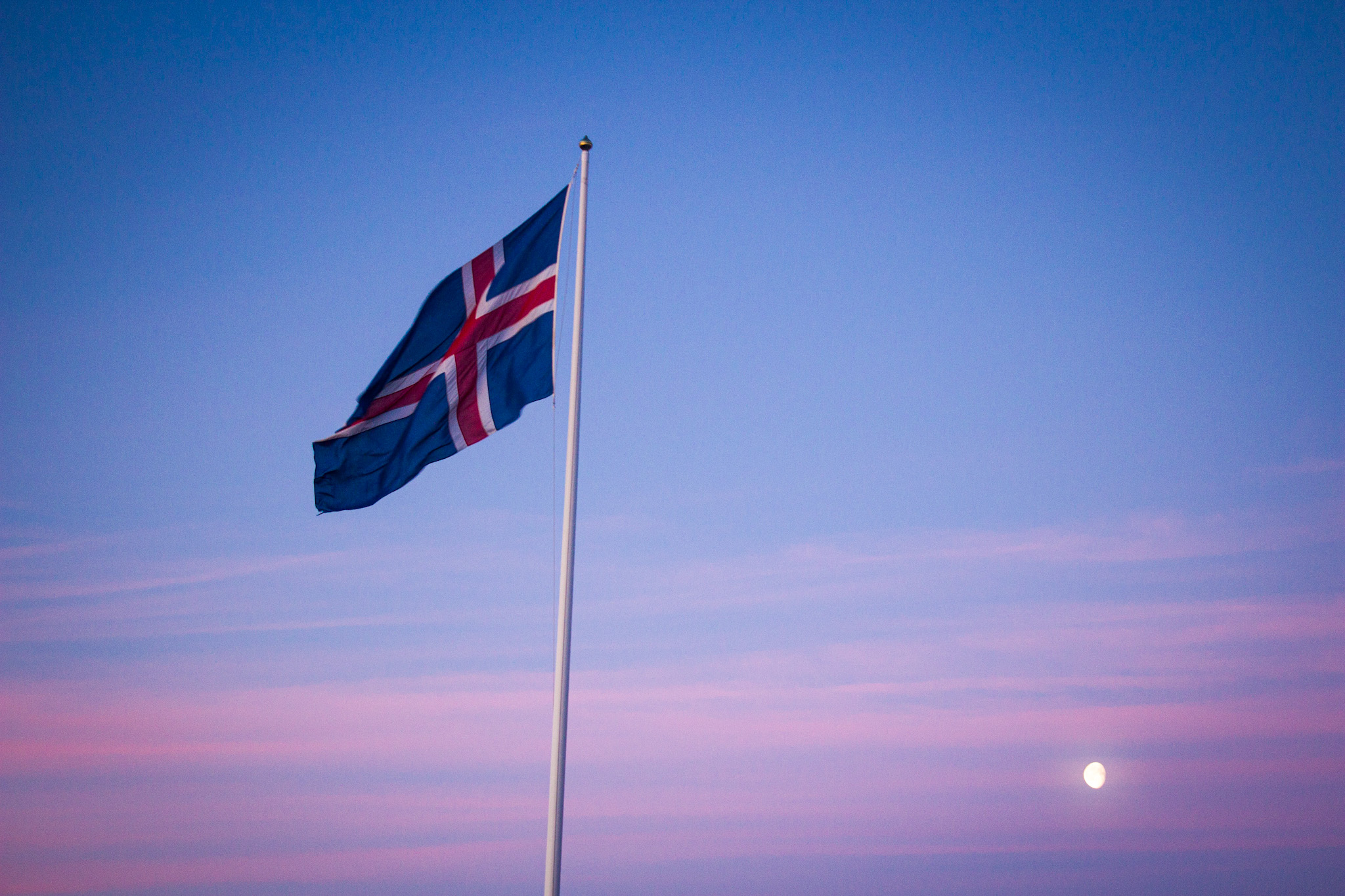 When and how to get there?
We went for New Year's Eve during 1 week and went with EasyJet and Wow. The number of direct flight really depend on when you are looking to go but it is usually quite easy to find a flight to Reykjavik from anywhere in Europe. Worst case scenario, you can do what we did: have a layover somewhere in United Kingdom. Easy peazy!
Why did we decide to go during winter in a cold and snowy country and why should you do the same? In two words: Nothern Lights! and all the amazing glaciers, various landscapes and frozen waterfalls.
What to pack and wear in Iceland?
Winter in Iceland can be very windy! If you're lucky, it is not going to be that cold, but it will feel like you're about to freeze any minute because of the wind. So pack a lot of warm, thermal clothes, don't forget some really warm gloves, hats, scarves and socks. Bring very warm, waterproof parka and shoes and we would even recommend you bring some ski trousers as those can save your day. 
What's the budget for 1 week in Iceland?
Iceland is, as its name suggests, an island that is quite isolated from the rest of the world/Europe. What does that implies? They have to import everything and it makes the cost of living quite expensive! It is actually the most expensive country we've visited in Europe at the moment (we are from Switzerland and the cost of living is quite similar to be honest). So when planning your trip, you should be aware of that and try to book well in advance. The price can really fluctuate depending on what activities you plan on doing and what accomodations you choose. But I think you should plan at least 1'000€ per person for 1 week (including the flights).
Warning!
Driving in Iceland during winter can be really complicated and dangerous! We did it but if you don't feel like doing it, there are so many tours operating there, we'd be glad to help you pick one if you're interested! Now, if you decide to rent a car and do like us, here are our advices: pay the price and get a good 4×4, this can save you a lot of troubles especially if you encounter a snow storm! And be aware that most of the roads are closed during winter, you only have access to the south part of Iceland (road 1) and even there you should always remember to check the official website that let you know live road conditions. The good thing is, with only one road open you cannot get lost!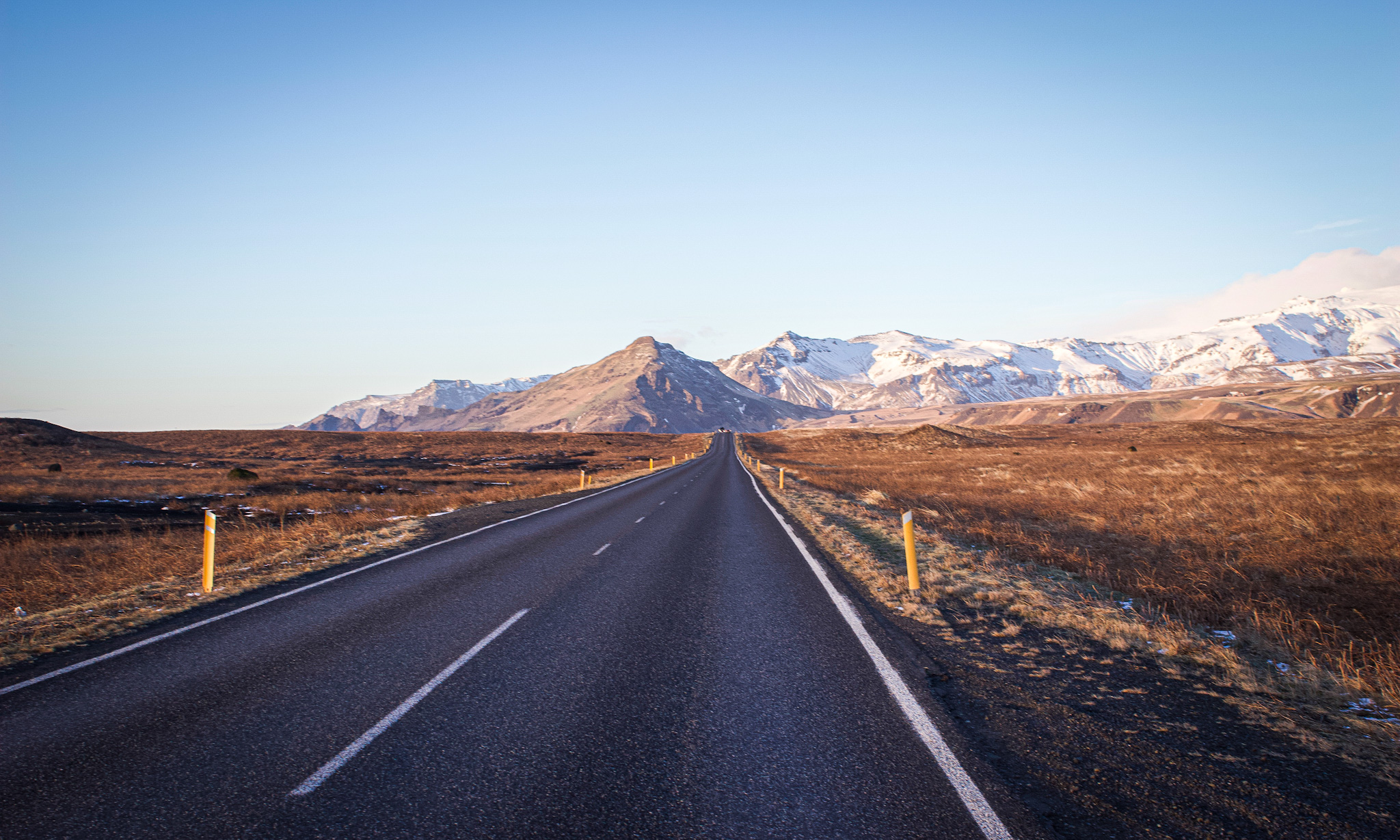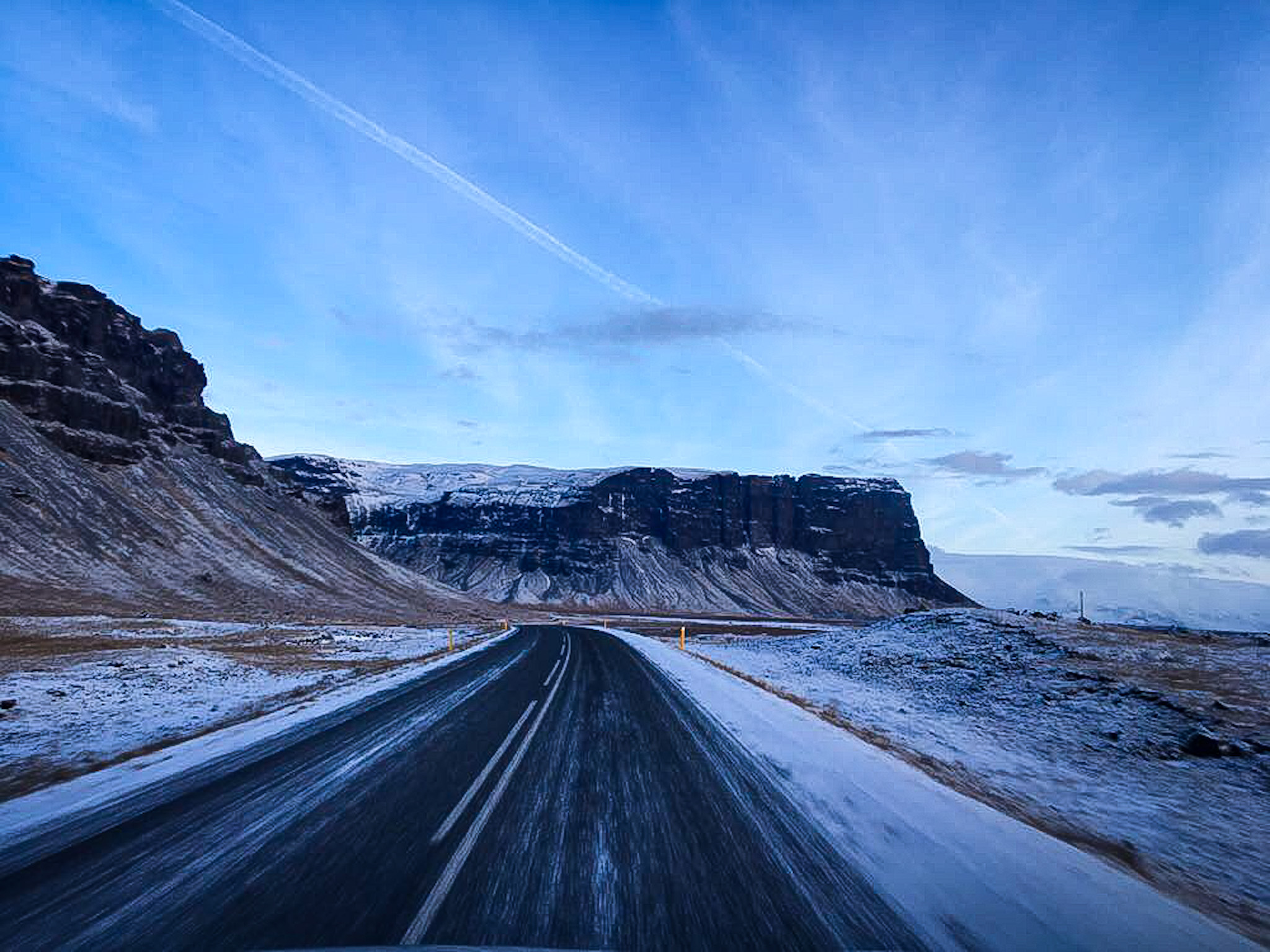 Day 1: Arriving in Reykjavik
We had our flight from Geneva to Reykjavik with a layover in Bristol (which is super nice to visit for 1-2 days if you want to hit two birds with one stone). After collecting our rented car (a Toyota Rav4, our best ally of the trip) at the airport, we directly hit the road. Since we landed quite early, we explored the Golden Circle. This is one of the most famous part of Iceland, and you'll understand why! Our two highlights were Geysir and Gullfoss Waterfall, nature there is so impressive. Iceland really gives you a wonderful show of nature.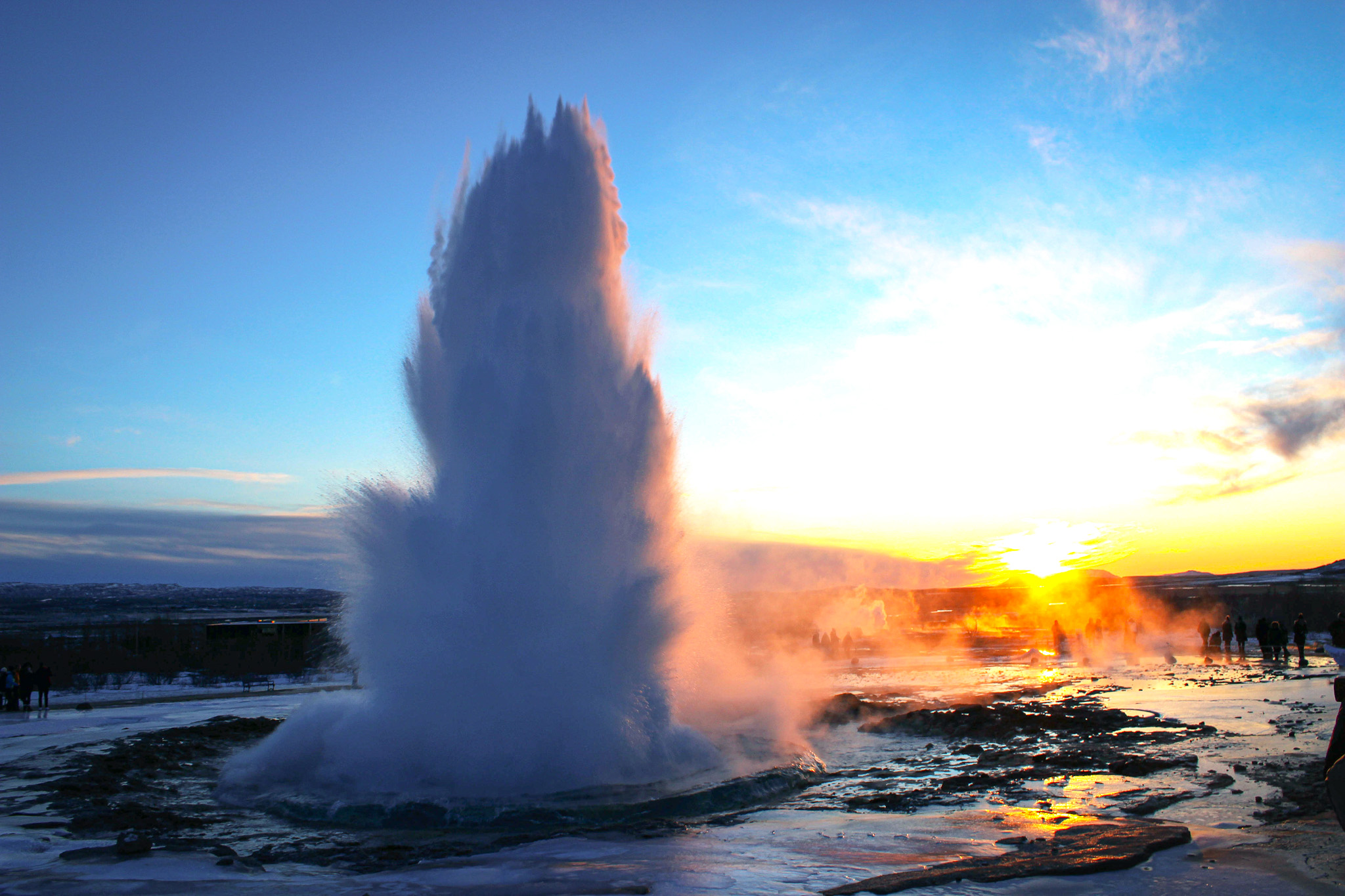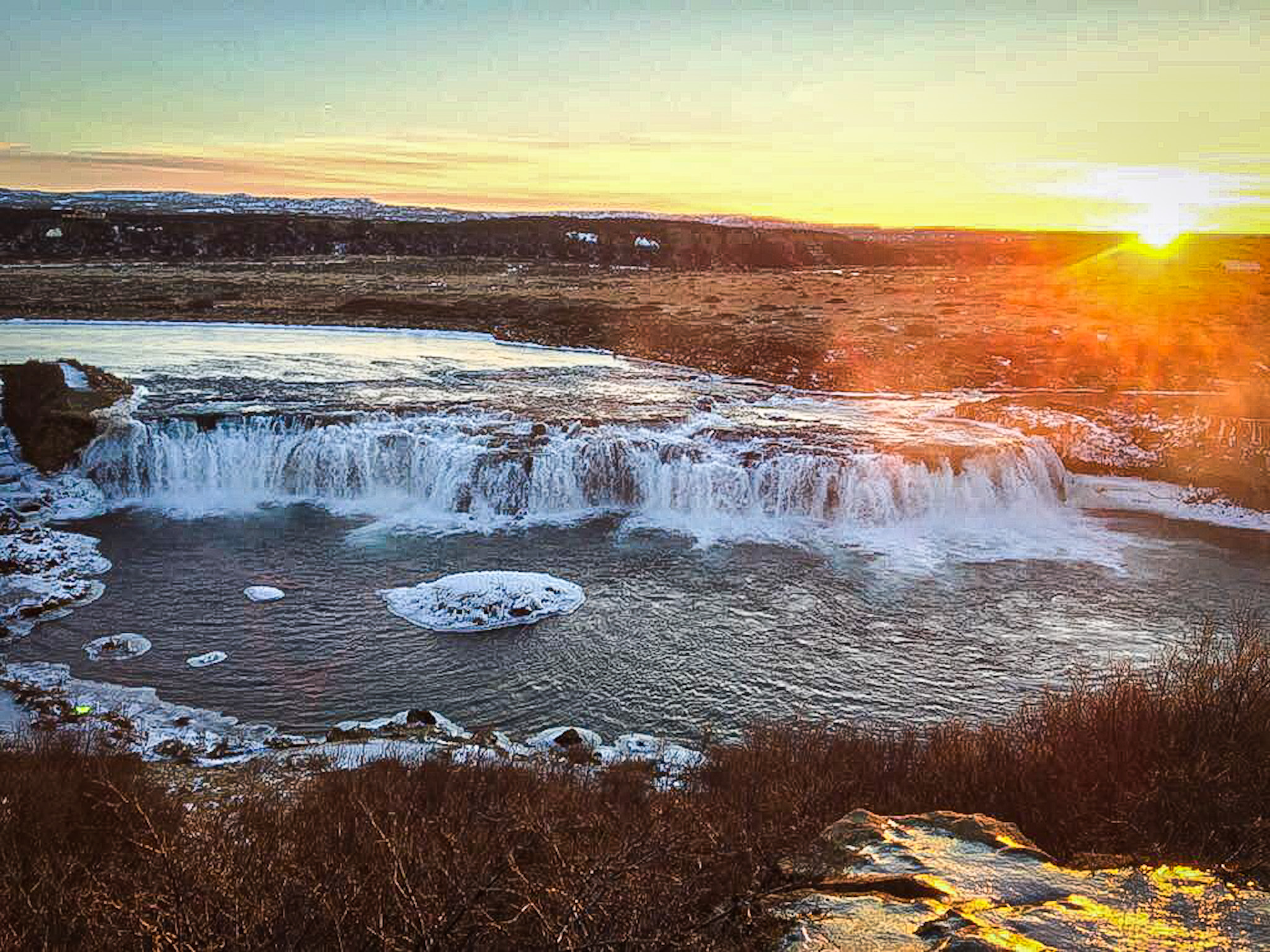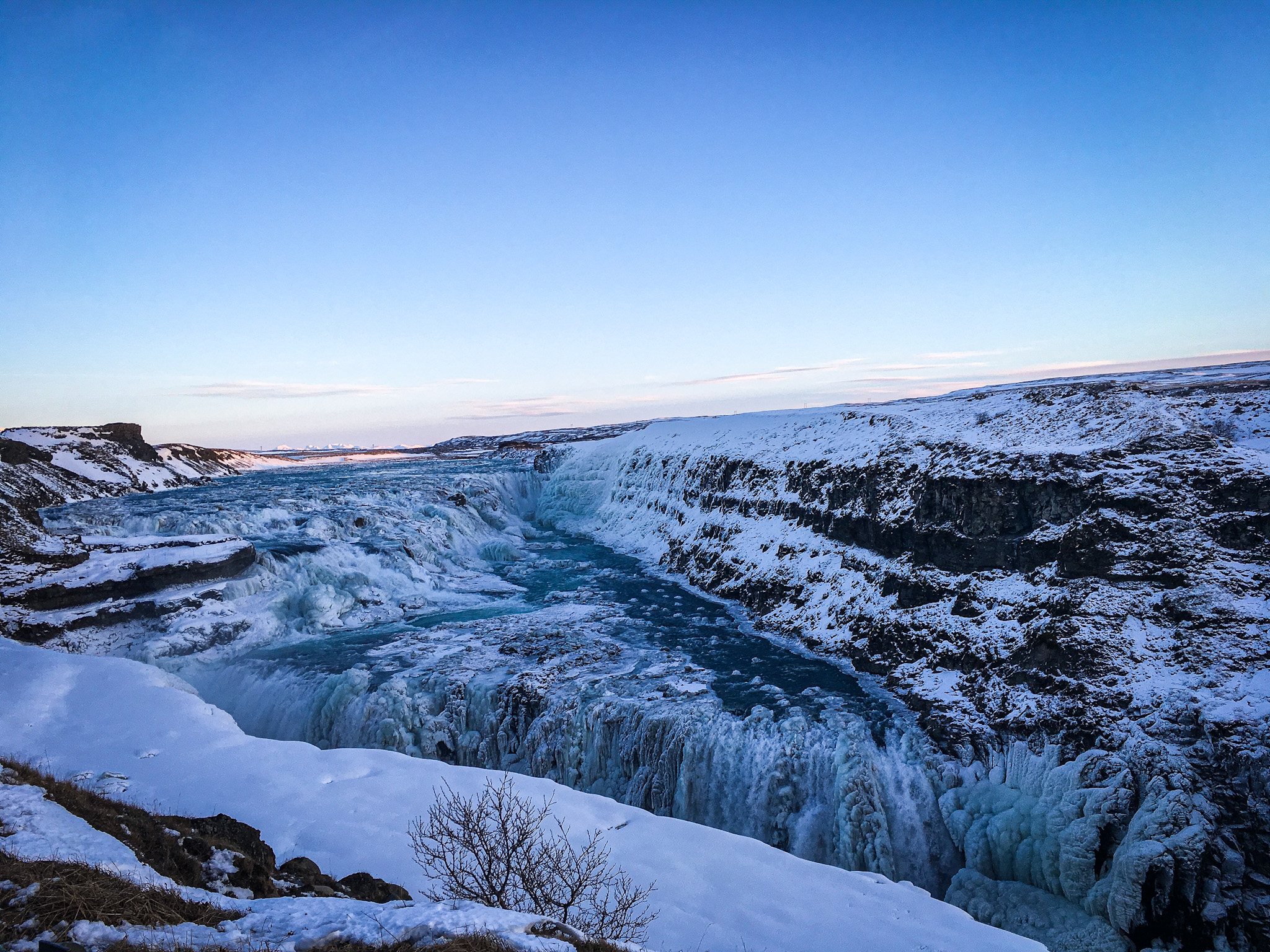 We arrived on December 31st, so we decided to stay in Reykjavik for the night. Icelanders are known to be good party people and they live up to their reputation. They have amazing fireworks for the occasion. We went to Perlan to see them and the show was awesome. Don't forget: go have a drink and dance in one of the many bars or clubs of the city afterwards to celebrate the New Year!
Day 2: Reykjavik to Selfoss
We went to have a walk in the city quite early to see the sunrise. Remember, you'll be in a nothern country, the sun doesn't shine very long during winter. So the sun rose around 10 am but it was really beautiful with the ocean.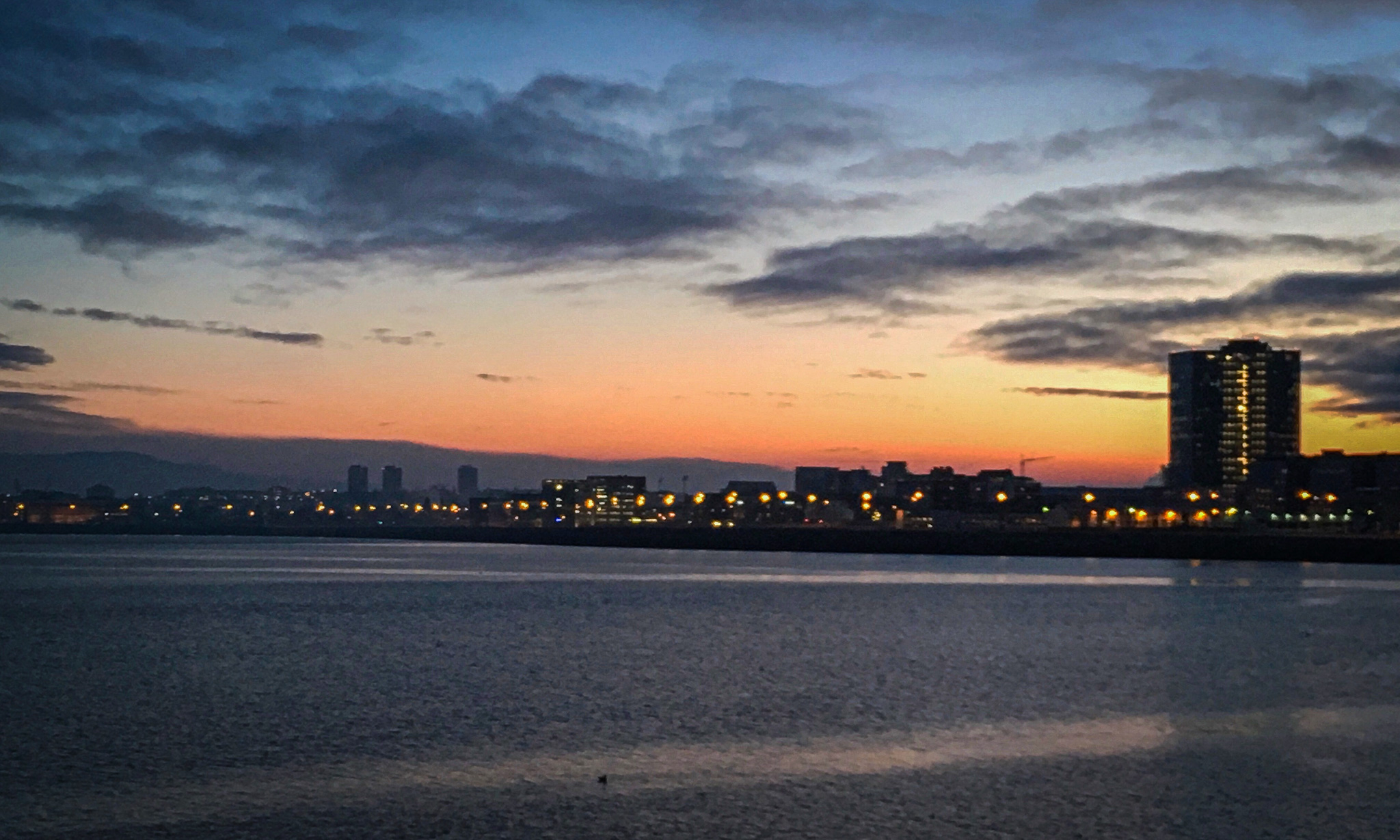 Once you are in town, you cannot miss the famous church: Hallgrímskirkja. It goes so high up, it's really impressive. After discovering the city and hoping in some shops, we had booked a whale watching tour with Reykjavik Sailors. It is supposed to be one of the most ethical whale watching operator but we were kind of disappointed as we ended up in a huge boat with hundreds of other people while we booked for a small boat and small group… But well, we went on but were unfortunate as we didn't see any whales. We still got to see some dolphins and the tour was nice even though it was freezing cold even with the special clothing they provide.
I'm not going to lie, I was glad to be back in our warm car and I was so happy that we had heated seats lol! We have to hit the road as the sun is already setting (around 3pm). We have booked a small cottage on Airbnb and it was so cute and perfect, if you're interested you can click here. And yes, we had the chance to see Nothern Lights from the cottage! (spoiler alert: the rest of the week was very cloudy so we didn't get the chance to see any more later.) They lasted for quite some time, unfortunately our camera did not appreciate the cold so we don't have any pictures.
Day 3: Selfoss to Reynivellir
Day 3 was not a good day at all. The weather was really bad and a snow storm was announced. We decided to hit the road no matter what, we shouldn't have! It took us almost 8 hours instead of 3 to reach our guesthouse and drive was not all about having fun. We didn't see much of the landscapes as the storm was really violent but we managed to arrive all in one piece. If there are no snow storm, you'll see along the road there are several view points and waterfalls to see. Considering the weather, we decided to just drive and see everything on our way back (since there is only one road). We only made one stop at Jökulsárlón, it was nice but we decided to come back the next day as it was getting dark and it was still snowing.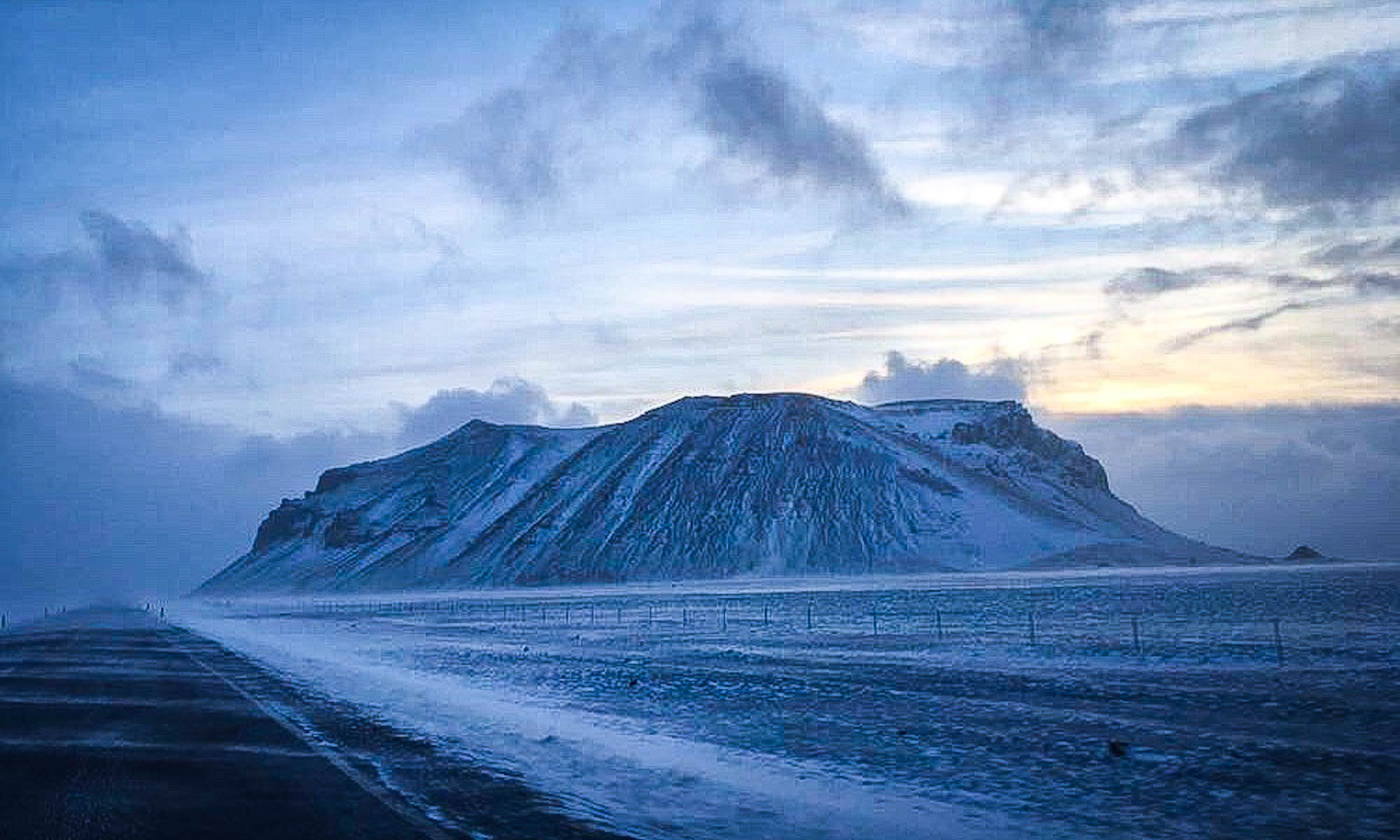 Day 4: Reynivellir to Hrífunes
Thanks for us, the weather is way better! We woke up early and decided to go back to Jökulsárlón. And it was worth it, it was so much more beautiful with the better weather and the rising sun. We also went to spend some time on Diamond beach which is really close by and so impressive. The black volcanic sand with massive pieces of ice on it, it is surreal! Now, one activity we really wanted to do while in Iceland was going to an Ice Cave. I have to say I was a bit disappointed as it was really a bunch of tourists in a very small place but it was predictable. I would still recommend you to do it if you can as this is an activity that won't be doable in a few years due to global-warming…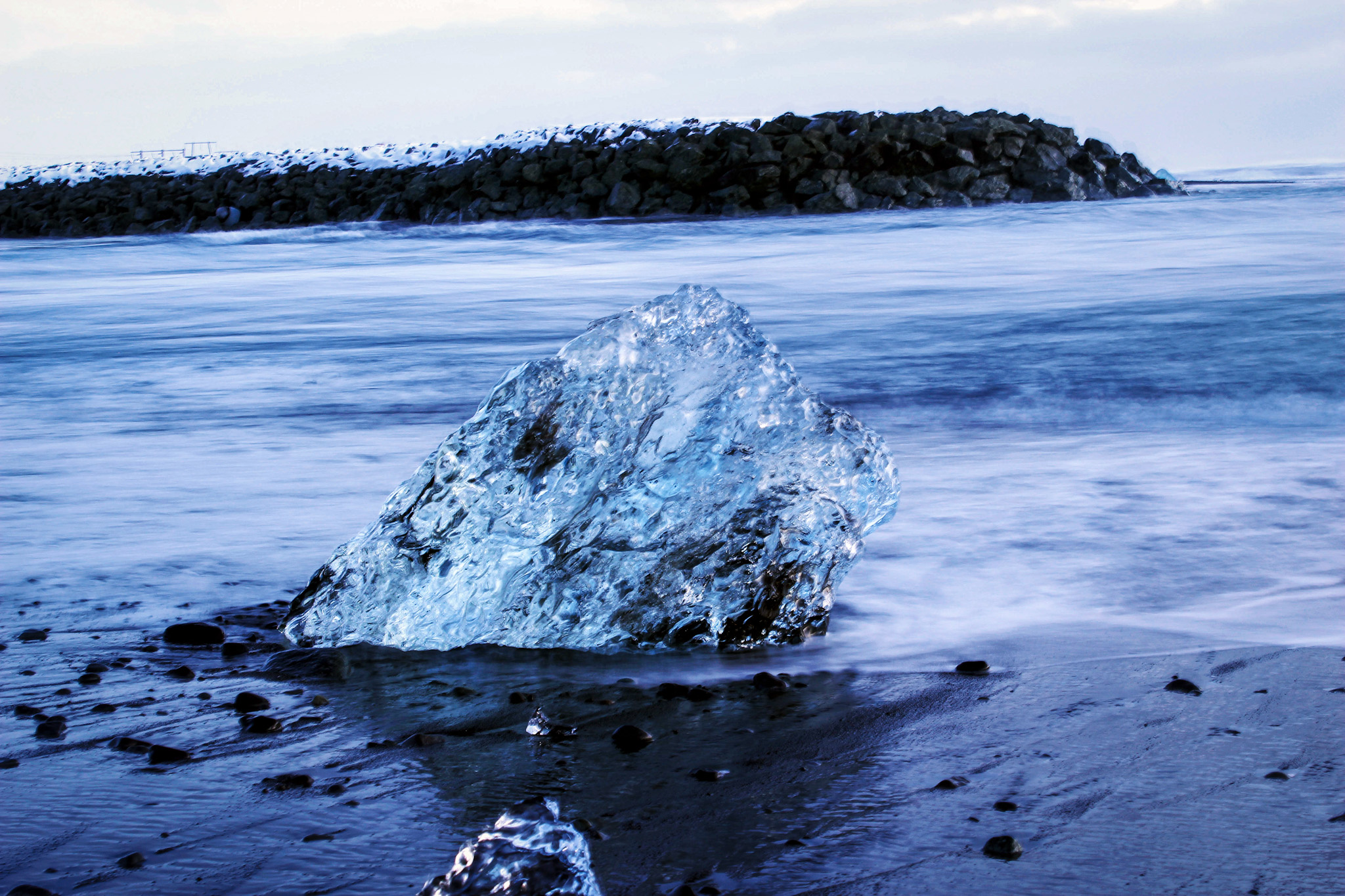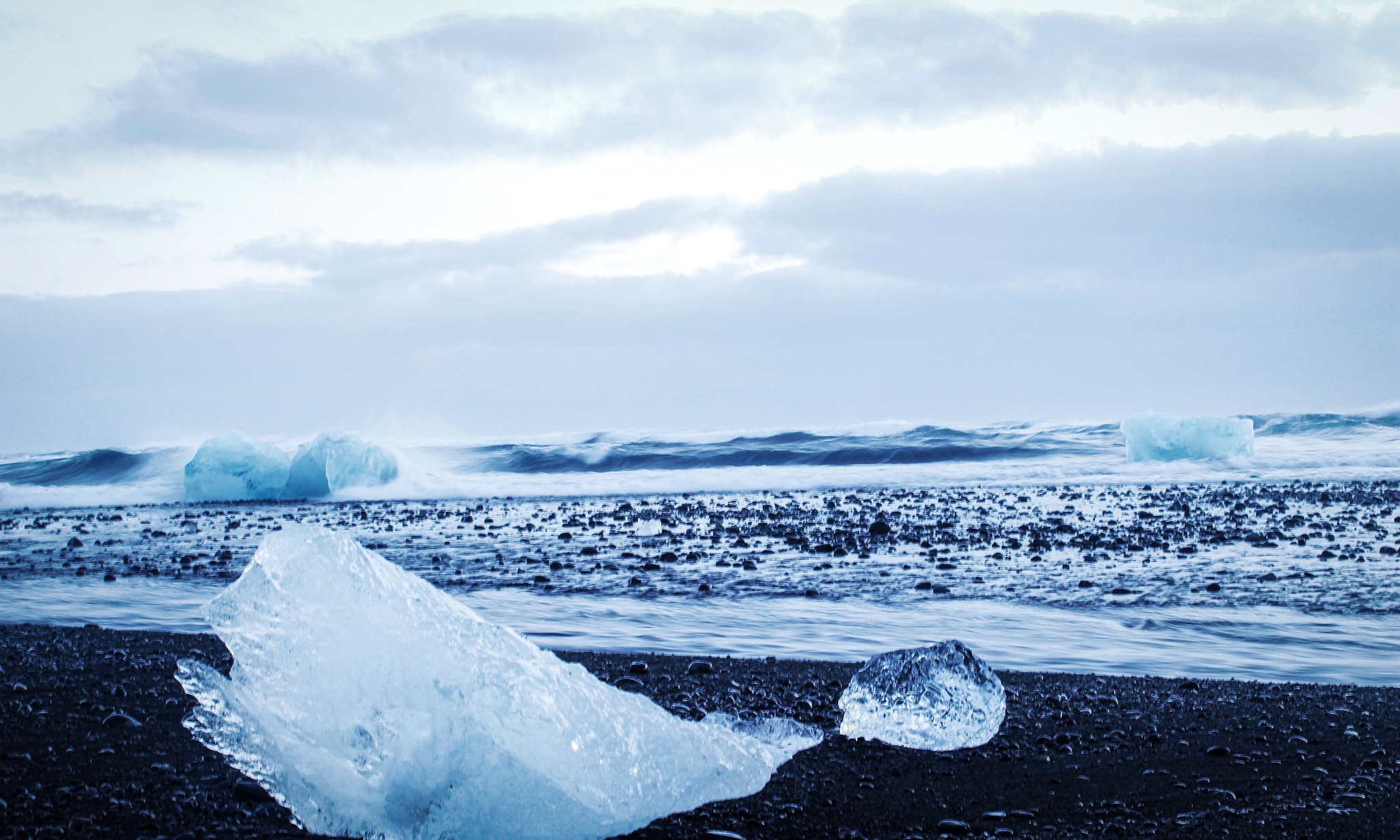 Day 5: Hrífunes to Selfoss (again)
The weather was really nice and we're driving along the same road where we couldn't stop a few days before. It was our lucky day and we made several stops on the way. First, we went to the famous abandonned DC plane at Sólheimasandur. You have to be quite attentive to not miss the parking lot as there are no clear signs that this is the place (coordinates: 63 27.546-19 21.887). Once you've found the parking lot, you have to walk for about 45 mins so be prepared and wear warm clothes. Then, a few minutes drive from there, you'll find Skógafoss. It's one of the most famous waterfall, and has around 370 steps to go at the top. Caution: it's very slippery! We made an additional stop at another waterfall: Seljalandsfoss, which was really nice but almost completely frozen.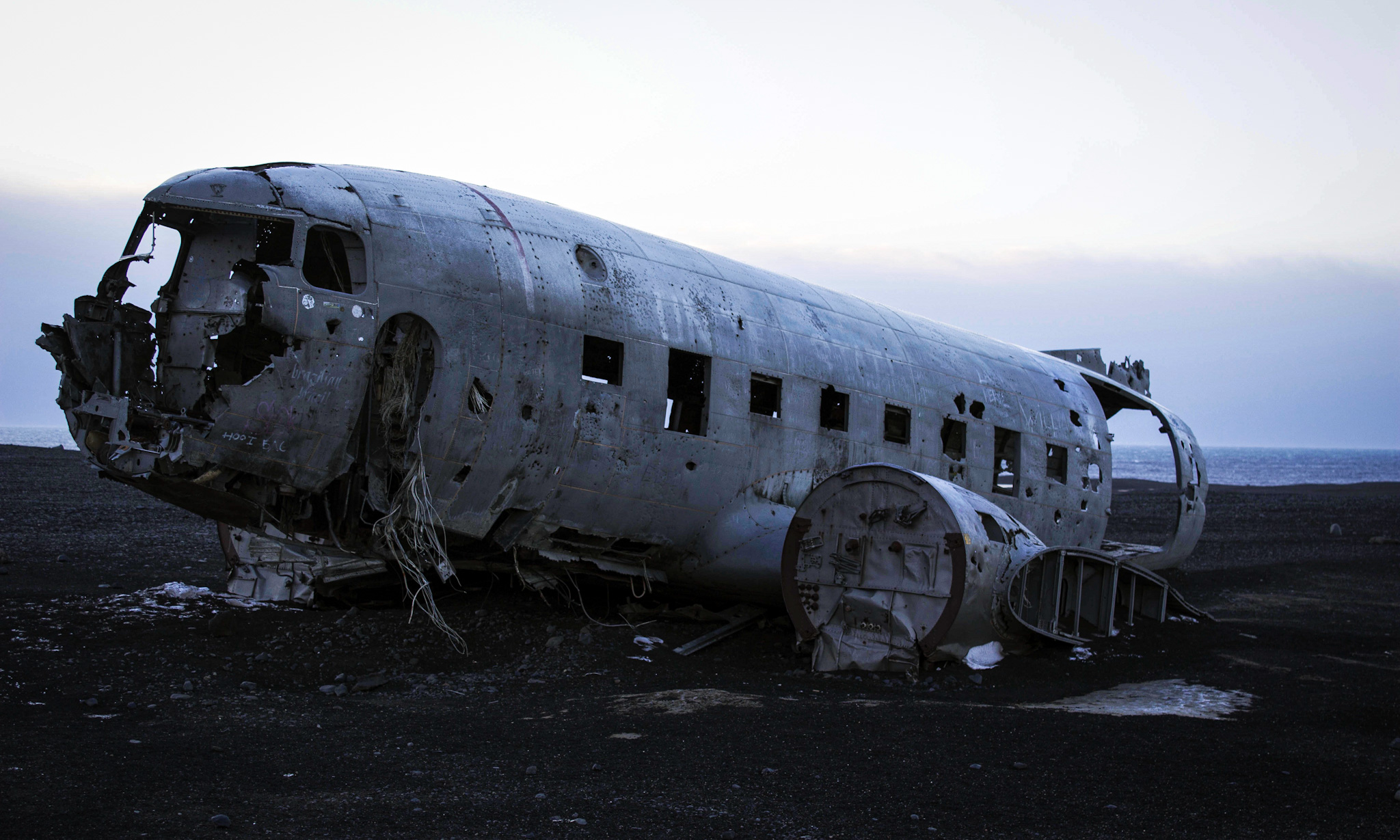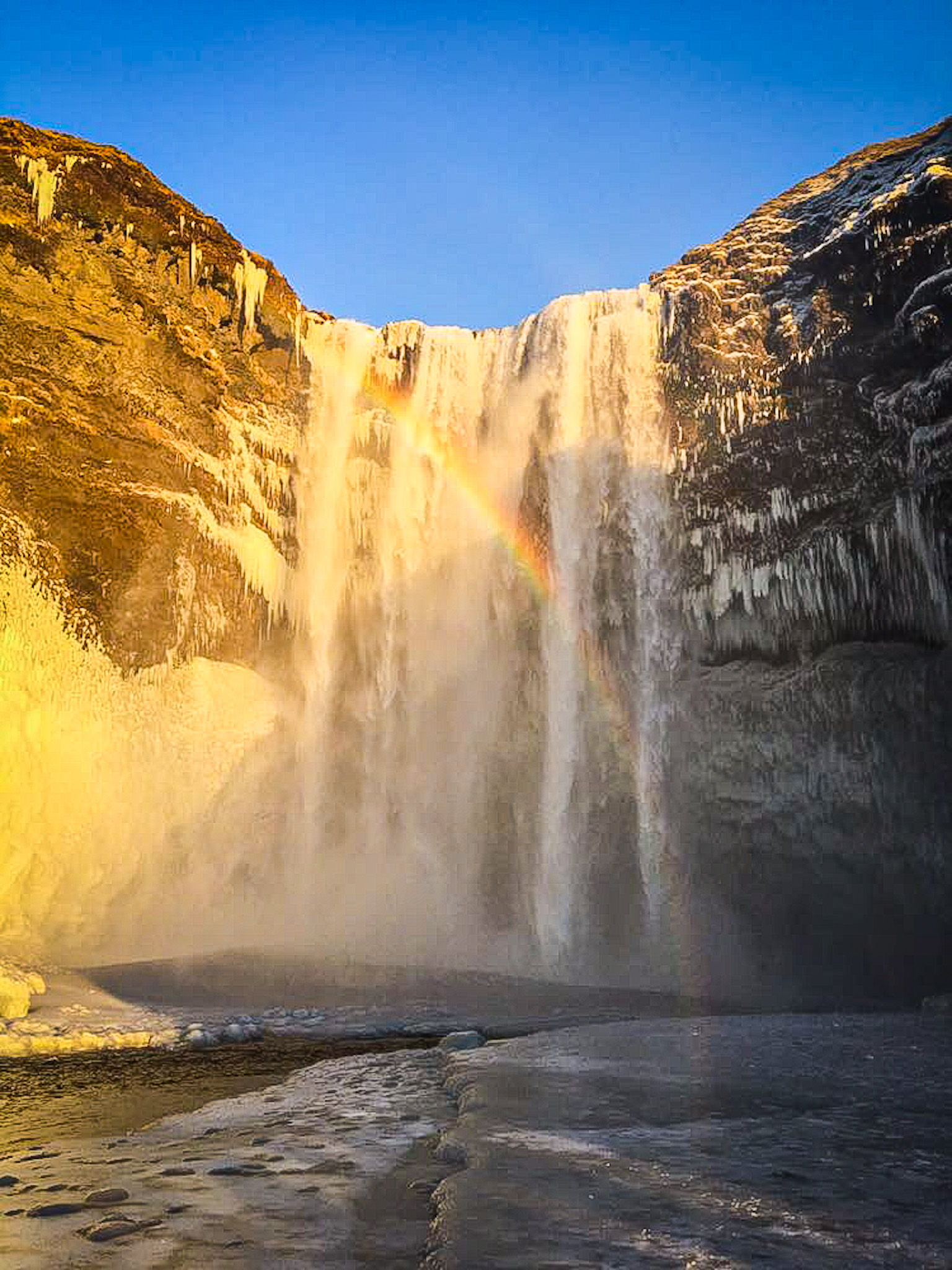 Day 6: Back to Reykjavik
It is our last day in Iceland, we drove back to Reykjavik and just took the day to drive around and enjoy the landscapes. We stopped at Kerid Crater, a (frozen at the time) lake inside a volcano crater, awesome! We then went to the world reknown Blue Lagoon. Be sure to book well in advanced and be aware that since it is very touristy, it's really expensive. We're not sure it's worth the price but still wanted to do it. We have to say, it still felt good to relax in those natural thermal baths surrounded by snow and the coldness of Iceland. We stayed in a small airbnb before taking our flight the next day.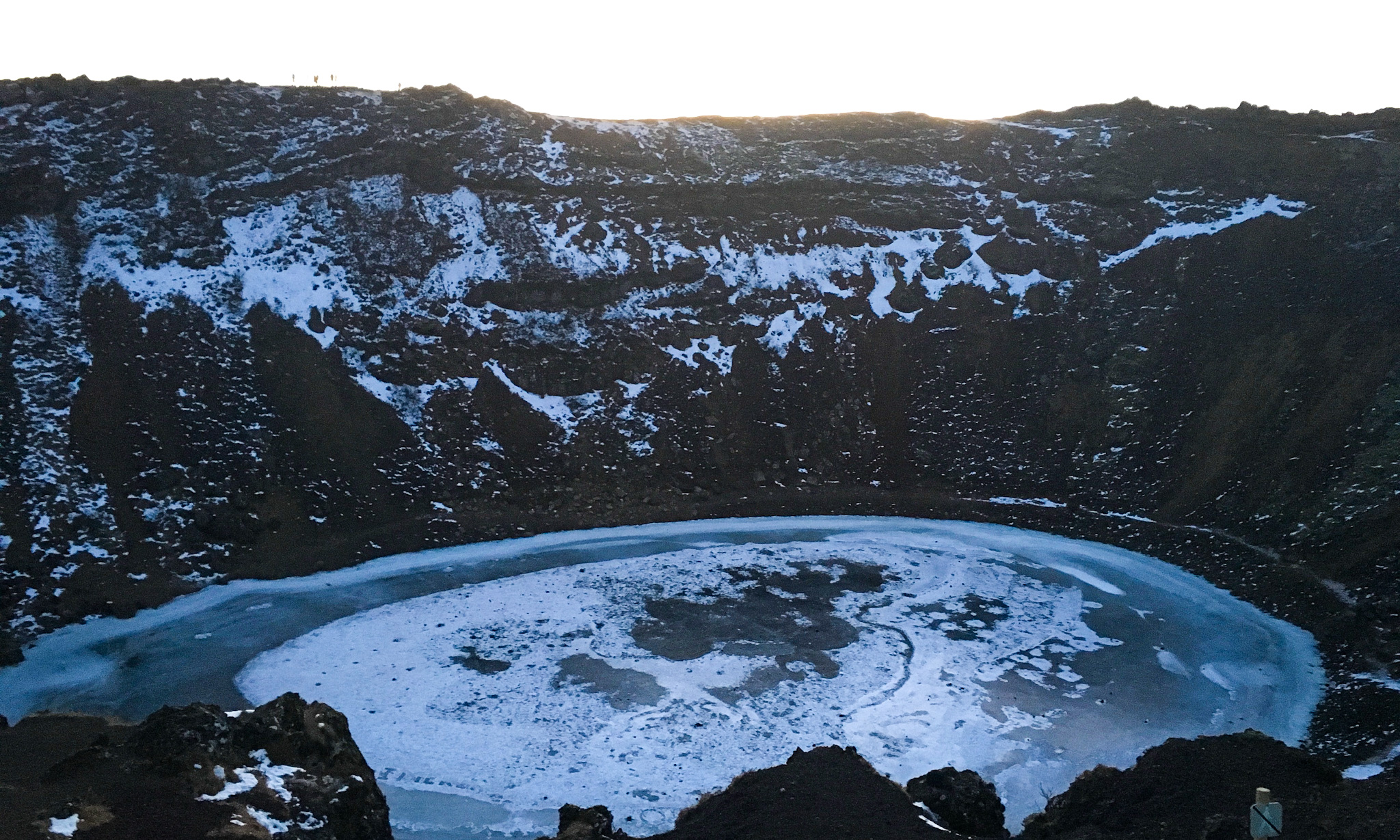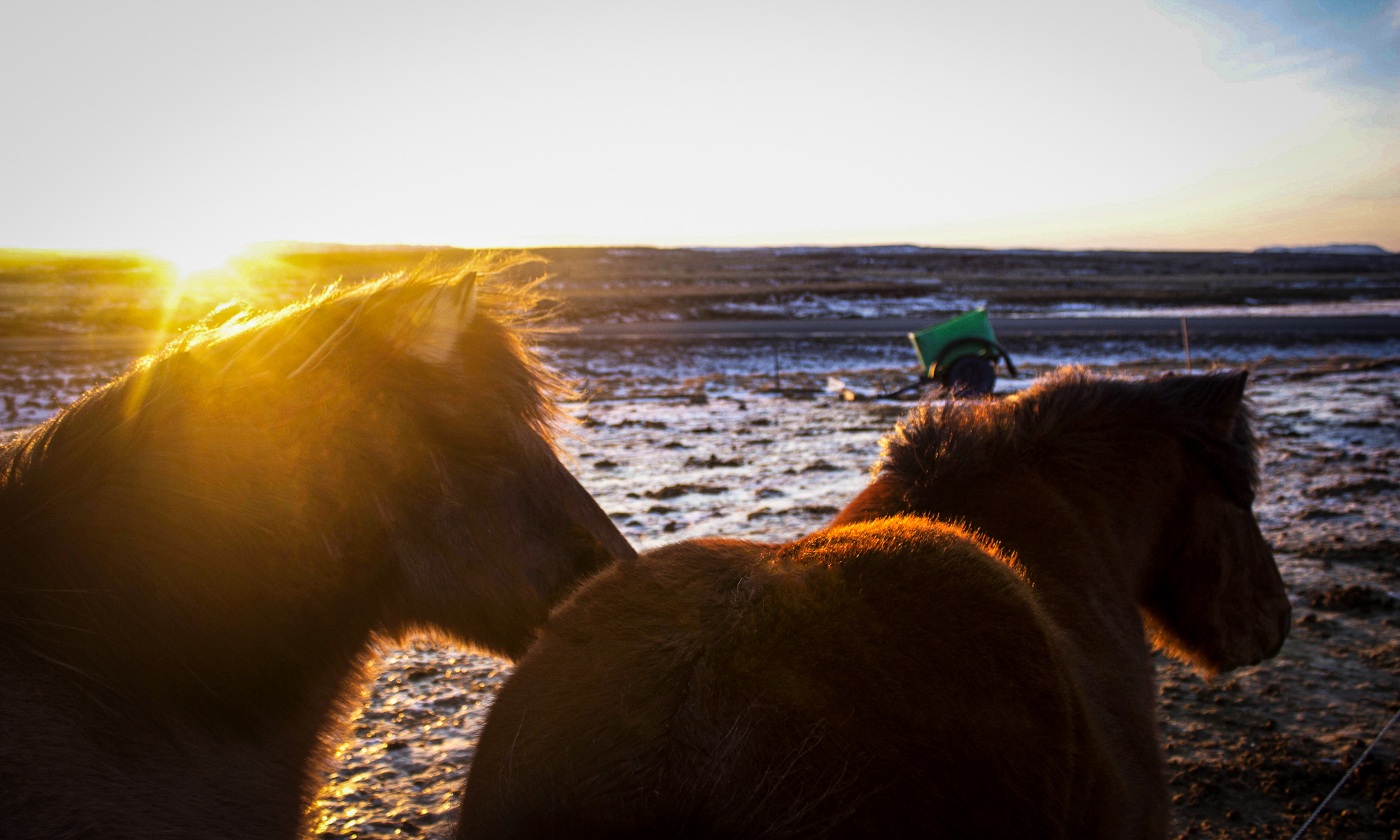 Some tips:
To finish this article, we'd like to share some tips with you. First of all, if this article motivated you to go to Iceland during winter, go back to the top of the page to have our best tips. Then, make sure to book everything as soon as you can, this is one of the most popular destination in Europe right now, everything can be sold out fast! Enjoy the short hours of daylight to do as much as you can but also take some time to enjoy some of the museums and cafés in the small towns you'll cross.
We hope you will enjoy your trip to Iceland!
Marie & Karim
(If you liked this article or have any questions, please comment below! And make sure to follow our adventures on Instagram @InspiringExplorers
Save this on Pinterest to refer back to!