Every nature lover should have Bohemian Switzerland on its bucket list! This place will blow your mind with the colors, the rock formations, the peacefulness, basically everything! With this article, we hope to show you the best places to visit in Bohemian Switzerland!
If you have been following our adventures on Instagram, you have noticed that since September 2020 we are living in Prague (and if you haven't, you should go follow us there ahah!). Prague is absolutely gorgeous, and we'll talk about it more in other articles but we have also discovered some pretty amazing places in Czech Republic! And for us, Bohemian Switzerland National Park is the most gorgeous, photogenic location to visit while in the country!
Things to know before visiting the best places in Bohemian Switzerland
It is located ca. 1.5 hour away from Prague, so it's the perfect place to go for a weekend surrounded by nature. The national park is located right next to the german border, close to the Saxon National Park in Germany, which you should visit if you get the chance.
There are only too many beautiful places to visit in Bohemian Switzerland, let us show you the best places to visit in Bohemian Switzerland in our opinion!
When to go?
The most beautiful and quiet seasons to go are definitely Spring and Autumn. There are less tourists than in the Summer, and the colors are absolutely gorgeous! We went there at the beginning of October and the autumnal colors were so nice, and it was really calm.
Always bring some good waterproof clothes and hiking shoes as the weather can change quite quickly in the mountains. Also, be aware that some local attractions are closed during the winter months but we will specify for each place when it is open!
Now, let's dive into the best places to visit!
1. Tiske Steny (Tisa Walls)
This beautiful rock labyrinth belongs to the Protected Country region Labské pískovce (The Elbe Sandstone Rocks) and is a part of sandstone plateau that originated about 90 million years ago in the Cretaceous Mesozoic period. You can park your car at the indicated parking lot which is located below Tiske steny and then you have to hike on a really easy path for about 10 minutes. 
At the top, you have to buy a ticket to enter the labyrinth, it costs 30 CZK p.p (ca. 1€) and the labyrinth is open year round. The massive rock wall is 70 meters high and very impressive! There are a couple of paths you can follow and you can decide wether you want to walk for 1 hour or 4, it's up to you! We absolutely loved this place, there was almost nobody and we spent hours just walking around and trying to find some nice rocks and views.
When to go: all year, especially Spring or Autumn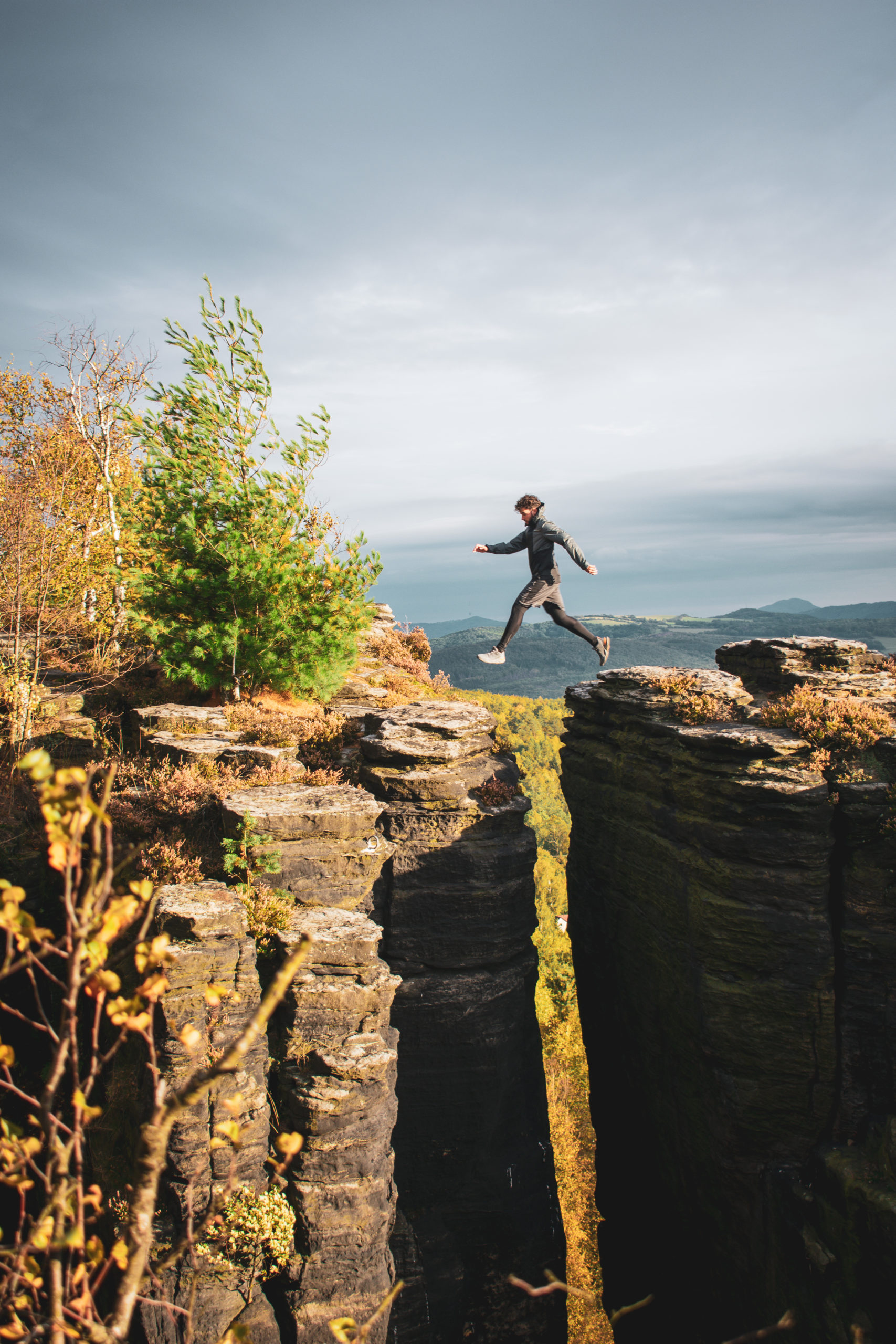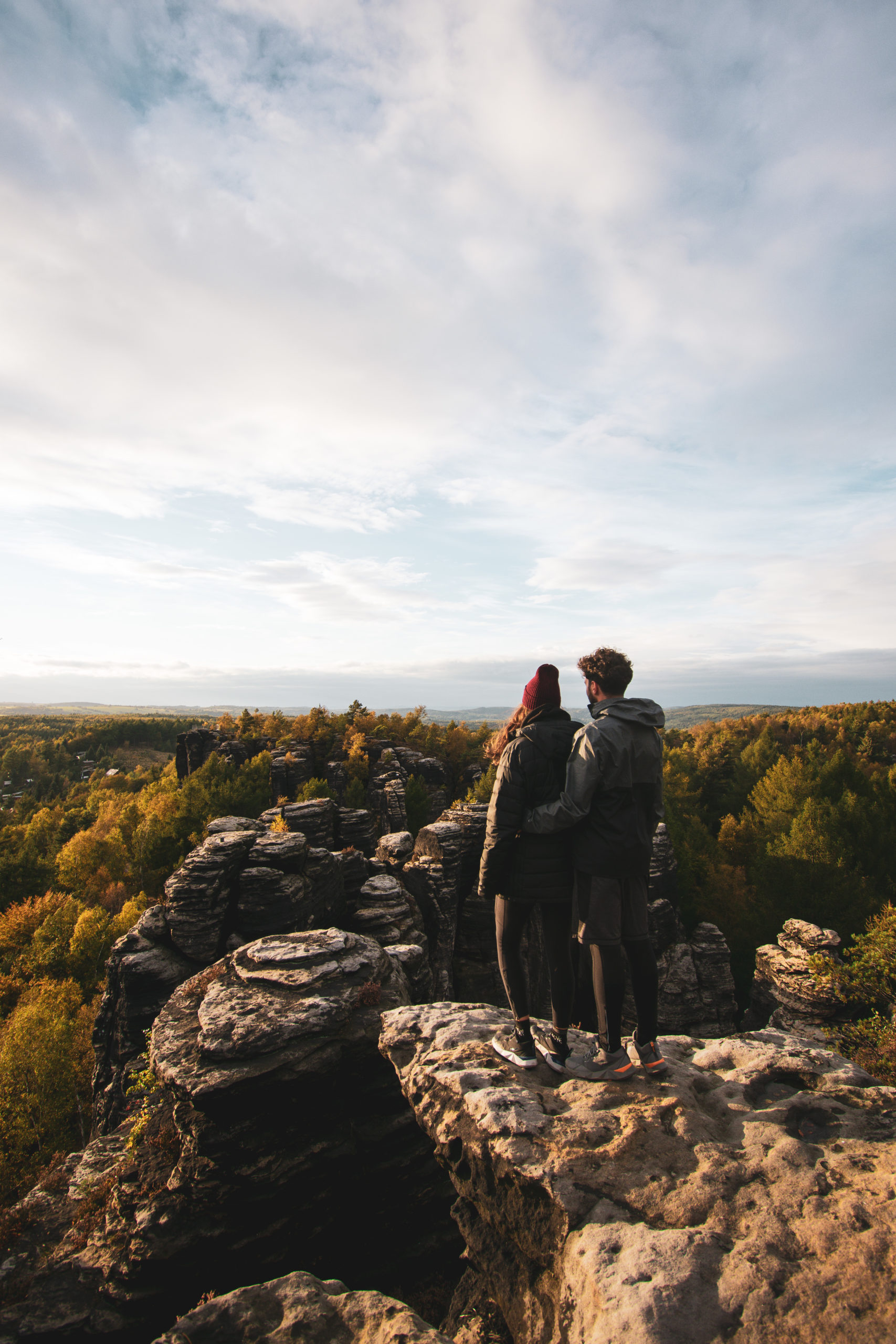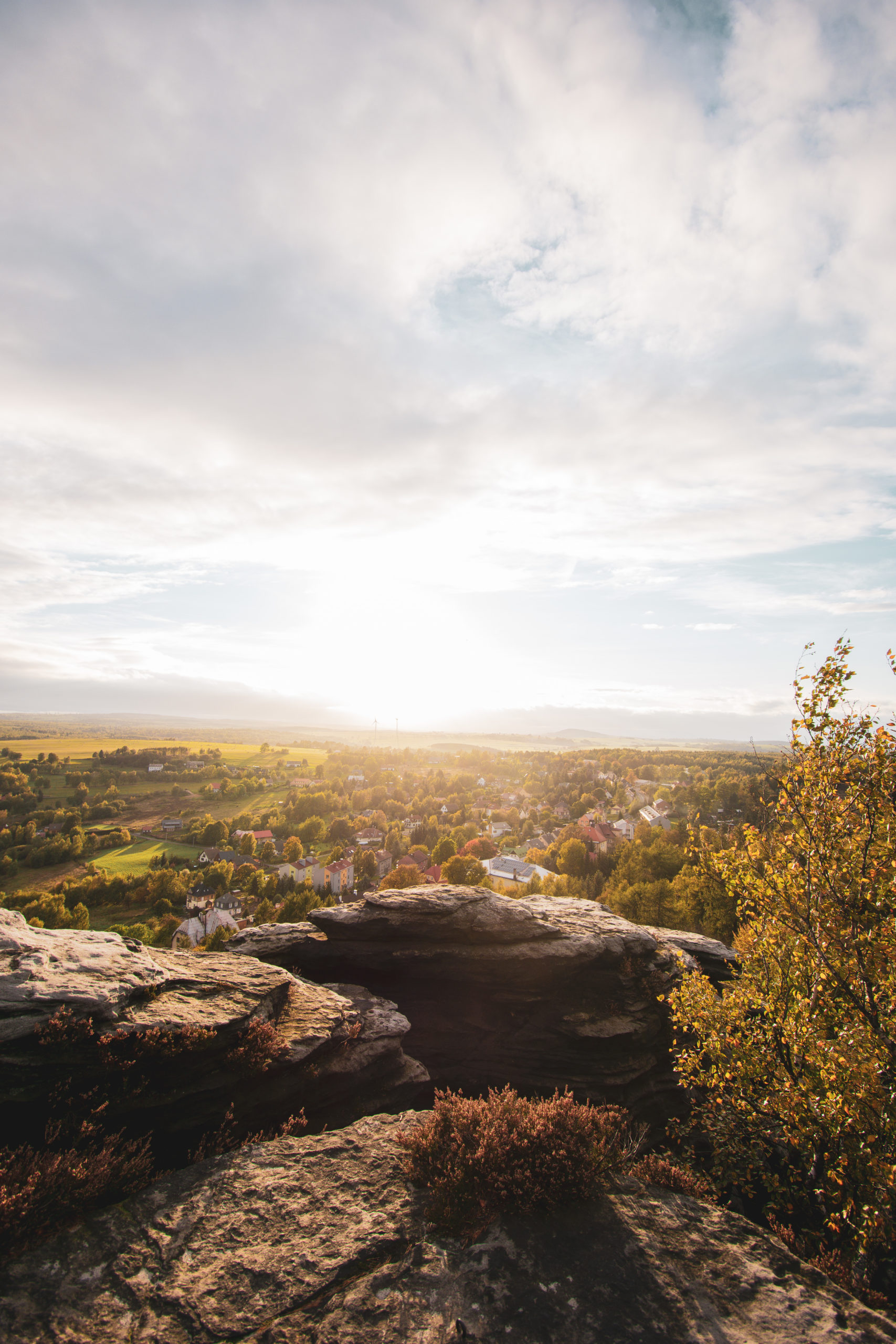 2. Decinsky Sneznik (Hoher Schneeberg)
This is the highest mountain in Bohemian Switzerland and it's located quite close to Tisa walls so you can visit both of them in one day. The hike starts at the indicated parking lot and you have to follow the signs up the road. It is an easy uphill 40 minutes walk until the lookout tower.
After ca. 20 minutes, you have the choice to either continue straight on the road or turn right into the forest and follow the red hiking signs. There is a restaurant at the top and countless view points. It is a hike that you can easily do with children.
When to go: all year, especially Spring and Autumn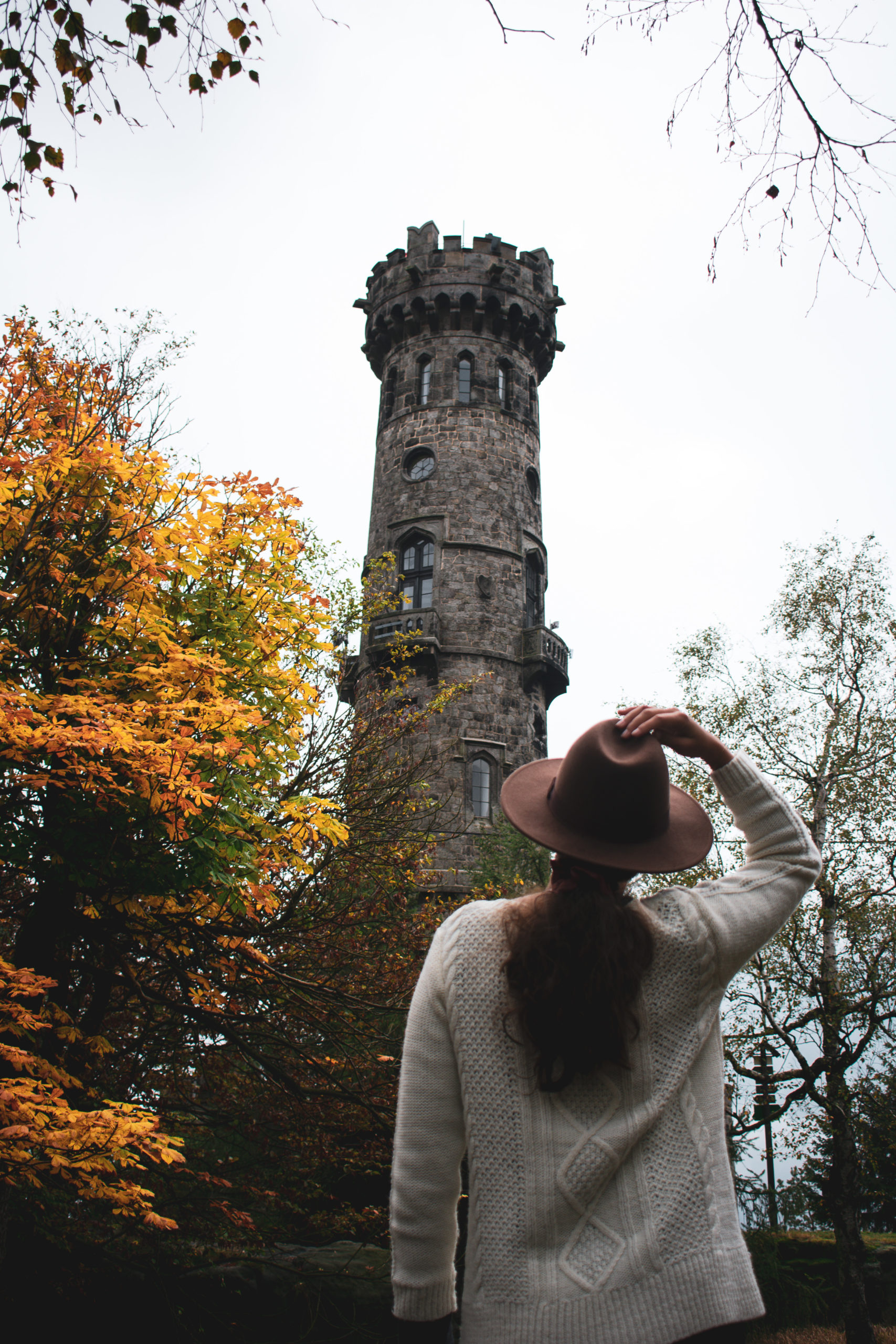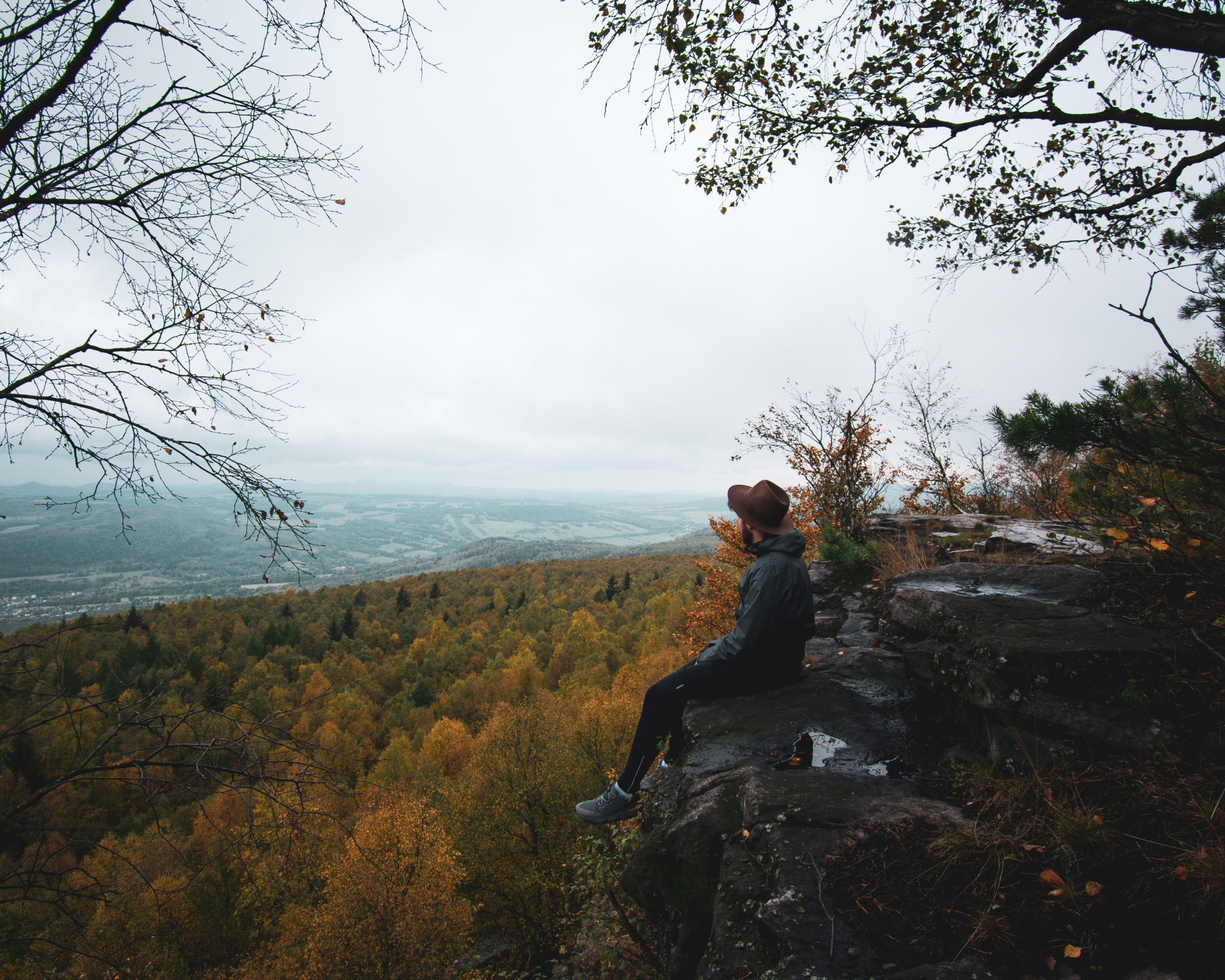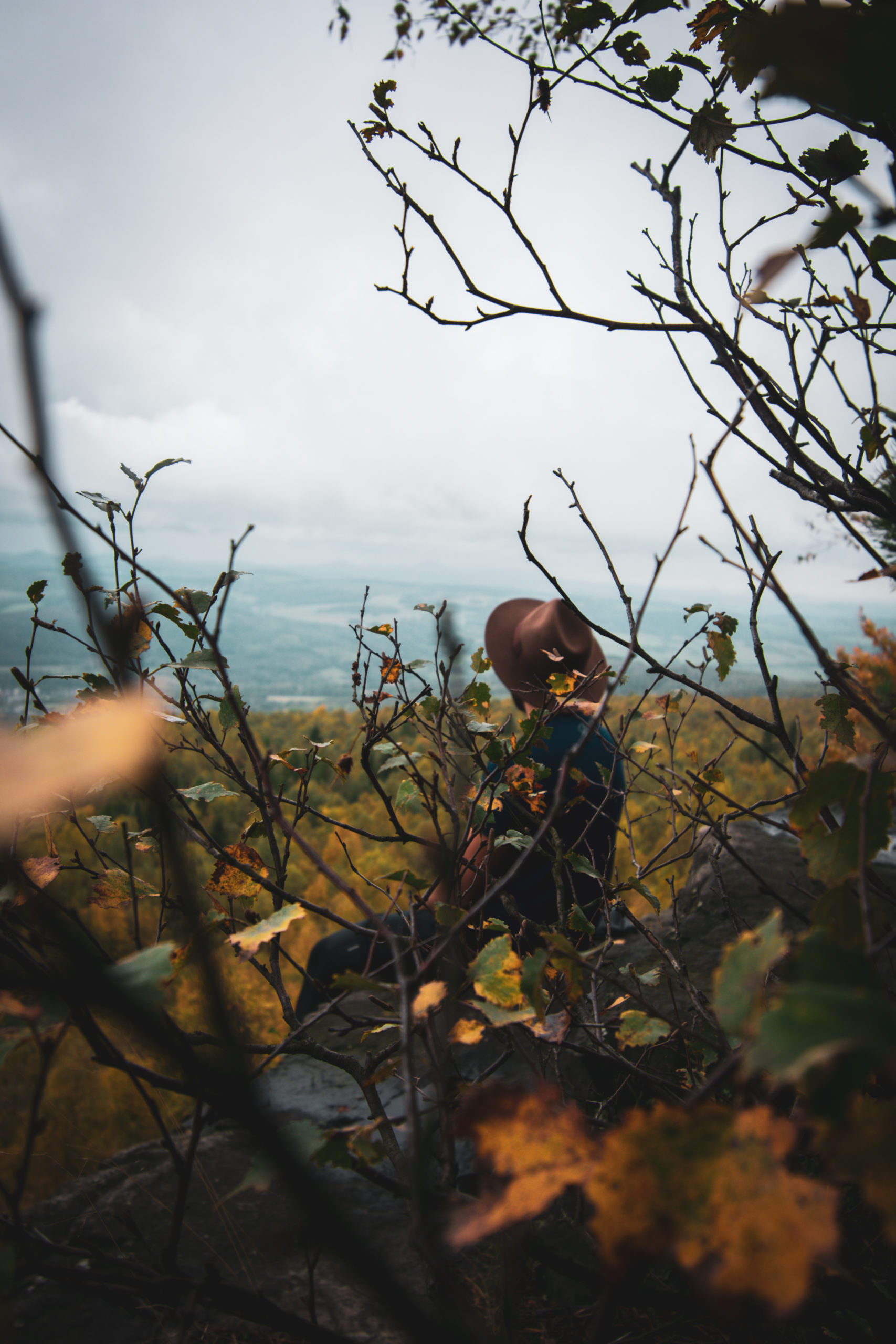 3. Edmund's Gorge (Edmundsklamm)
This gorge is located right next to Hřensko, a really cute town that could be your place to stay when visiting the park. Edmund Gorge, which was previously named "Quiet" or "Lower" Gorge, is a rocky canyon of the Kamenice River. You will have to park at the indicated parking lot and then walk around 2 km on a flat and easy path to reach the place to take the boat. Then, you can enjoy the nice 20 minutes boat ride in the gorge and just take the time to appreciate the beauty of the place! It costs 120 CZK (ca. 4.5€) p.p. and the tour guides usually speak several languages and will tell you more about the area. At the end of the boat ride, there is the famous cabin that is on many photos of the park.
After that first boat ride, several options are given to you, but first you have to walk straight and pass a restaurant and tourist information center. Then, you will reach a wooden bridge, you can either:
Go left in direction of Mezná or Mezní Louka and take the bus to the next stop, Pravcicka Brana

Go straight and take another boat ride (15 min) up to Mezní Louka

Go right and hike up the hill
In the end, it's really up to how much time you want to spend in the gorge and how much hiking you want to do. They will give you a map when you buy your boat tickets and there are several maps on the way so it is easy to find your way!
When to go: Edmund's Gorge is opened from the beginning of Spring (April) until the end of October. The boats operate from 8:00 to 18:00 daily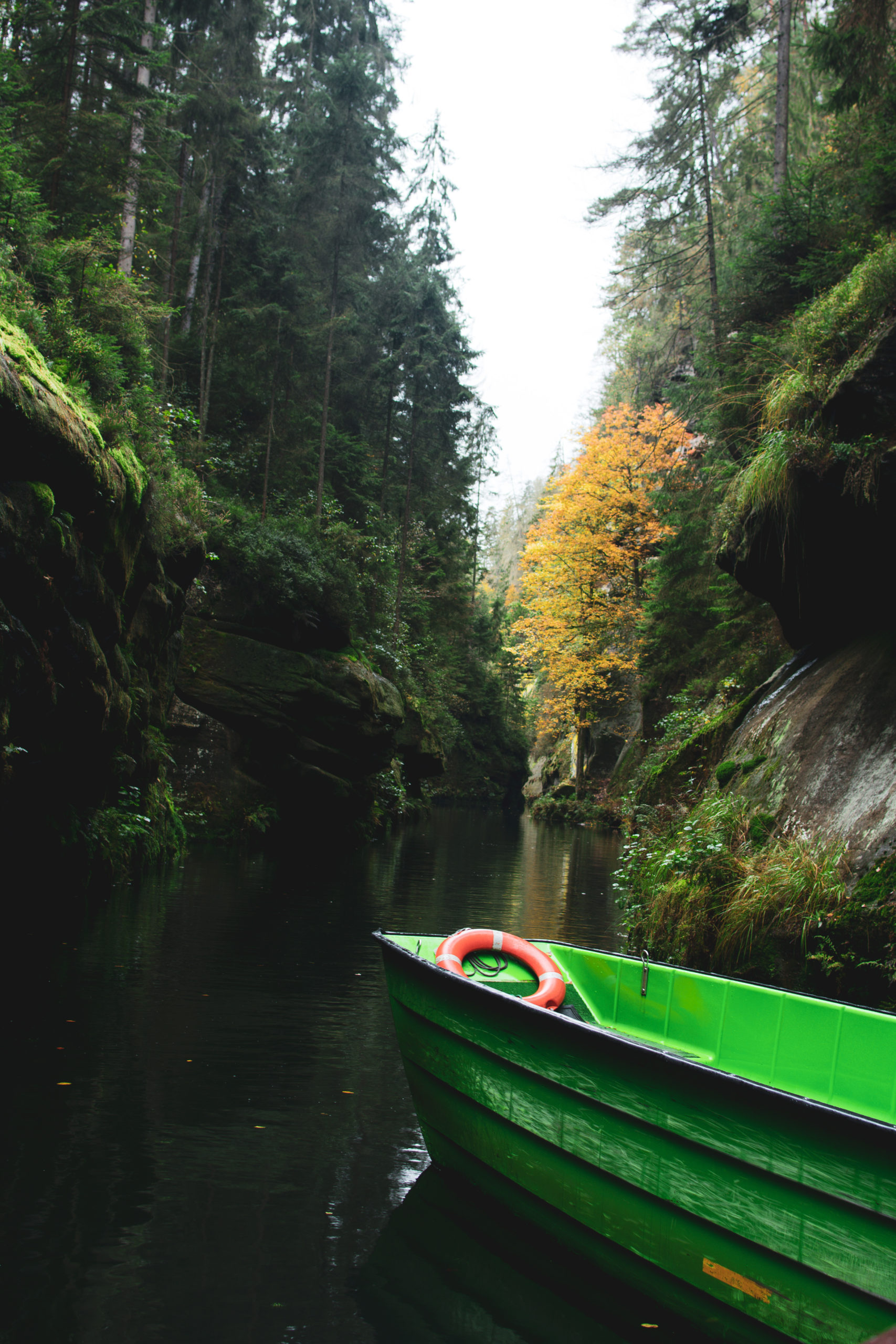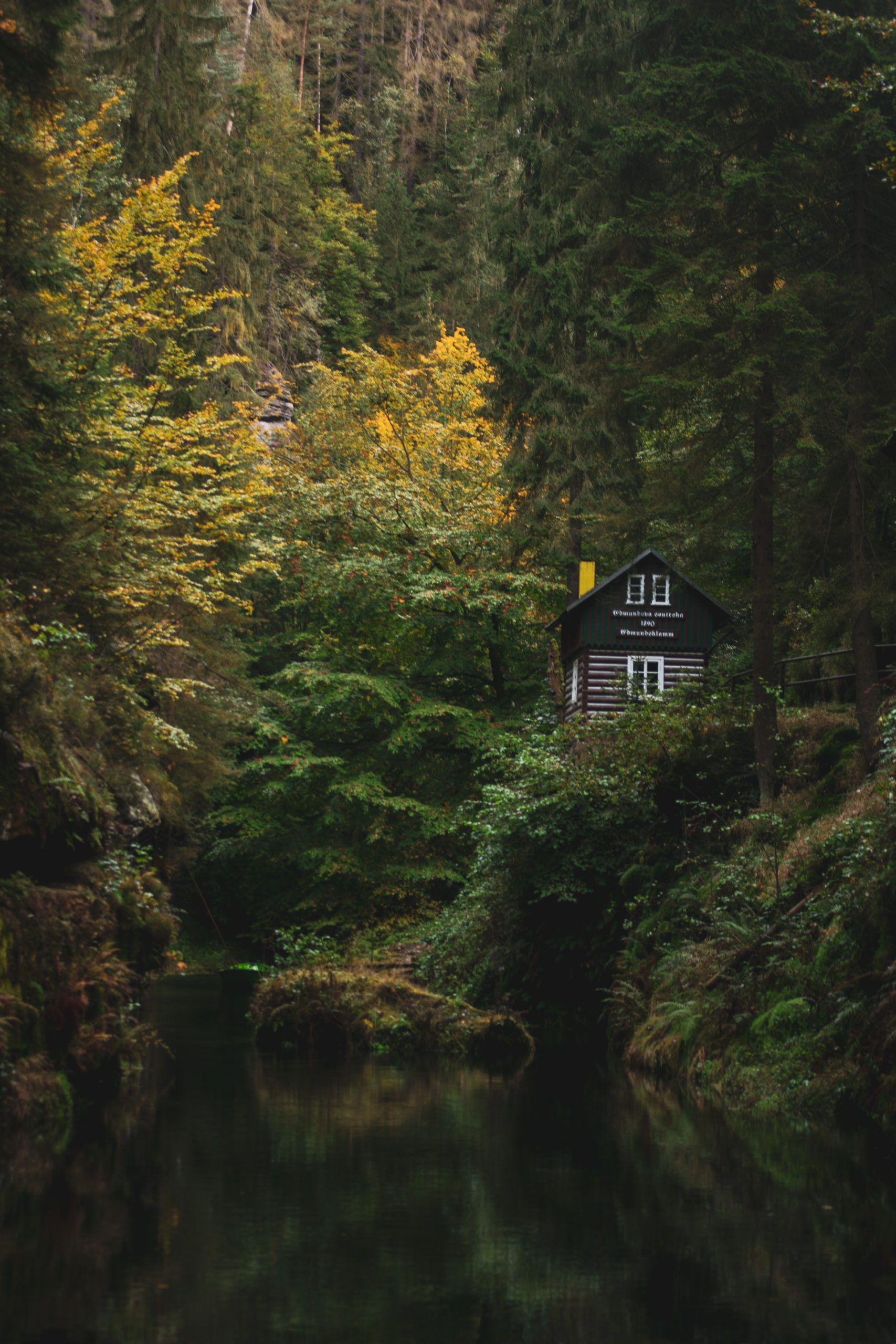 4. Pravcicka brana (Prebischtor)
It is the largest sandstone arch in Europe and it is very picturesque up there! There are a couple of ways to get there: you can either walk from Hřensko or from Mezní Louka, either way takes about 90 minutes of hiking, or you can take a bus and there is a stop named Pravcicka brana. If you take the bus, it will take you around 45 minutes of quite steep hiking to reach the arch.
Once you reached the top, there is an entrance fee to pay of 75 CZK (ca. 3€) p.p., there is a restaurant and several view points. Note that this is one of the main attractions in Bohemian Switzerland, so it can get quite crowded.
When to go:
April to October: daily from 10:00 to 18:00

November to March: friday, saturday, sunday 10:00 to 16:00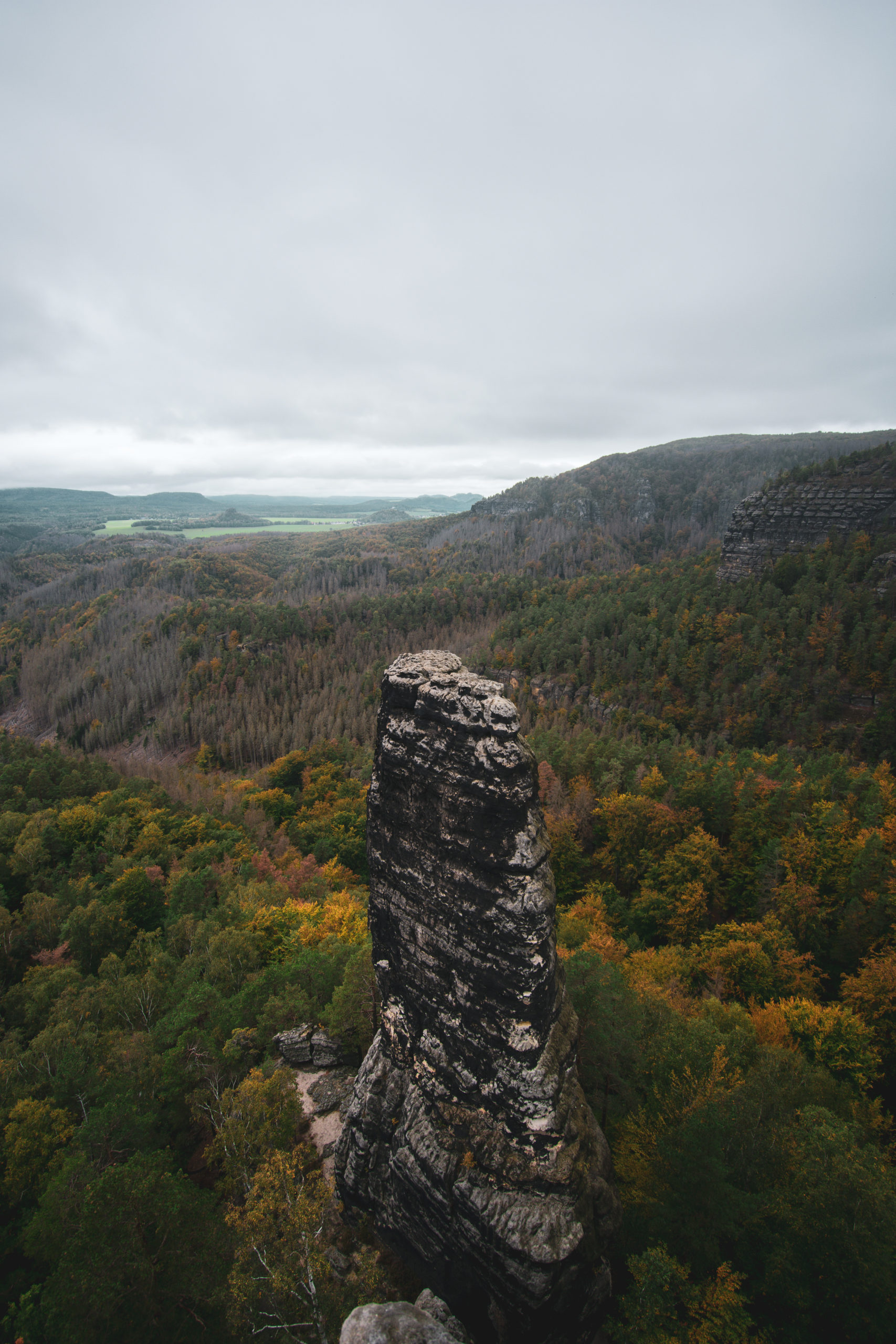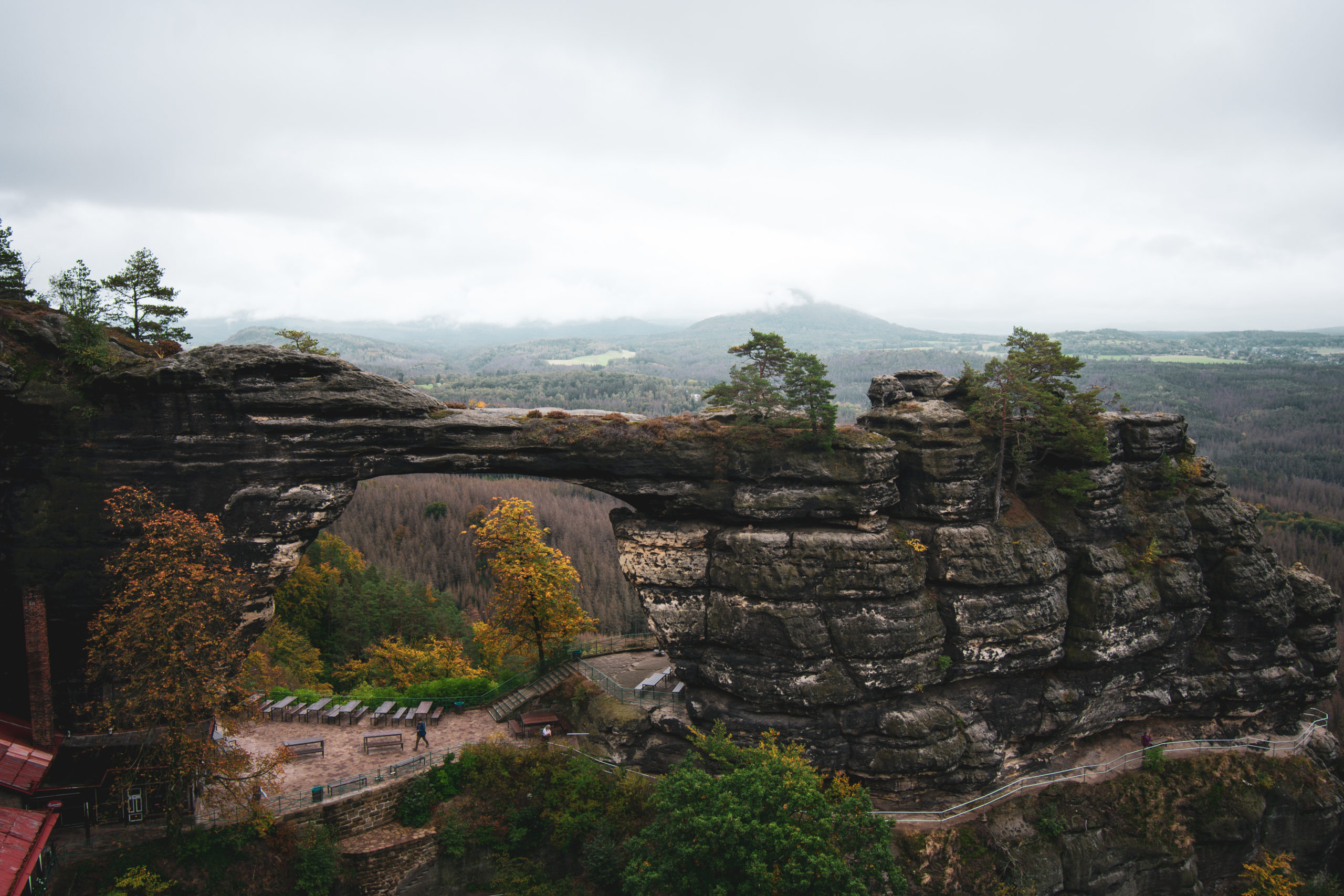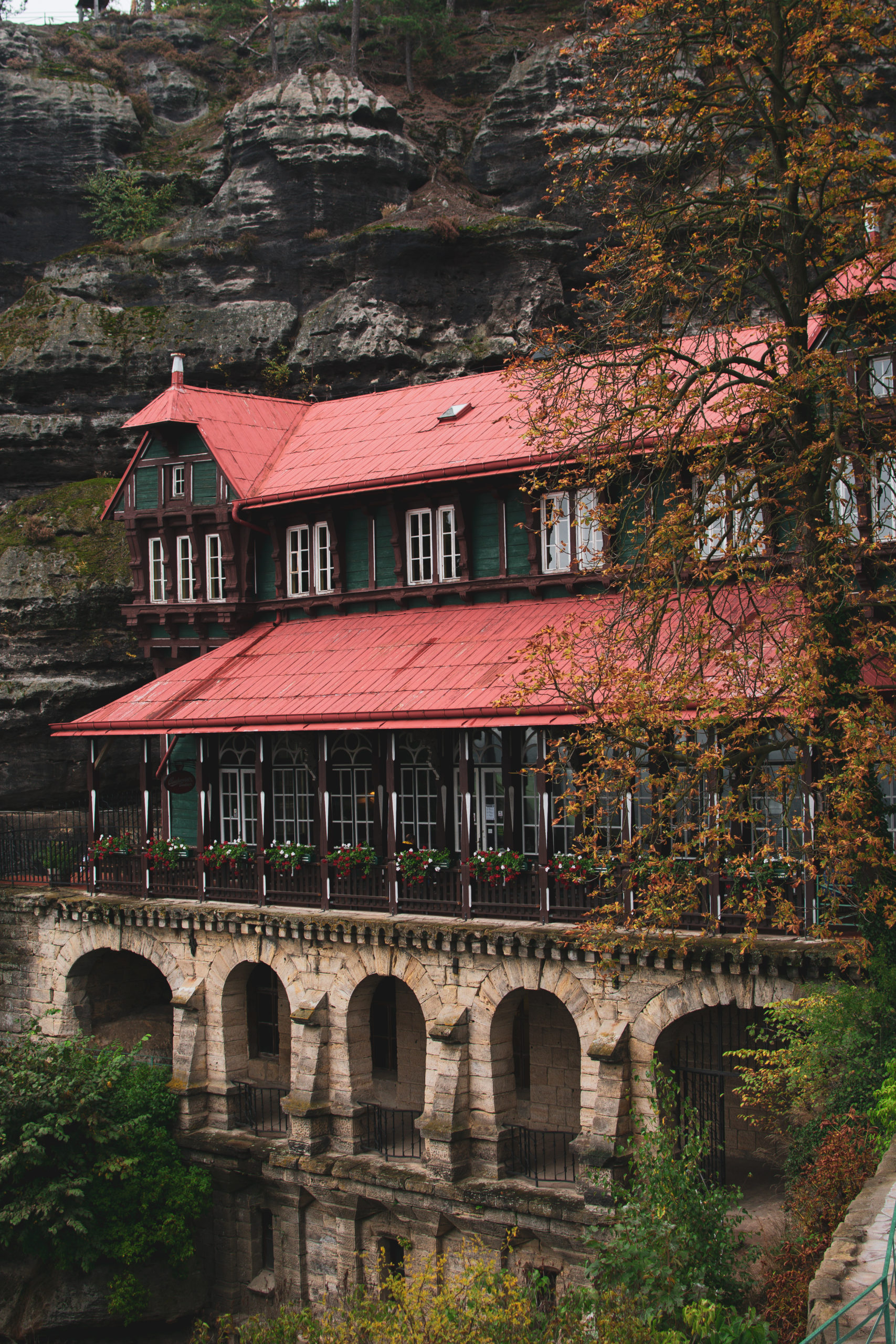 5. Mariina skala & Vyleminina skala
The starting point of the hike is from the small town of Jetrichovice. There are a couple of parking and then you can just follow the signs. It takes around 45 minutes of hiking up a quite steep path with a lot of stairs. At the beginning of the path, you will walk next to an old children's sanatorium that now looks like a haunted house, we didn't want to be around it at night ahah… Anyway, once you're up there, take some time to enjoy the view but be careful as it is often very windy!
When to go: all year, especially Spring and Autumn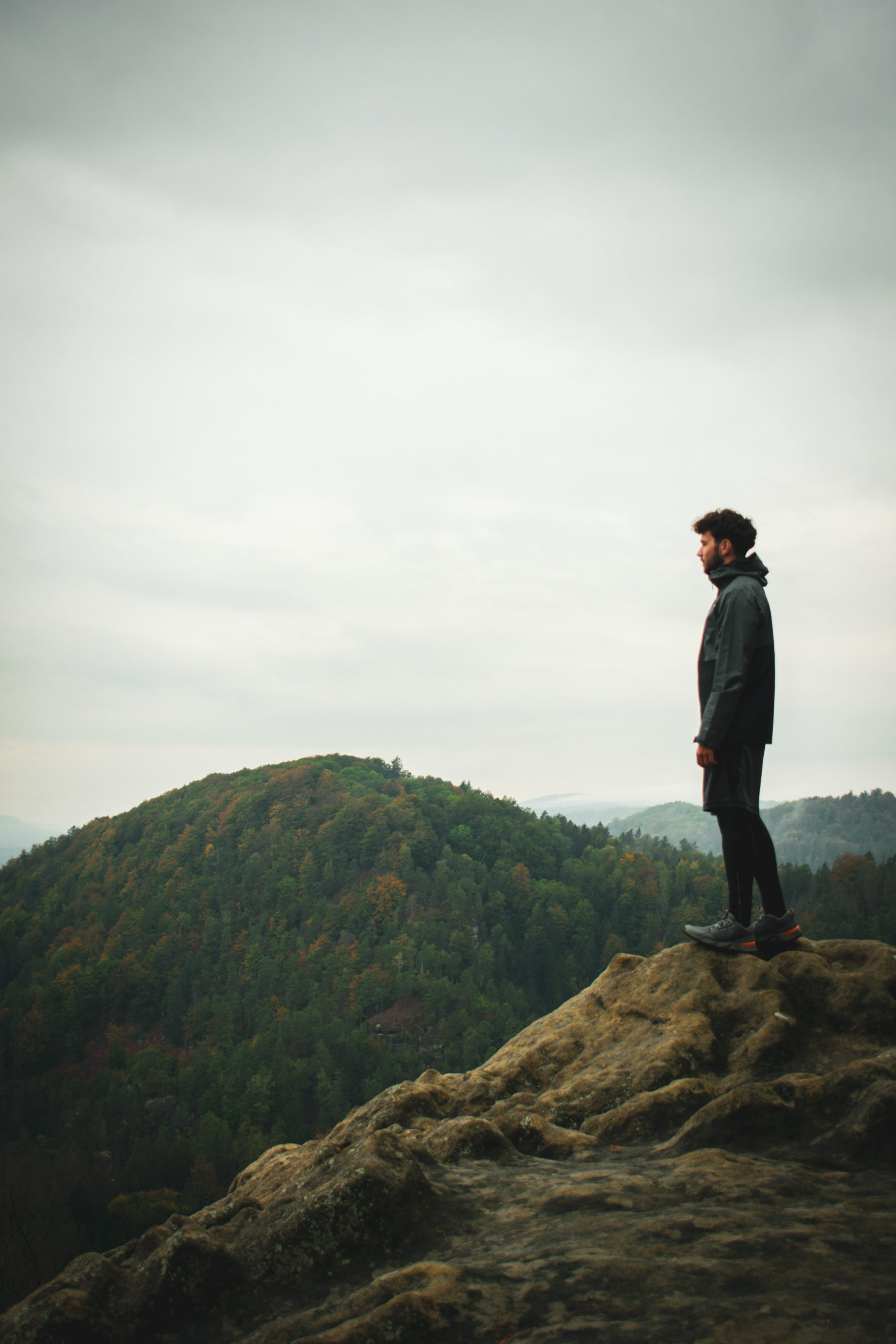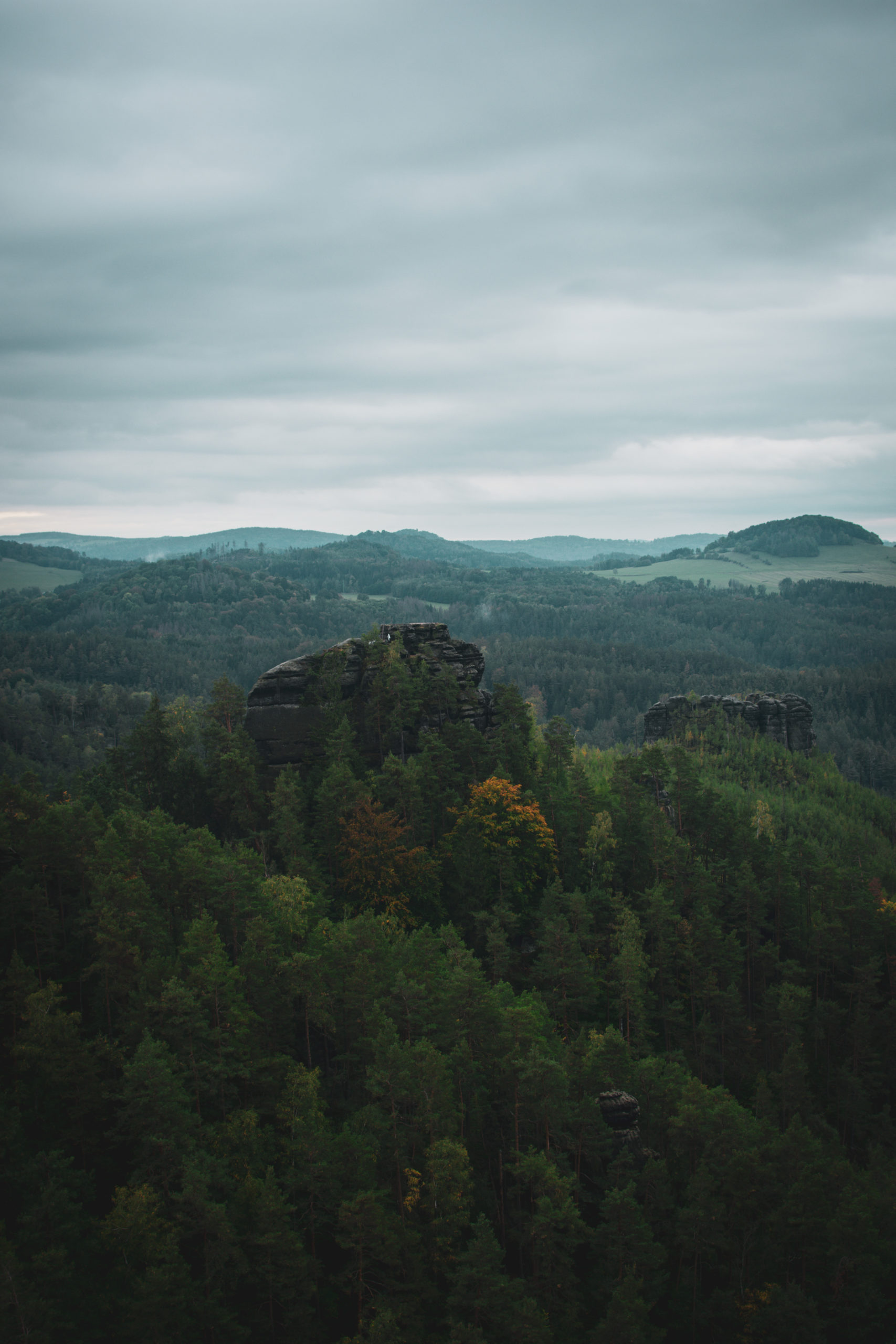 6. Old Gasworks Building
Located in Hřensko, this old building is worth the detour. The old gasworks house has been transformed into a restaurant and guesthouse. We're not sure we would sleep there as there is a little bit too much of a horror movie vibe ahah but the building is very beautiful to see!
When to go: all year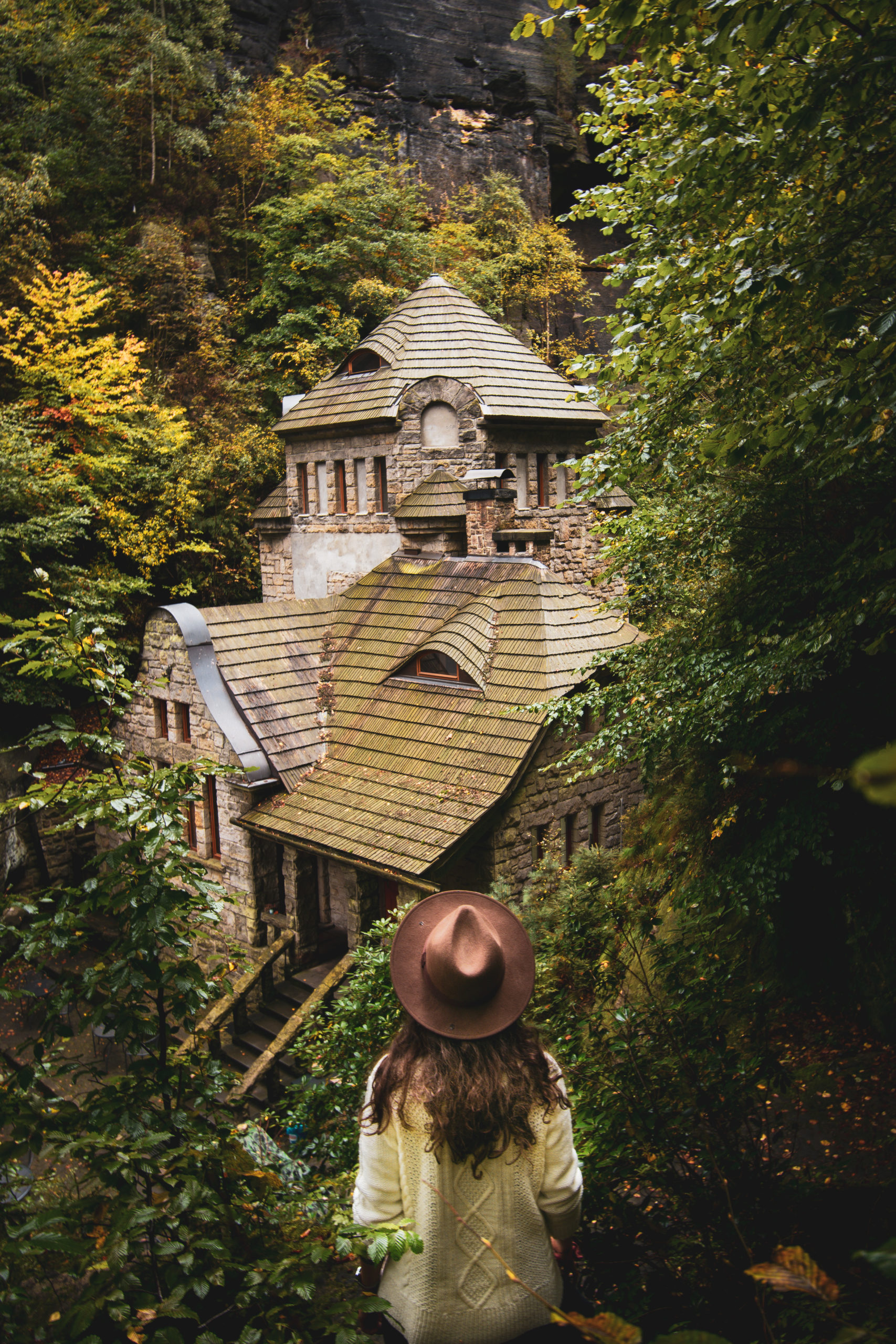 Bonus
We found you other places to visit in Bohemian Switzerland that we didn't get to see because of the weather and the border regulations (COVID-19). These places are really beautiful and if you have time you should really check them out!
1. Bastei
It is a rock formation in Saxon National Park, in Germany but really close to the border with Czech Republic, so you can easily go from one place to the other. Don't forget to bring your ID and some euros € if you go there. From Bastei parking lot you can easily find your way around to reach the view points!
2. Krizovi vrch
The hill is located in the small village of Rynartice and thanks to its 360 degrees view, it is an awesome place to take pictures of the surrounding countryside. For photographers (but not only, of course), it is a great place to be for sunrise or sunset!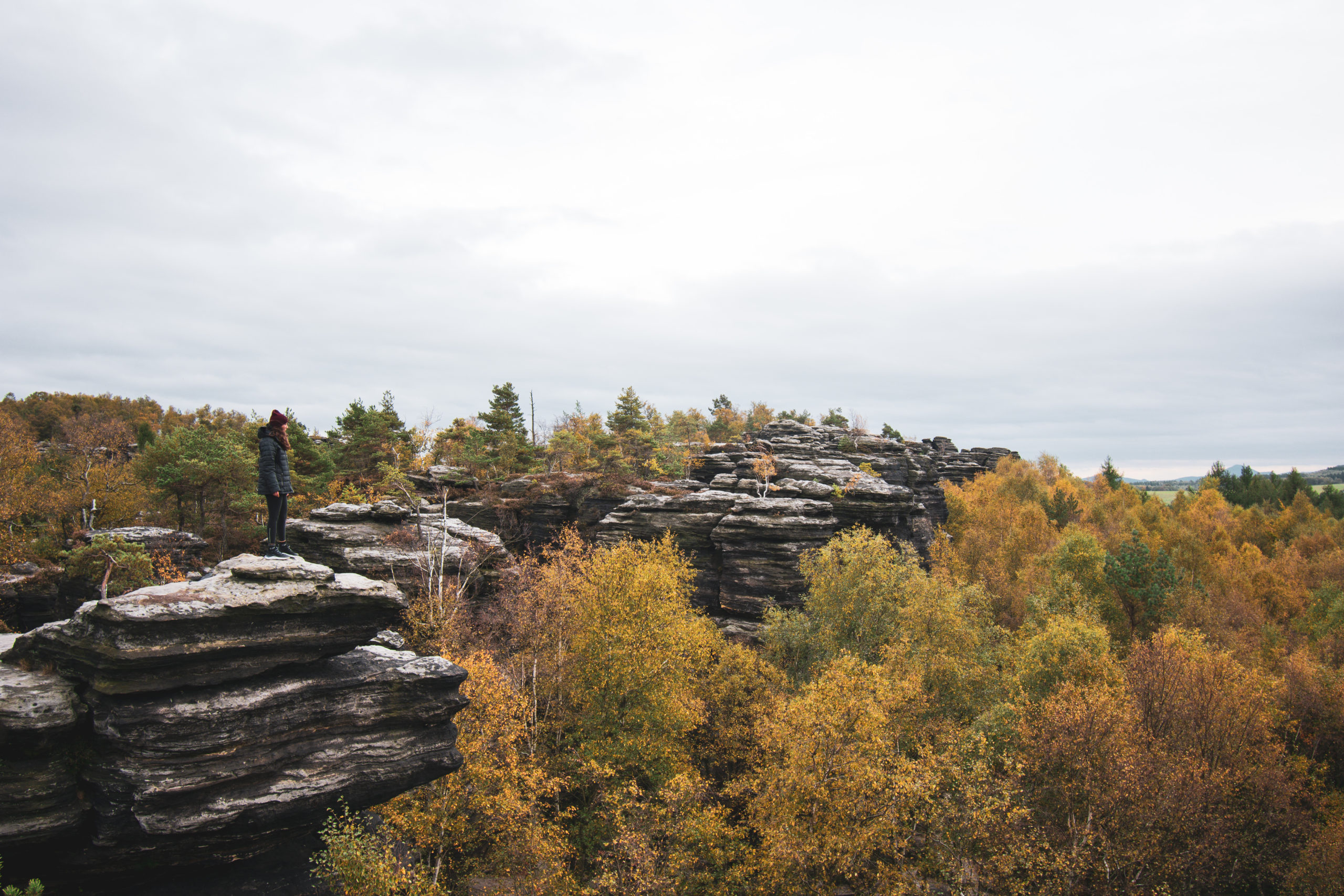 Where to eat
 If like us, you like to eat well while travelling, here are some of the best adresses to check in Bohemian Switzerland!
Pivovar Falkenstejn
Make sure to try the local beers there! The food is also really good, but the beers are epic. The restaurant is located in Krasna Lipa.
Na Stodolci
From what we understood when planning our trip, this restaurant (and guesthouse) is a MUST do when in the area! And we were not disappointed, everything was perfect, from the beer to the people, and of course the food! Most of what they offer is local, organic and of really high quality. They also have great vegetarian options.
Where to sleep
There are many pensions and small hotels in Bohemian Switzerland, it is really up to you where you want to be to visit the area.
Pivovar Falkenstejn
Not only an amazing place for food and beers, it is also a very nice place to sleep! The people are really kind and the rooms very nice.
Na Stodolci
Once again, not only is the restaurant incredible but the guesthouse is too! This is a pure gem in the middle of Bohemian Switzerland. Make sure to book in advance as this place is (super) popular!
Hotel Kortus
Located in Hřensko, which for us was a great starting point to explore. We didn't stay there but heard only good reviews.
Stará Plynárna
This is the guesthouse in the old gasworks building in Hřensko. If you are looking for a unique experience, that's probably a great place to try!
Finally
Don't forget to take the time to enjoy the views and to try the local beers (Falkenštejn or Lišák). And to avoid the crowds in some places, remember to go there early (for the sunrises for example). If you visit Bohemian Switzerland, let us know what were your favorite places! And, if you have already been there, tell us what were your best places to visit in Bohemian Switzerland! Follow us on Instagram for more pictures of this national park!
We hope you will enjoy your trip to Bohemian Switzerland National Park!
Marie & Karim
(If you liked this article or have any questions, please comment below! And make sure to follow our adventures on Instagram @InspiringExplorers
Save this on Pinterest to refer back to!