If you are not afraid of the cold and the snow and you want to see mindblowing landscapes, you found your next destination:  Tromsø ! In this article, we will share with you our week spent up north and all our tips!
After spending 2 days in Oslo (you can check out our article about it here), we took a flight for Tromsø and we were so excited by this trip ! Why fo there during Winter? For us it was for 2 main reasons : see Nothern Lights and live in Winter Wonderland ! We were there in the very beginning of February, but if you'd also like to see Whales and Killer Whales you should try to be there between October and mid-January ! We made the sacrifice to not see them, but we'll definitely go back !
Is Tromsø expensive?
We found it to be less expensive than Oslo for example, nonetheless it is not cheap ! Norway is quite costly for accomodations, activities and food. The cost of your holidays there could vary a lot depending on the number of activities you decide to do, whether you decide to rent a car or not, etc. Don't hesitate to contact us if you'd like to have advices regarding the activites and accomodations. 
What should you wear in Tromsø?
That may be one of the question you're having, and you're right as it is very important to have good clothes to face arctic conditions. The first rule is to think in layers ! Try to have thermal underclothes, a woolen sweatshirts, good water and/or wind proof pants and jacket. Don't forget your gloves and your hat, they may save you when it gets really windy ! Also, take good shoes. We wore Sorel and honeslty they were awesome and you'll probably see a lot of local walking around with Sorels. For the clothes, we can recommend Peak Performance as it seems to be one of the best brands.
How to get around?
We decided not to rent a car as we wanted to take it slow and explore in the most eco-friendly way as possible. Tromsø is so walkable and actually public transportations are really good (it costs 35 NOK for a single ticket). Furthermore, driving in Nothern Norway can be quite tricky. Even if all the cars are well equiped, the conditions can be harsh and the road very slippery, so be careful !
Once you have the appropriated clothes, you are ready to explore the amazing city that is Tromsø and its surroundings !
Here's how we decided to spent our week.
Day 1
We took it slow for the first day, starting with a late brunch at Risø mat & bar, a very local coffee with great Norwegian food.
First tip : go for the cinnamon rolls with a hot chocolate. That was the base of our alimentation for the whole trip (almost).
Then we walked around the city, it's a small town with one main street and a lot of cute local stores. The weather was quite stormy so we did not do much except hopping from shop to shop.
We stayed the whole week in a cute Airbnb a little excentered (about 18 min walk from the city center, 7 min bus) which was just next to a frozen lake : Prestvannet. It turned out to be our best spot to see Nothern Lights! So when the night came, even though the weather was not promising we still decided to go there and we weren't disappointed. What a show mother nature gave us ! Definitely the best way to start our week here.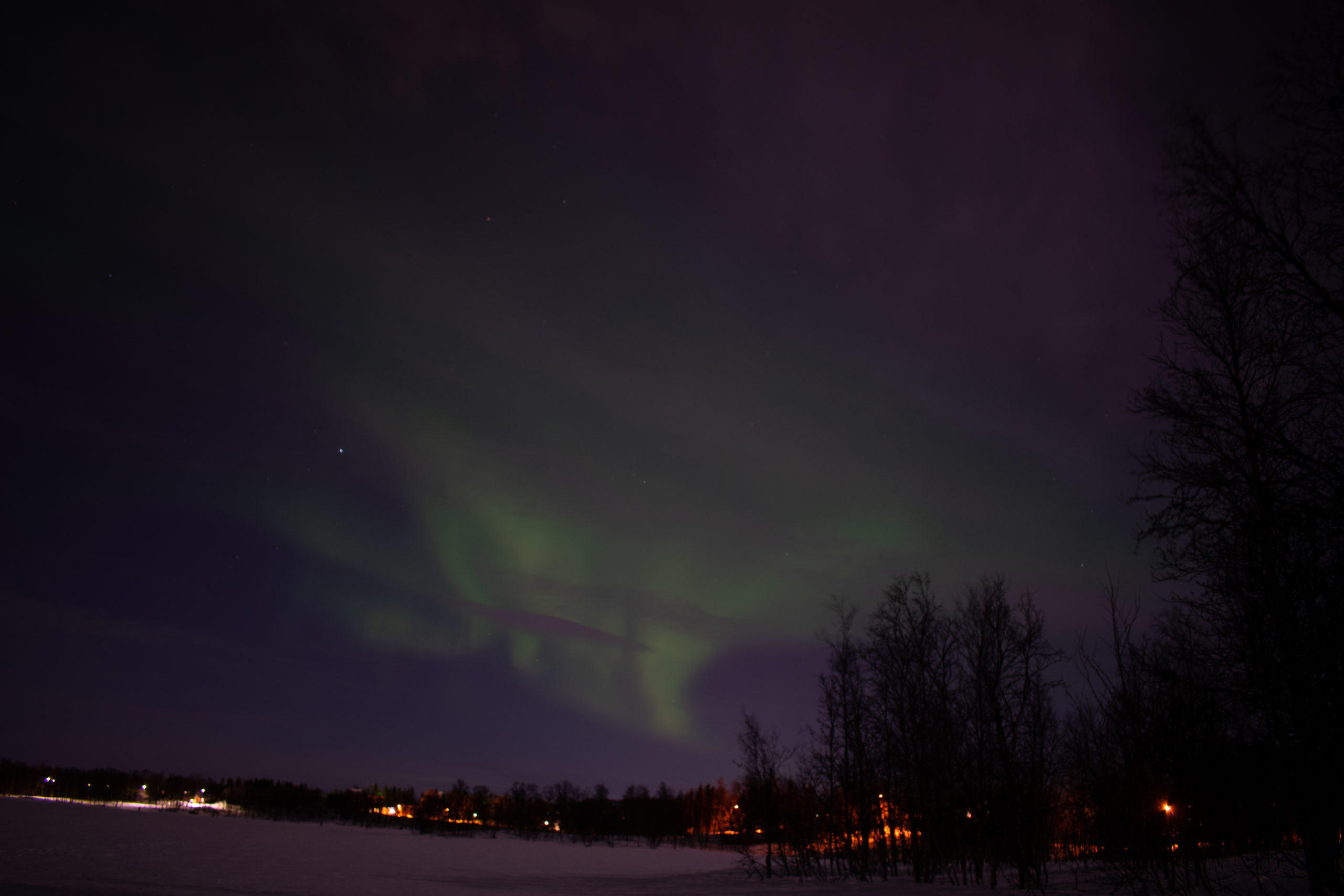 Day 2
So hyped today ! We have booked a dog sledding tour with Arctic Adventure. We were very skeptical with the idea of doing dog sledding as there still is a debate whether it is good or not for the dogs. Is it ethic ? So we were very picky when looking to book this activity and once again, not disappointed ! You can see that the dogs are very well treated and are so friendly. You can cuddle them for a while before and after the tour and they always ask for more. Then during the tour you can see that the only thing these dogs want is to run faster, they bark when they stop and are just so keen to go.
The tour itself was incredible, we had real arctic conditions, blizard, snow, etc. but that just made the experience better.
At the end, you should thank the dogs for the good work and have a hot chocolate. The owner of the dogs then gave us a talk about how she runs her business and how she takes care of her dogs. You could see that she really loves them, and so did we !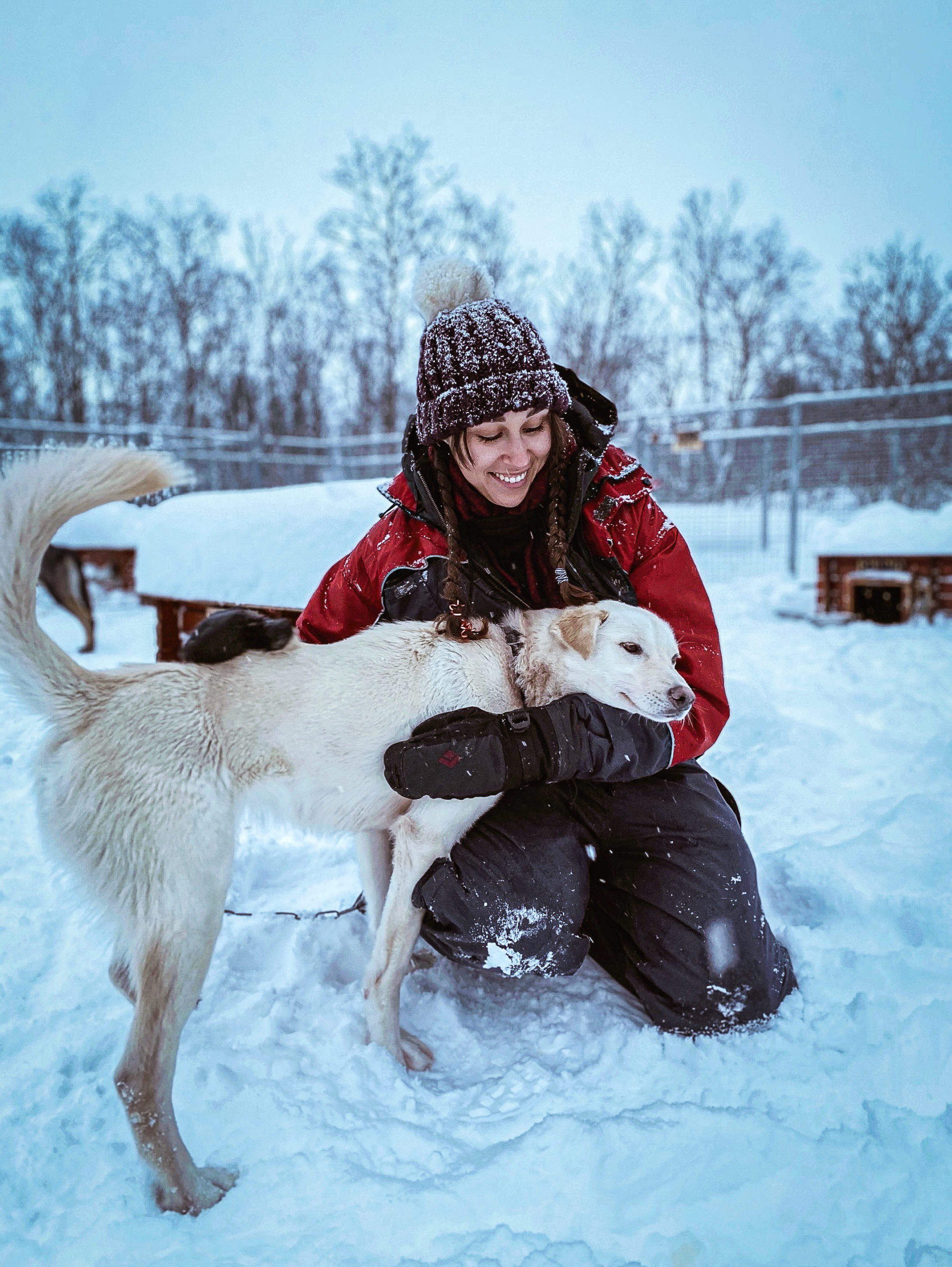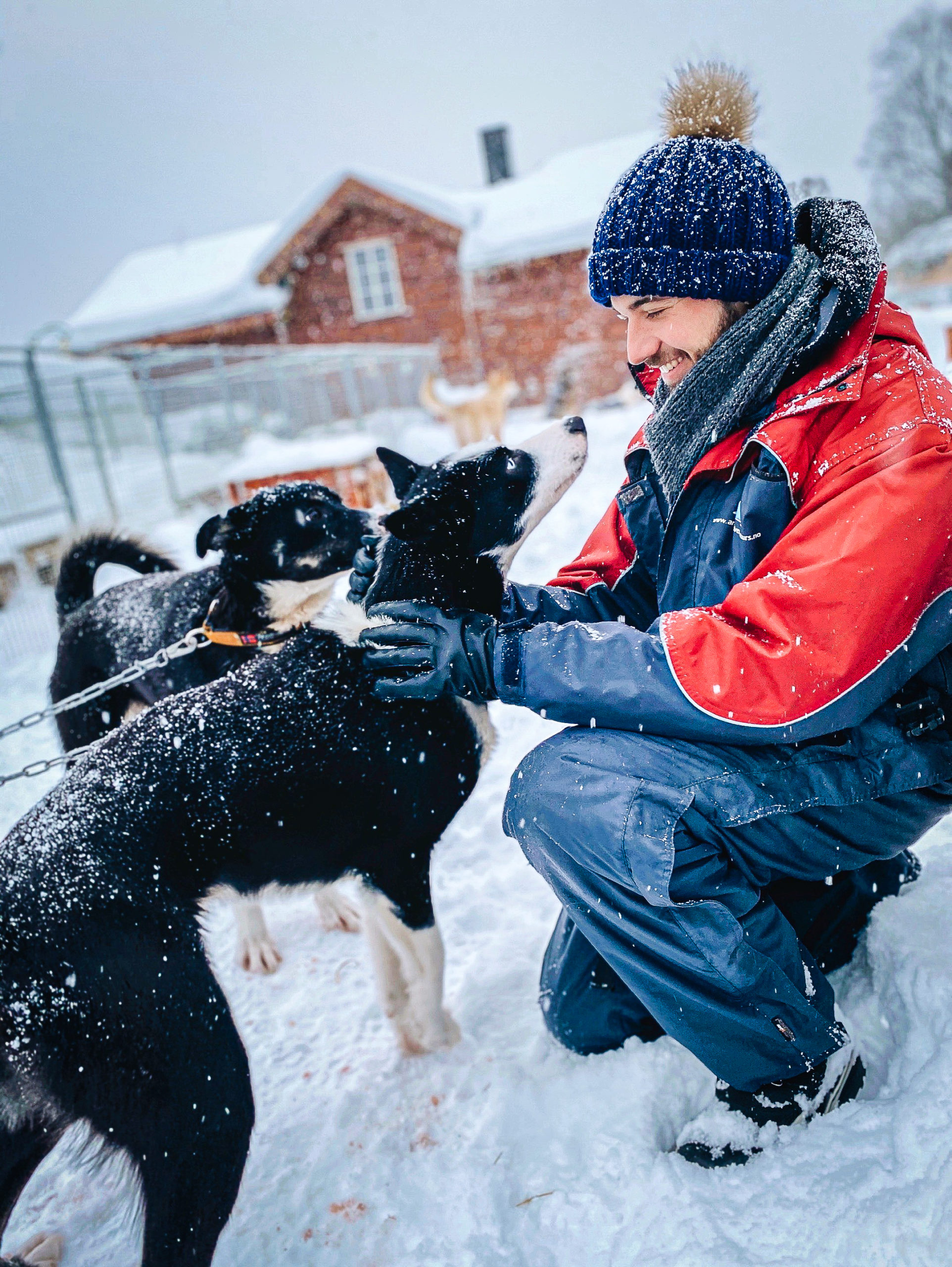 So here are our two advices for dog sledding : 1. Be picky while looking to book this tour as animals are involved! It's so important to do it with people who actually take care of their dogs. (Book with Arctic Adventures!).
2. Wear warm clothes! They'll provide you with a gear but having warm layers underneath is really important.
After that great time, we went to warm ourselves up at Smørtorget Coffee and we fell in love with it. It's so unique with its vintage boutique inside the coffee and its great food.
Day 3
Another day, another activity. We booked all our activities with Pukka Travels, an eco-friendly company that offers a great range of tours in Tromsø. It was very important for us to be as eco-friendly as possible while visiting and we trusted them to share our values.
So day 3 was sailing day. We boarded a small catamaran welcoming up to 12 people and took off. The boat ride was great, you move slowly surrounded by snowy mountains and silence, priceless. For those who want, you can try fishing around lunch time (nobody got lucky this time). But they made it very clear that they'd only fish what is needed to feed the people who want fish, no more. They also provide vegetarian/vegan lunch for people who don't want to eat fish. We noted that overall, Pukka staff was very accomodating and we really appreciated it.
Sailing was a great way to have a different perspective on the fjords, we loved it.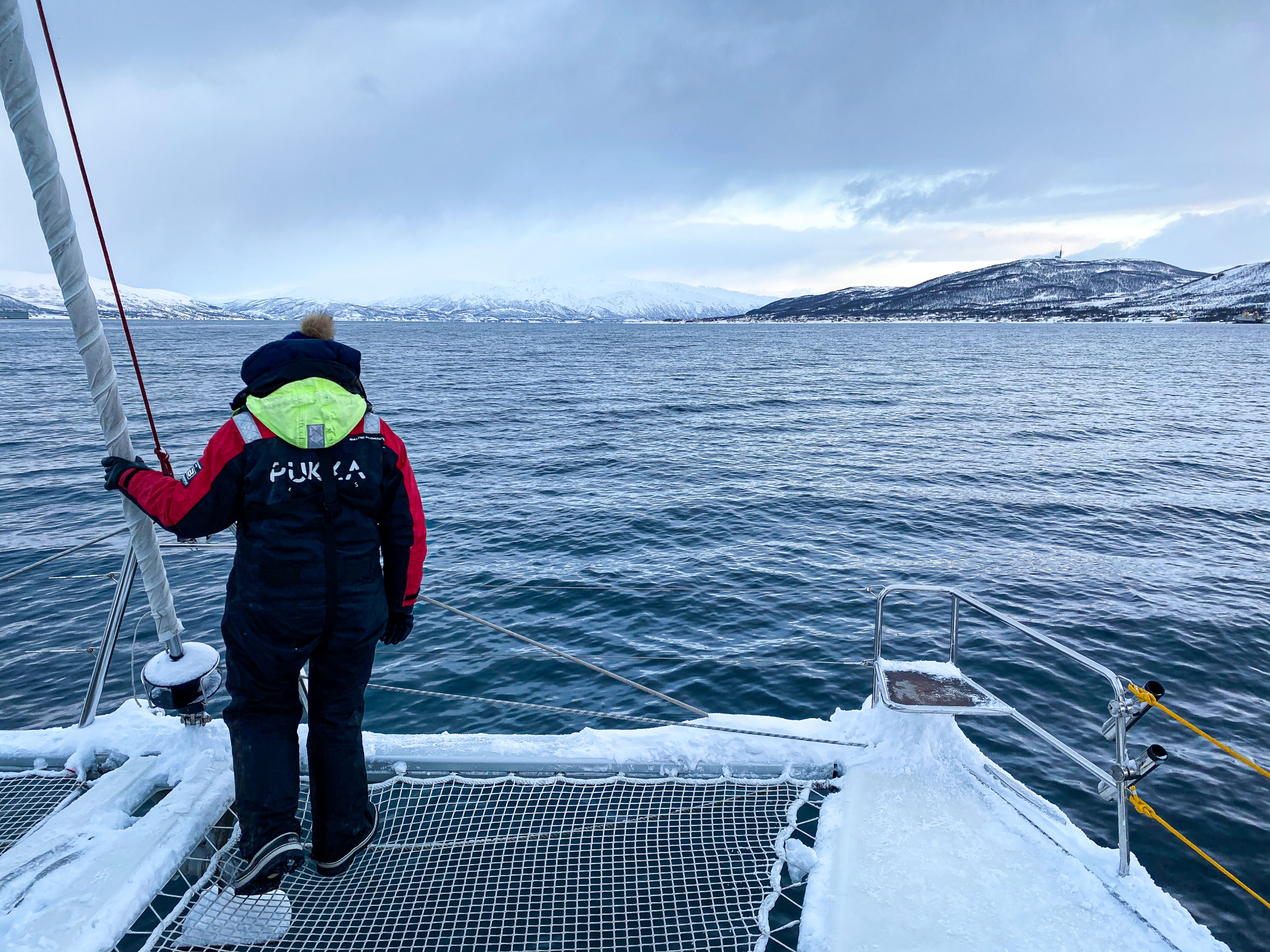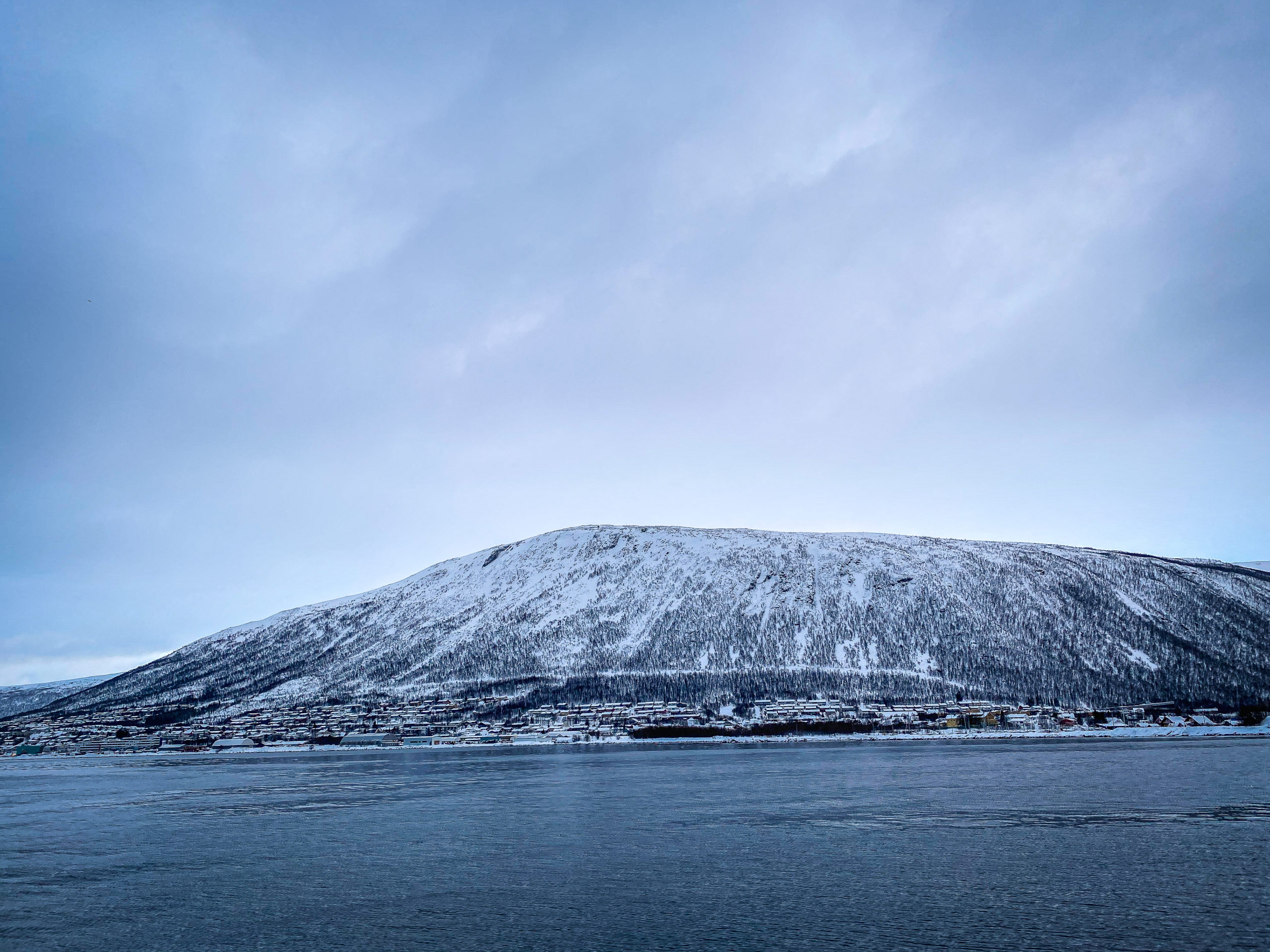 When we got back around 2pm, we decided to go to Tromsø Cable Car which is located on the other side of the bridge of Tromsø. If you are going there, we recommend you to go around sunset (meaning around 2:30pm in February), the view of the snowy city with its lights from above is really amazing. And if you're patient (and lucky enough, unlike us this time), you may even be able to spot Nothern Lights from up there, it's a great spot.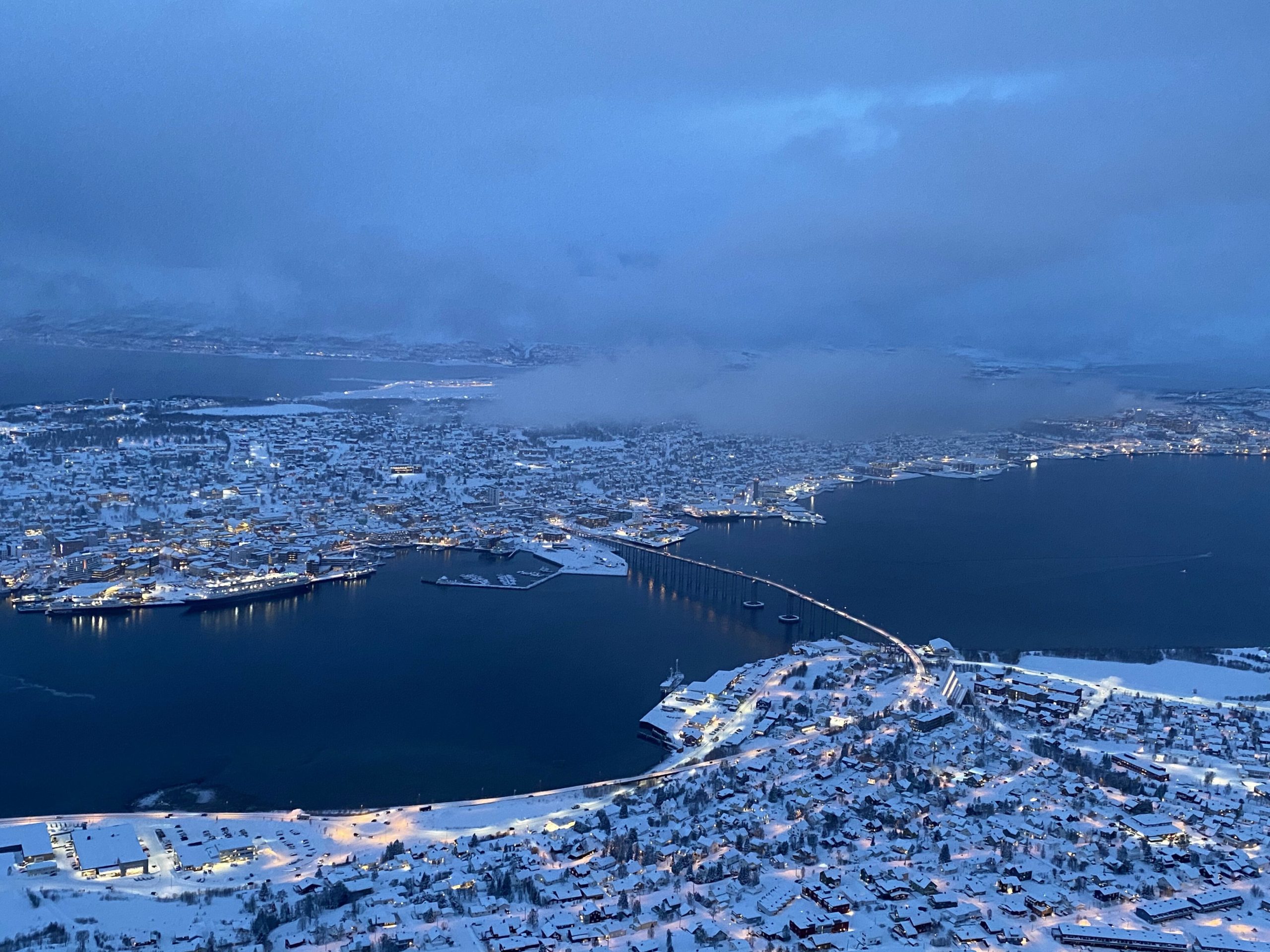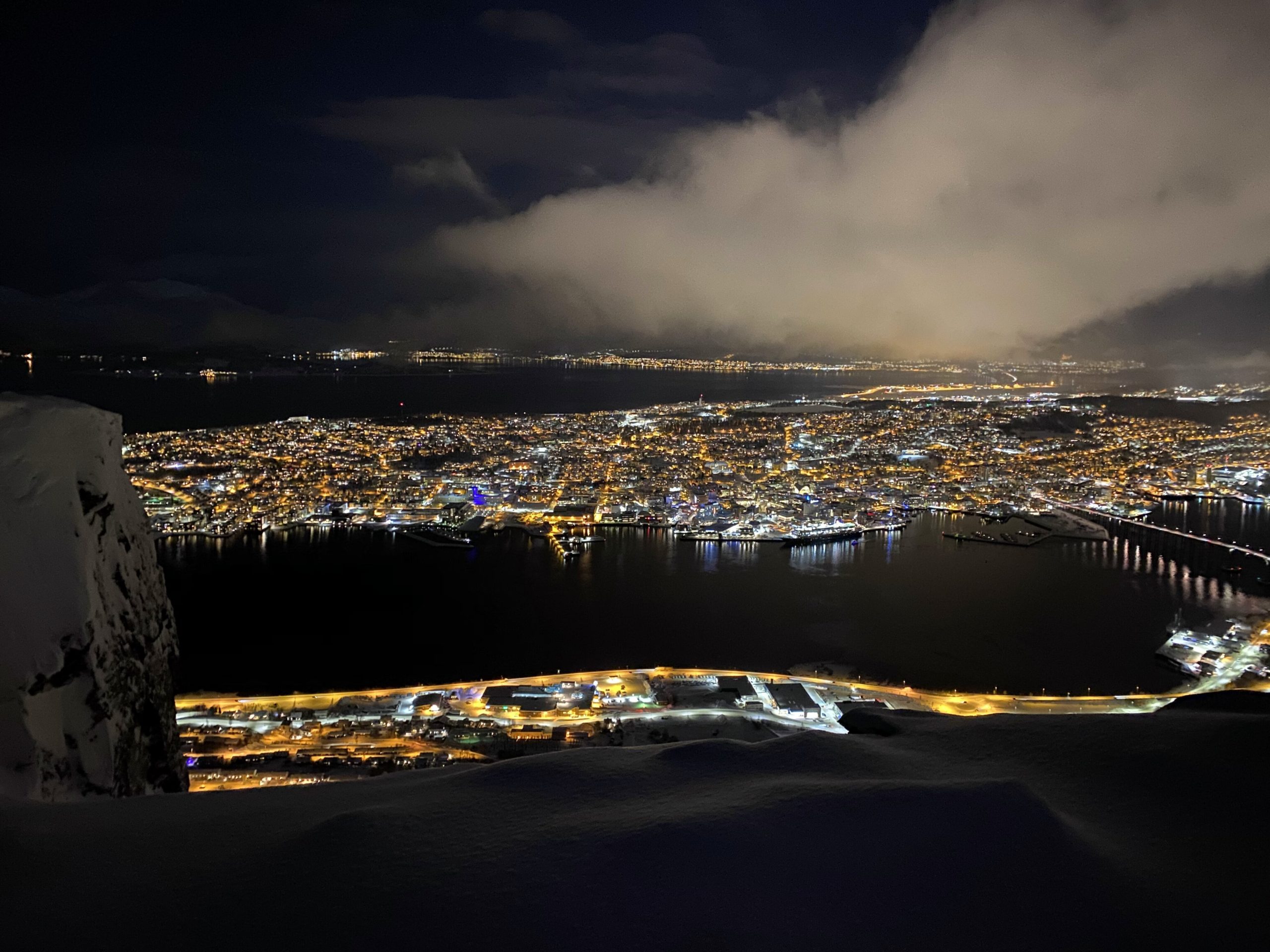 Day 4
We woke up with an awful (arctic) weather… so much wind and rain. This is most likely related to climate change, it snowed a lot the first days we were there and it was pretty cold (around -5 celsius) but then it started raining and the temperatures went up to around 5 degrees celsius, which is not normal at this time of the year…
We booked a snowshoe hike tour with Pukka Travels for day 4. When we arrived there, our guide explained to us that due to the weather we'll have to adapt our tour. So we went on, disregarding the conditions, and we had one of our best tour of the holidays. First, we drove for a while. We were the only two with our guide and the ride was in a Tesla (#zeroemission), so luxurious.
Driving along the fjords is so impressive, you actually feel so small. We then hiked for about an hour in the forest and we had this impression to be the only one on earth. Snow is so peaceful.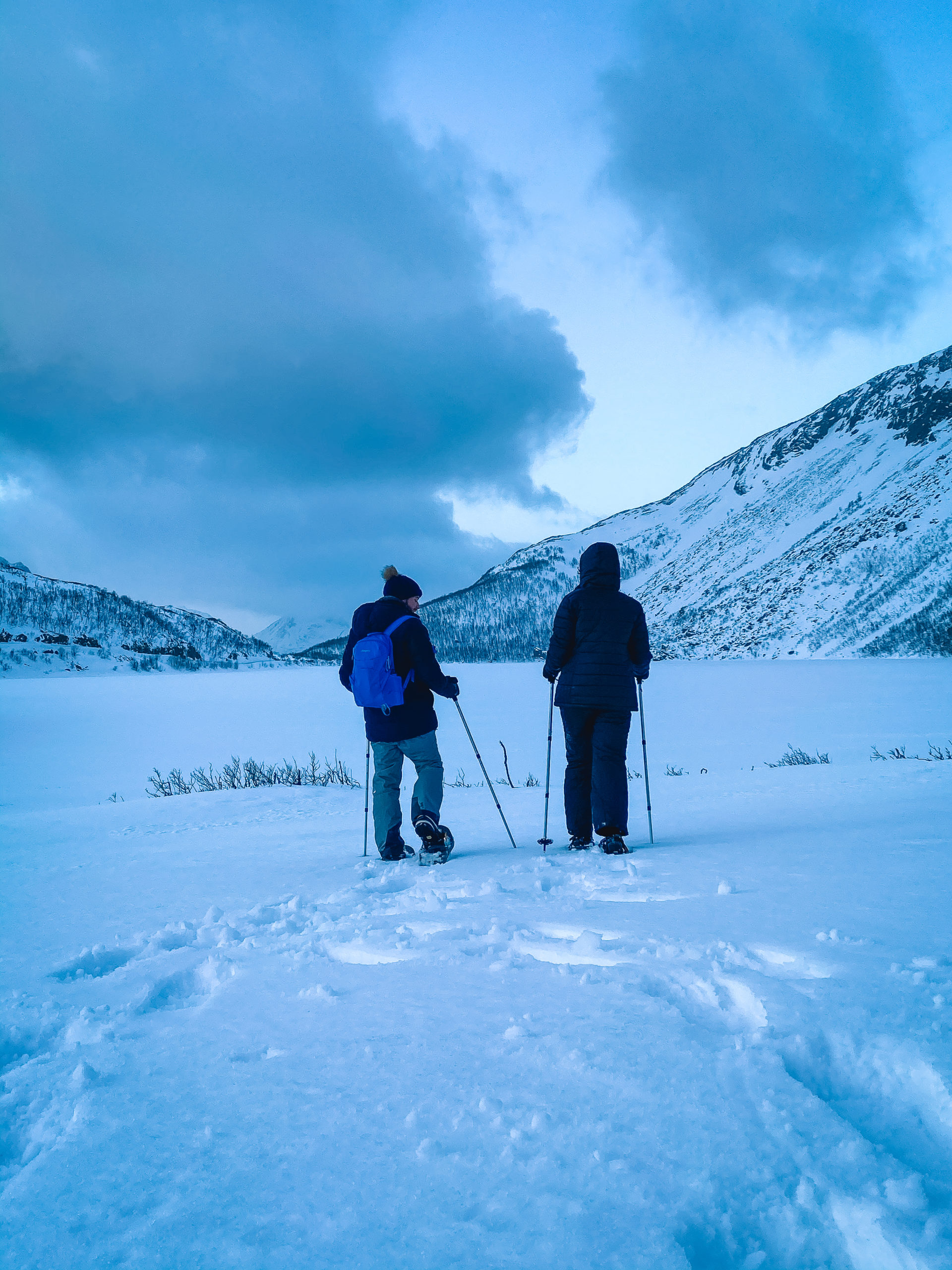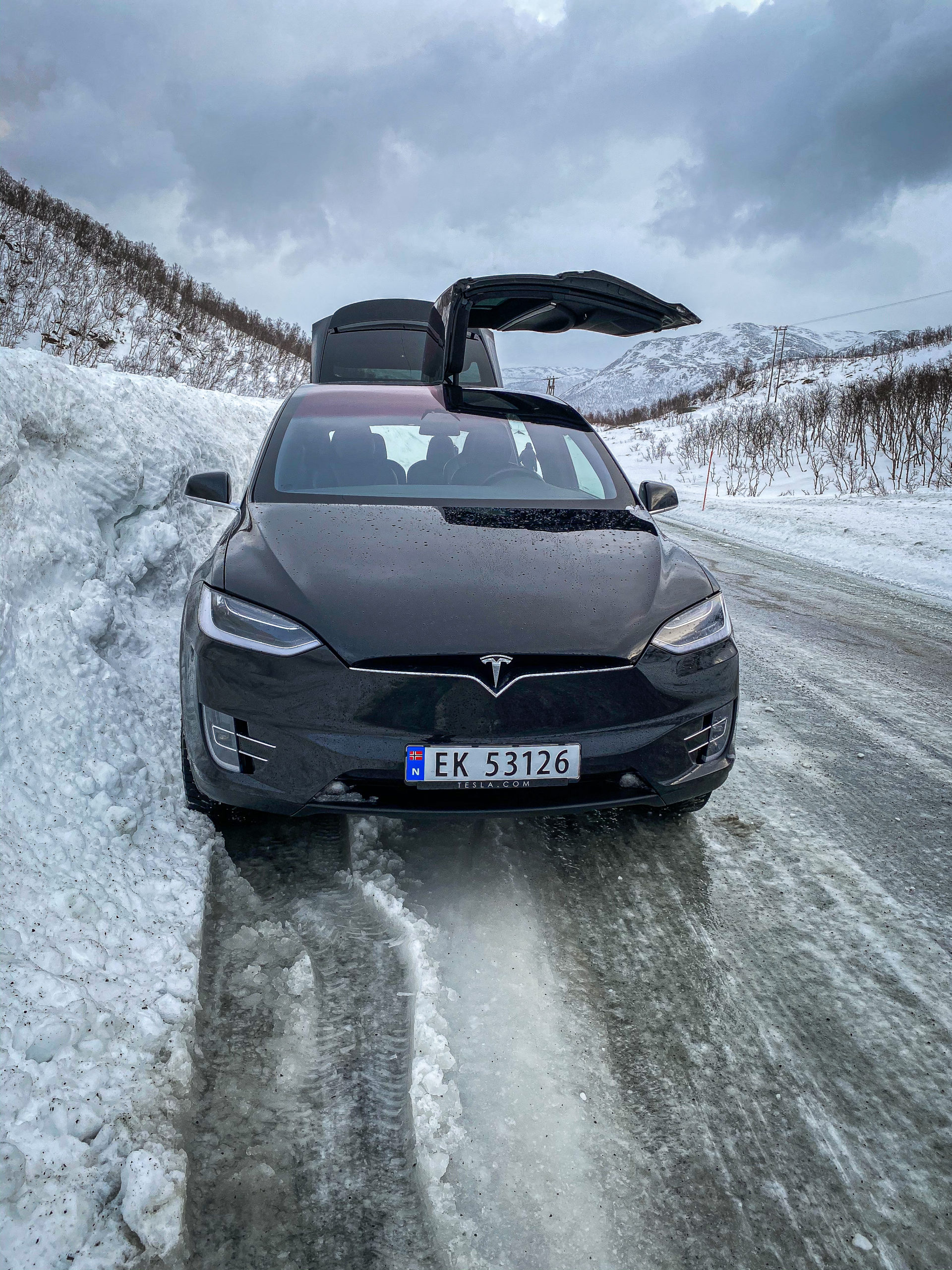 Then around lunch time, our guide Dawid took us to one of his favorite spot in the fjords : Grøtfjord and its white sand beach. WOW ! It was just mindblowing. We had lunch and then headed back to town.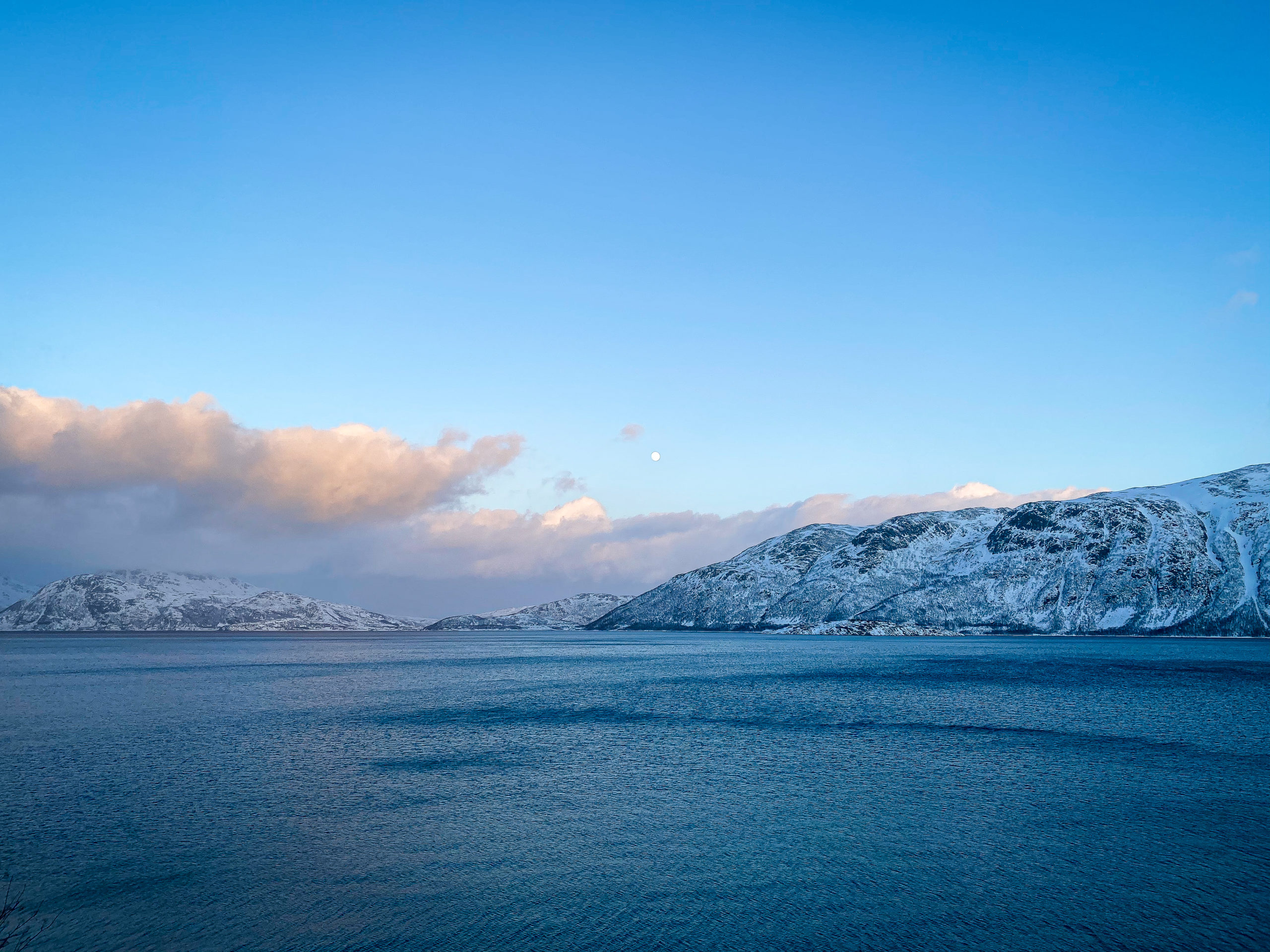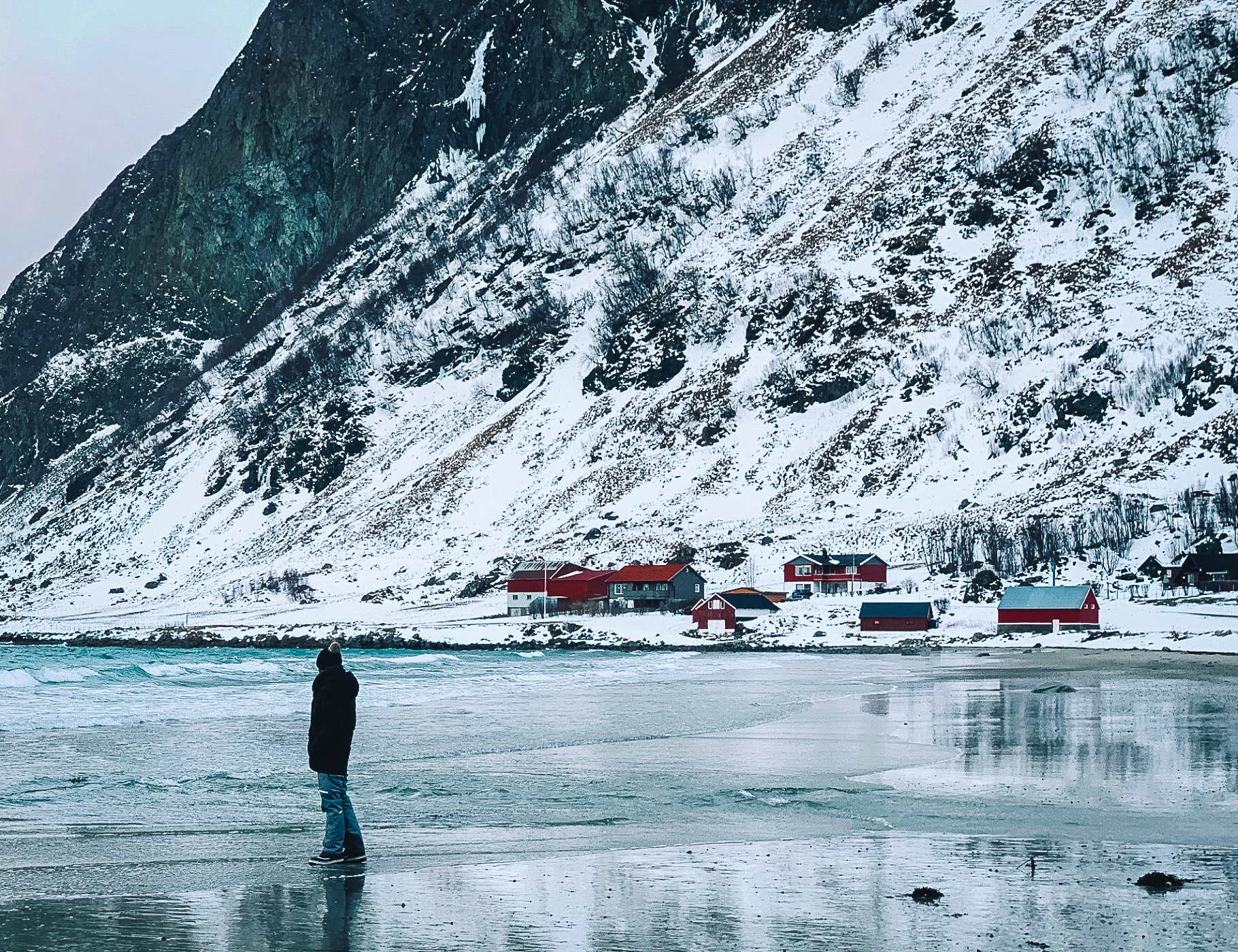 Above all, we really appreciated that Dawid was so accomodating. He did his best to make us live the best tour possible with the difficult conditions we were facing and showed us some hidden jewels of the fjords. We definitely recommend this tour to anyone who is not afraid to spend some time outside, and ask for Dawid !
In the evening, we booked a Northern Lights chase tour (with you guessed who… Pukka Travels!). The tour is operated in a carbon neutral minibus carrying a maximum of 15 people (we were around 10). They warned us up front, the conditions were really bad but we still wanted to take the chance. Unfortunately we did not see anything even though they really tried by going more inland. Sometimes, they can even drive all the way to Finland, but it was pointless this time. Nonetheless, we had a nice campfire and dinner and it was still a pleasant experience.
We got to see Nothern Lights without doing a tour because we were staying outside of the city, but if you're staying in town and don't rent a car, a tour is a great idea and they'll bring you in the best spots depending on the conditions.
Day 5
We felt like we needed to rest a little so we overslept (don't do that too often if you want to enjoy as sun is up only from 10am to 2pm basically). Then we went for an amazing brunch at Koselig Cafe #foodlovers. We had the chance to be in Tromsø during the Sami week so we decided to walk around town, go to the Arctic market and watch the lasso competitions. The Samis are the indigeneous people from Lapland (Norway, Sweden and Finland). It was the perfect week to discover more about their history and culture.
Nothing much to add for this day, it feels good sometimes to just take it slow, don't forget you're on vacations.
Day 6
For our last day in Tromsø we booked a Fjord sightseeing tour by (carbon neutral) minibus. Even if we already had a pretty good glimpse of the fjords with the Arctic Sailing tour and the Tesla ride, we wanted to see more. You can't get tired of the view, it changes with the weather and the time of the day, it's just incredible. We did a couple of stops along the road, spotted a few reeinders and some harbour purpoise. Our favorite stops were Sømaroy fjord and Ersfjordbotn.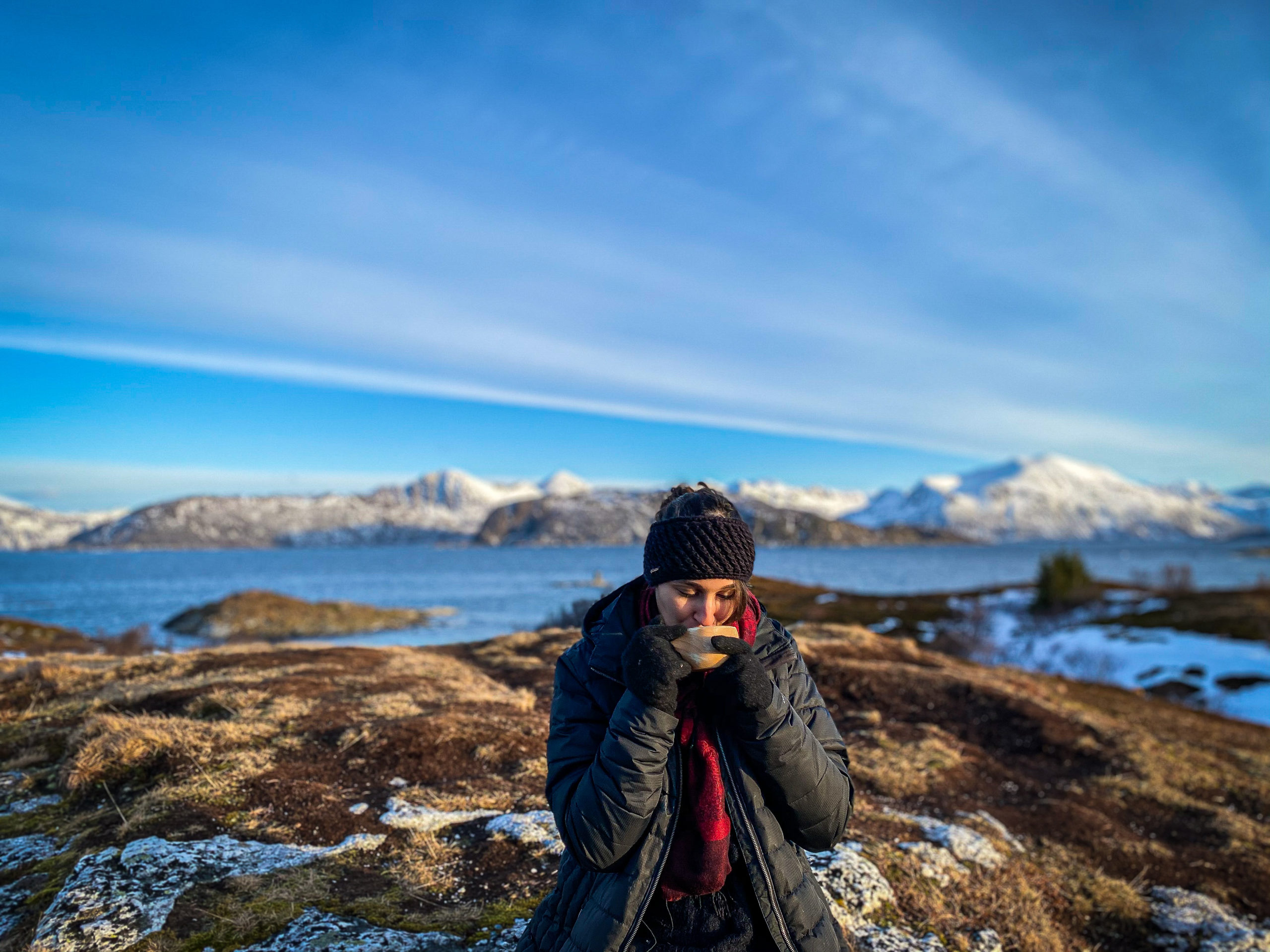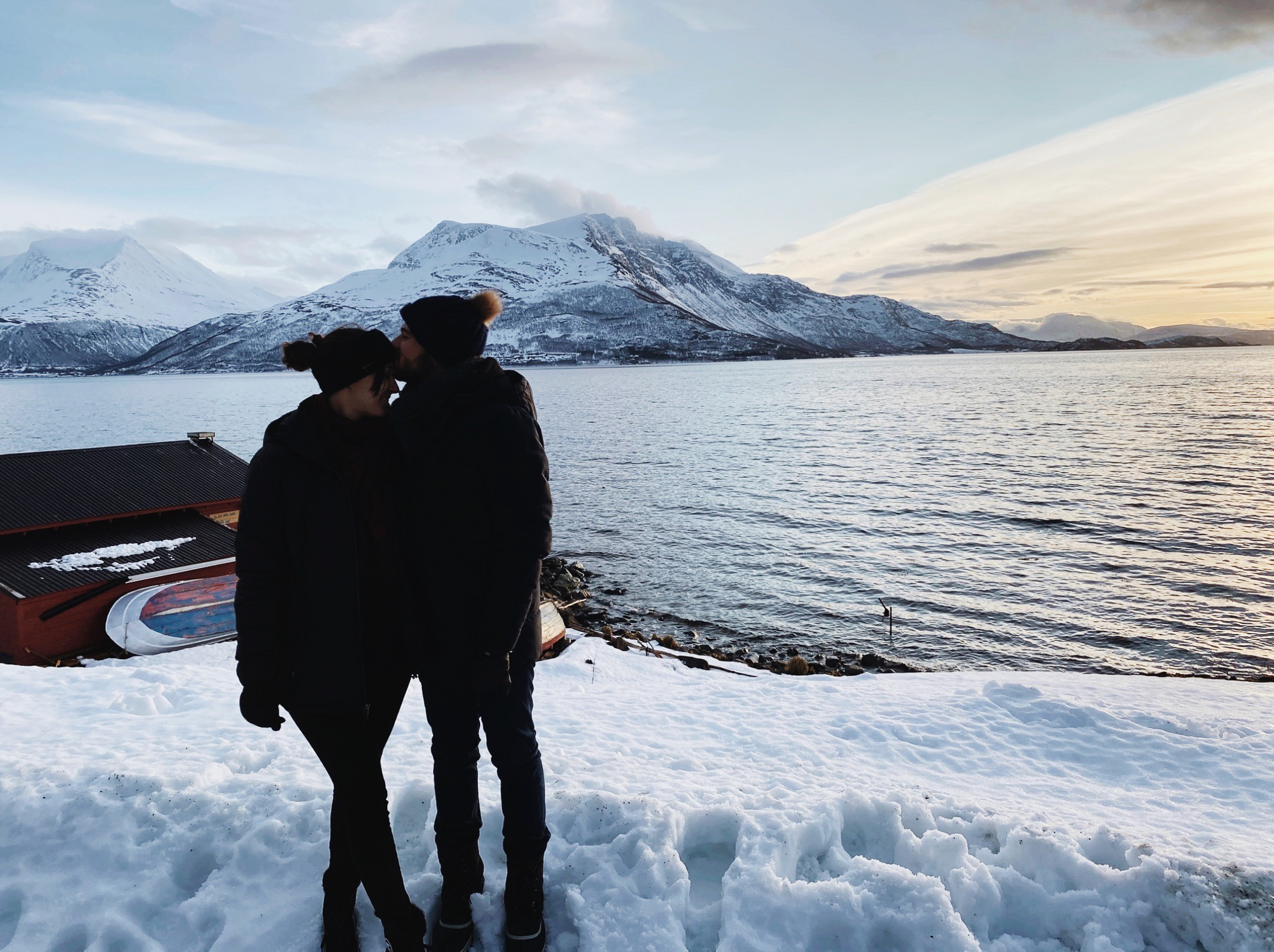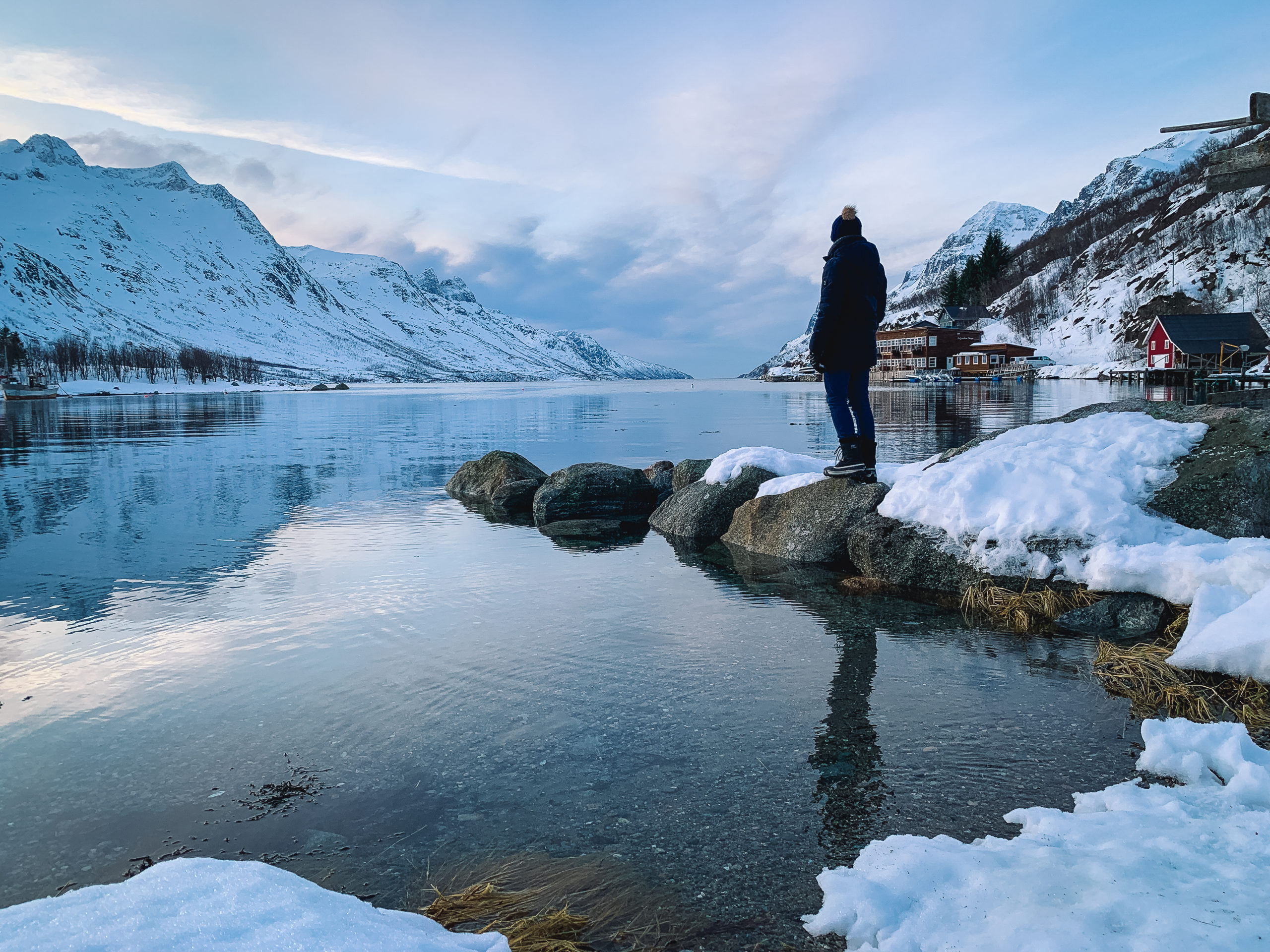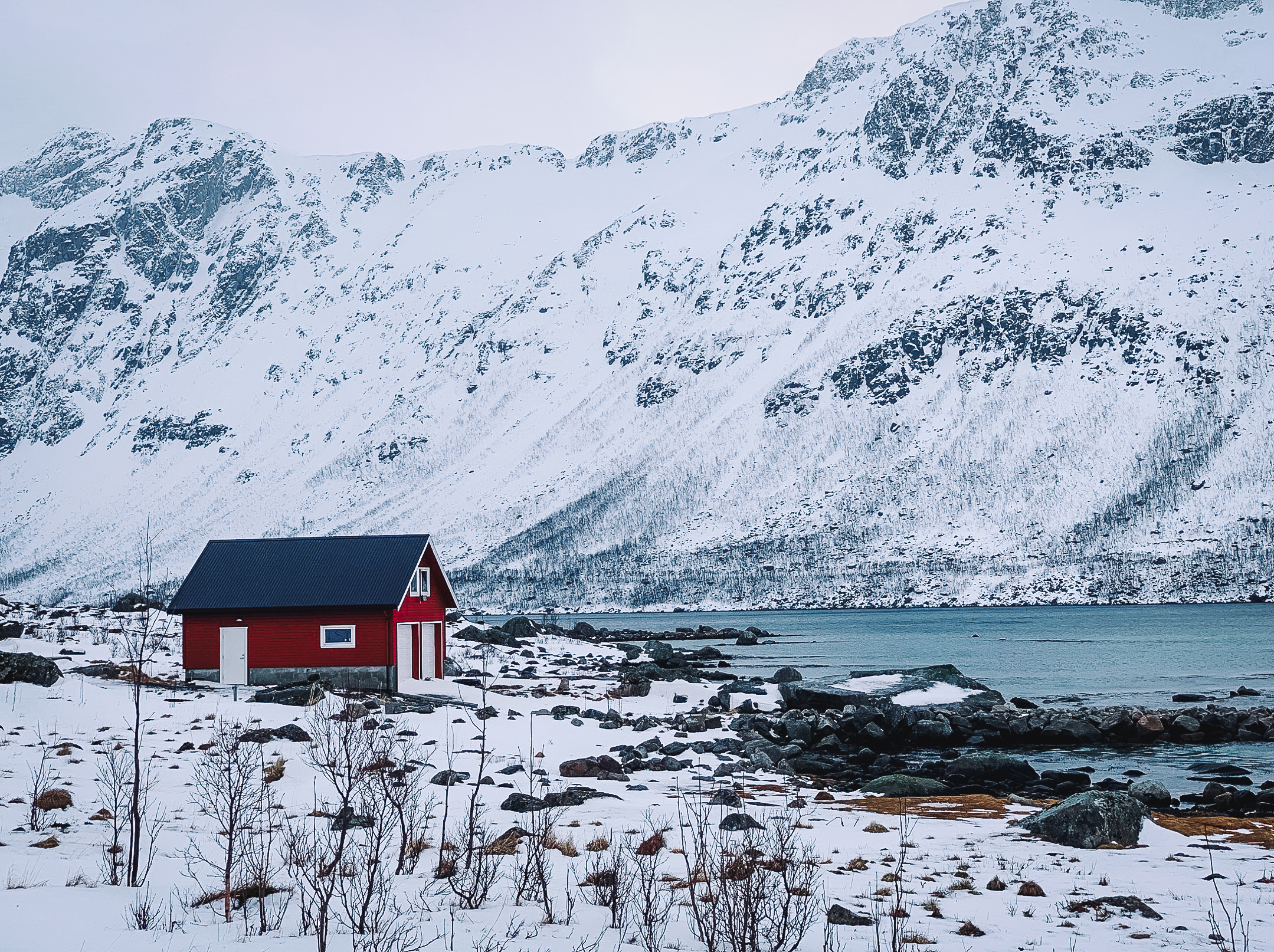 Once again, if you decide to rent a car it probably is even better as you can decide where and when to stop and take it to your own rythm. But we decided to not rent a car and we didn't regret it at all, it allowed us not to be stressed about driving in these arctic conditions and we saw awesome places and heard great stories about the life up there.
For our last night, we decided to go back to Prestvannet lake even if the weather forecast was not great. And that was the best way to end our trip, we got a spectular show of Nothern Lights !
Day 7
Time to go home and debrief about this week.
What a week!
We did a lot and saw so many beautiful things. Norway is an amazing country that has so much to offer and being in a so eco-friendly country was very pleasant.
We loved all our tours booked with Pukka Travels
, and if you're planning to spend some time in Tromsø we can only advise you to check their tours, we're sure you'll be satisfied ! They are
very eco-friendly
and you know how important it is for us !
The only thing that was a bit complicated was to find vegetarian food for me (Marie) in Tromsø. Obviously, most of the local dishes are made either with fish (cod or salmon) or with meat (mainly reeinder). But we managed to find some good places and we'd be happy to share them with you if you're interested ! Leave us a comment.
Finally, we can only recommend this destination if you're looking for
memorable holidays
. It is not yet that much touristy and you'll really be able to enjoy everything Tromsø has to offer away from the crowds.
We hope you will enjoy your trip to Tromsø!
Marie & Karim
(If you liked this article or have any questions, please comment below! And make sure to follow our adventures on Instagram @InspiringExplorers
Save this on Pinterest to refer back to!