Oh Cappadocia! It is the well known, insta-famous, region of central Turkey. It's famous not only for the amazing pictures you can take in, or with, the hundreds hot air balloons that fly almost every day but also thanks to its history, caves, dwellings, breathtaking landscapes and crazy rock formations!
And there is also so many beautiful hikes around Cappadocia, overall you should try to stay at least 5 days to really get a chance to embrace the region and everything it has to offer. We stayed there for 5 days, while we initially planned to stay only 3 days because we were afraid to get bored, we didn't know how wrong we were ahah! For us, who love road tripping and moving from places to places it was really a new adventure to stay longer in 1 place than we thought. We've made this list of things to help you discover this unique region.
Of course, there is more to see than what's on this list, there will always be more but those are the things that you really SHOULD do if you go to Cappadocia. For the hikes, we have a specific article on them, the link is at the bottom of this article. There you will find more details on the hikes, where to park, the duration and other tips.
PS: we will specify all the entrance fees of all activities and museums but if you intend to visit many places there, consider buying the Museum Pass, which is valid for 3 days and costs 190 TL. To find out what exactly it includes, please click here.
THE PERFECT GUIDE TO CAPPADOCIA
1. FLYING IN A HOT AIR BALLOON

Yeah okay, you probably didn't need us to decide to fly in a hot air balloon during your stay in Cappadocia, but still we had to put it on the list!  It's really a unique experience, you get to fly over many incredible valleys while watching the sun rise, it's really worth all the hype around it in our opinion. We can only strongly recommend you to stay in Cappadocia for at least 5 days to increase the chances to fly. The ca. 160 balloons fly in average 240 days per year, which gives Cappadocia the highest number of operating days in the world. But, weather being what it is, sometimes the balloons don't fly for several days in a row, so if you plan to spend only 1 or 2 nights there, you are really taking a risk with that. We also recommend you to book your flight for your first morning, that way if it gets cancelled, you have more opportunity to reschedule it!
We flew with Turquaz Balloons and paid 140€/p.p. for a 1h flight with 16 people but we got lucky and flew only with another couple. The price include the flight, transfer from and to your hotel, a light breakfast and a glass of champagne (yep, you're having your first glass at around 7 am). We had a wonderful flight and you can book with them here.
PS: remember you'll be flying at sunrise, meaning it's super cold, so bring good clothing!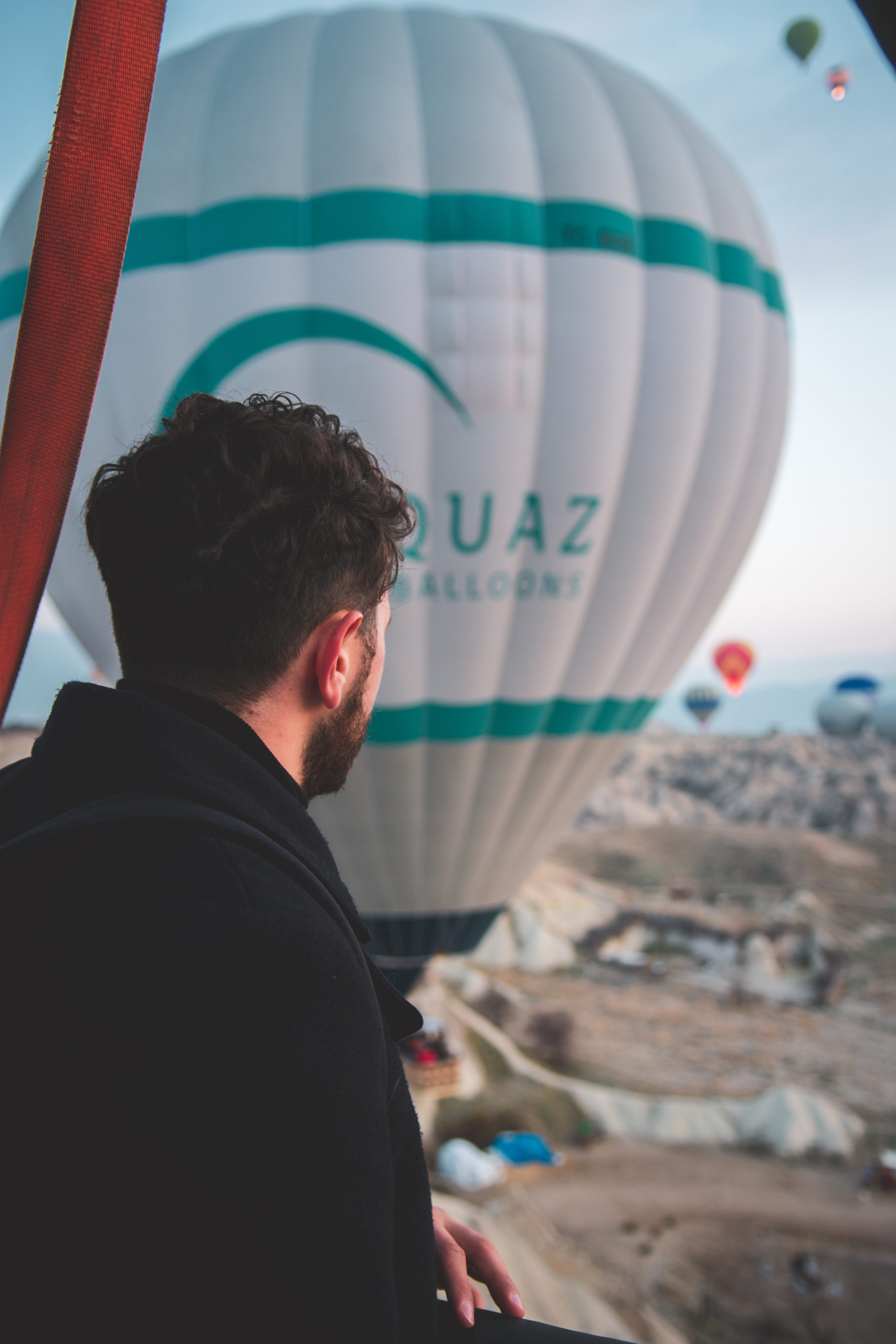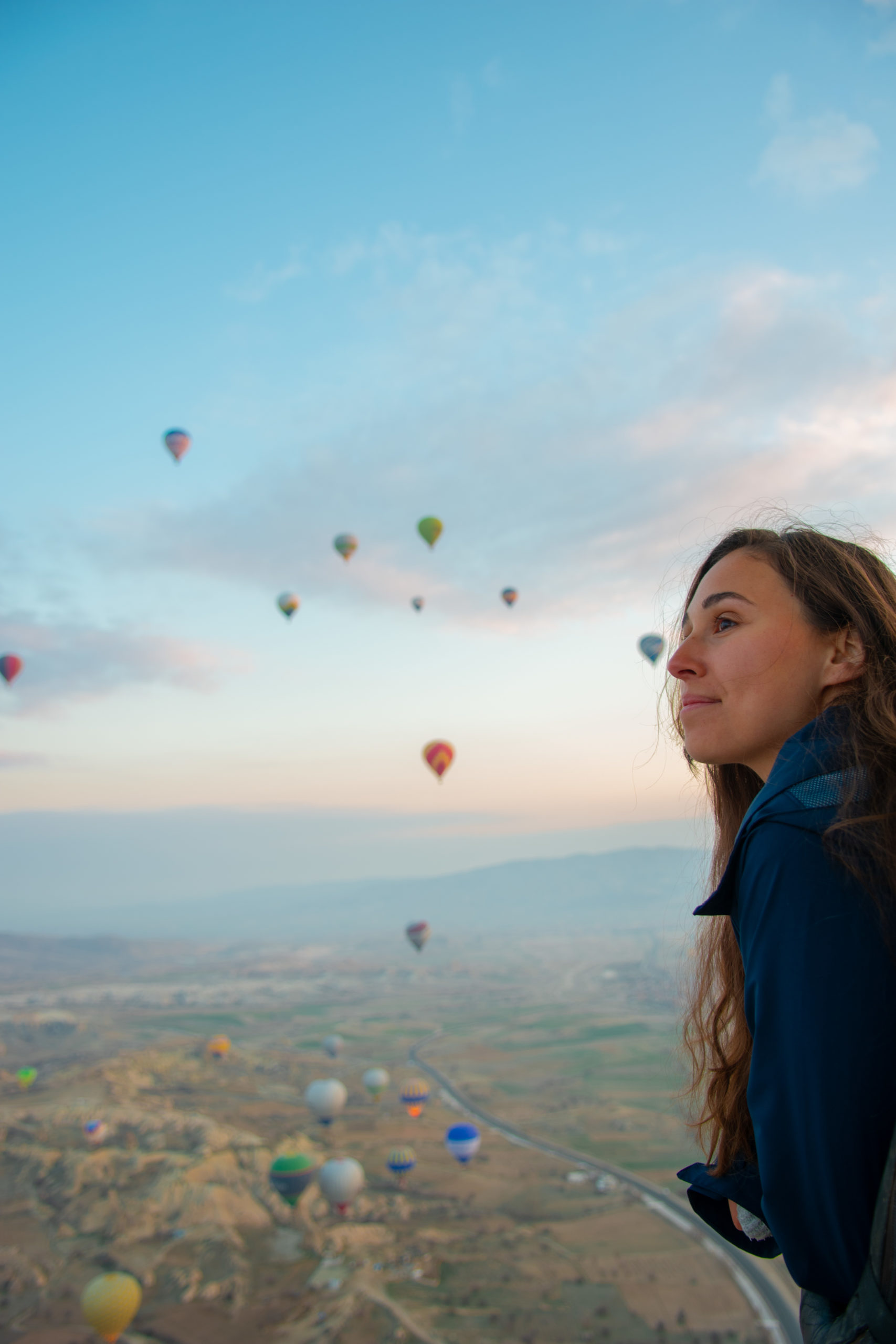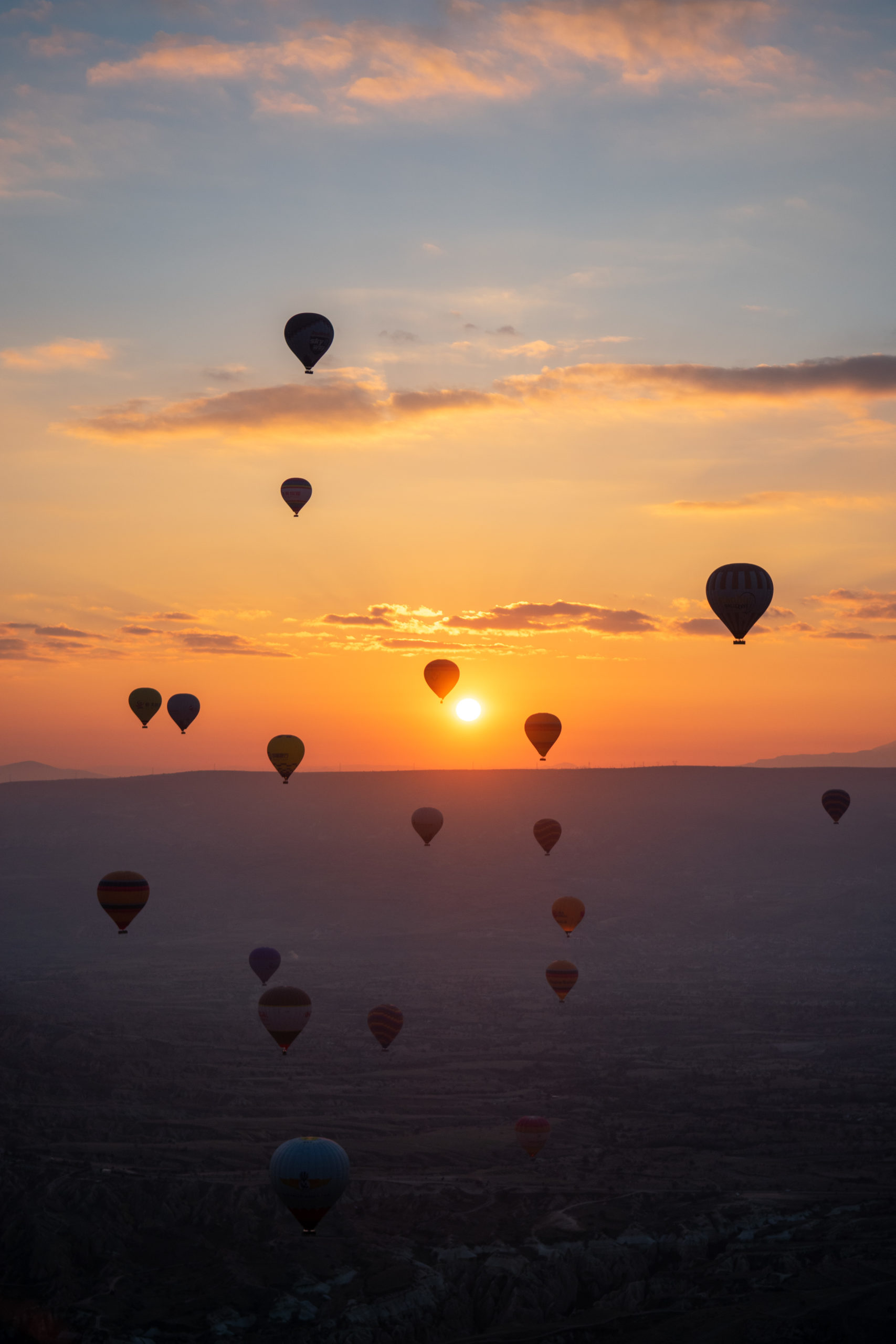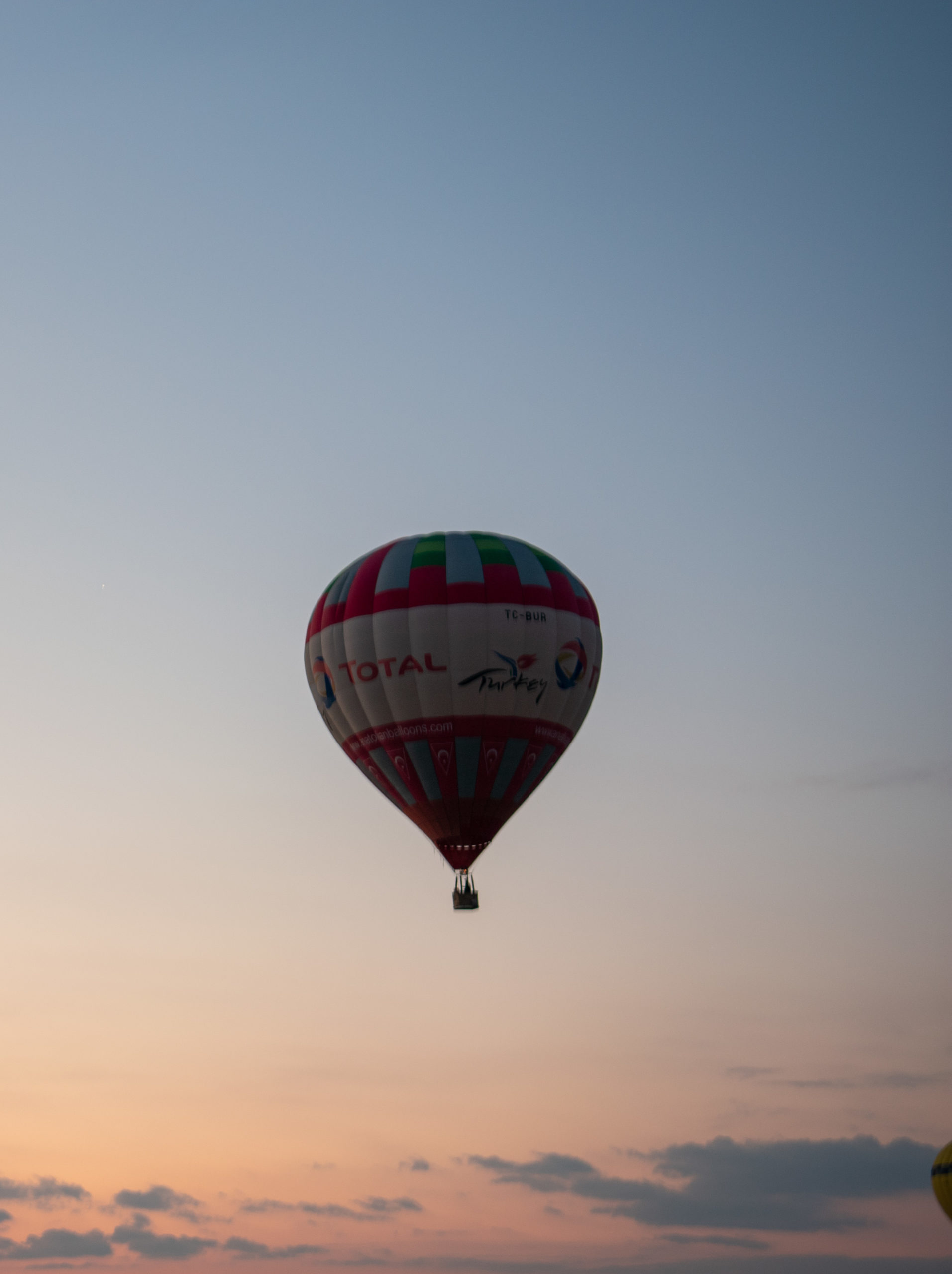 2. VISITING ZELVE OPEN AIR MUSEUM
Sadly, some people visiting Cappadocia forget how much history there is to learn about and discover. It's not all about pretty views and beautiful pictures, there is more! We decided to visit Zelve Open Air Museum instead of Göreme Open Air Museum because it is said to be less toursitic and at least as interesting. Of course, you can visit both, Göremes OAM is really famous and you probably won't be disappointed. Either way, as always we will recommend you to go there early to be sure to avoid most of the crowds!
For us, the craziest part is to think that people actually built and lived in these caves for centuries and that they date back to the 9th century. You can just wander around in the museum and discover all the remainings of history and take in all that beauty.
Zelve OAM: entrance fee is of 20 TL/ca 2€ p.p. and they are open from 8am to 5pm in Winter and to 7pm in Summer. You can find more info on the official website here.
Göreme OAM: entrance fee is 25 TL/ca 2.5€ p.p. More info here.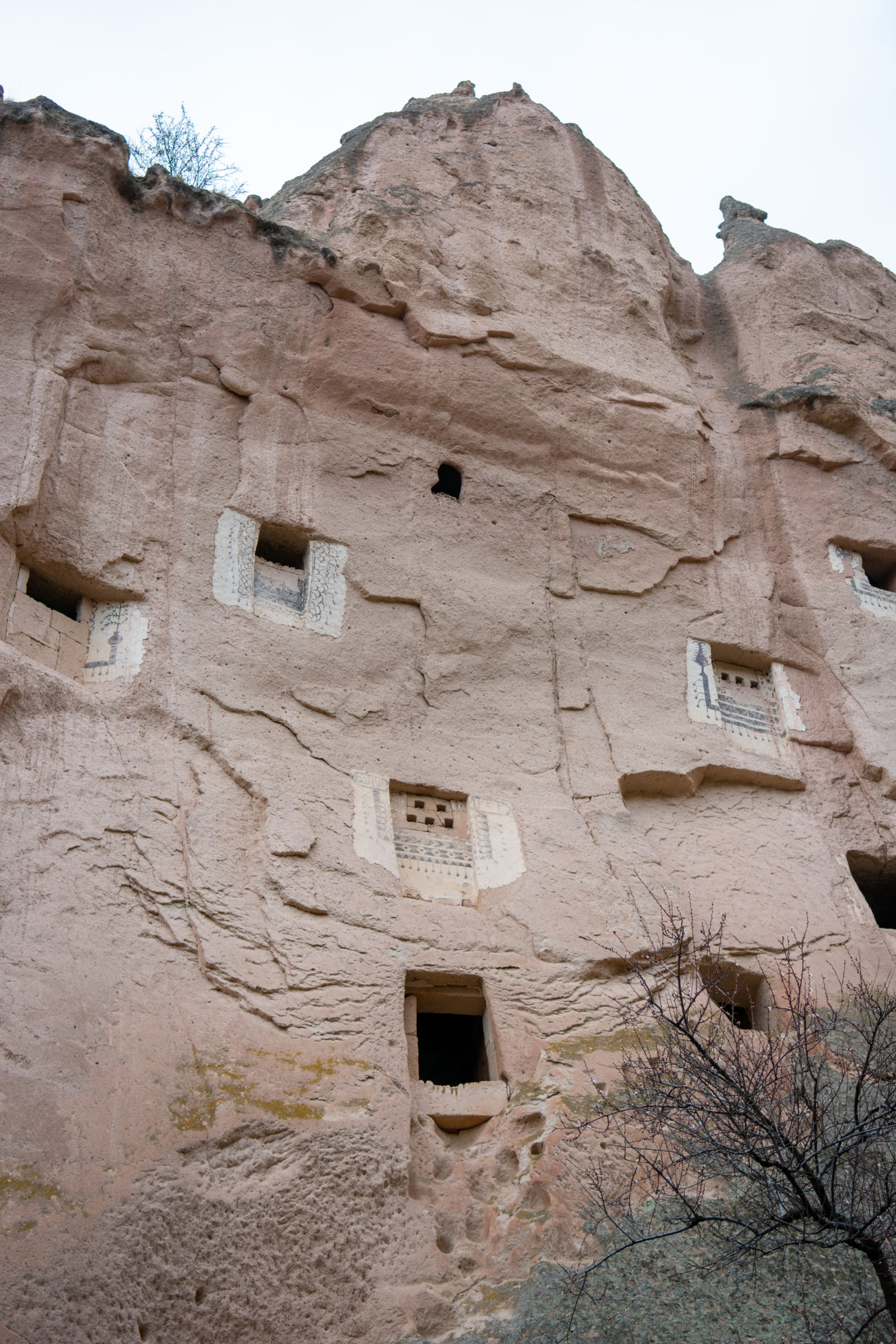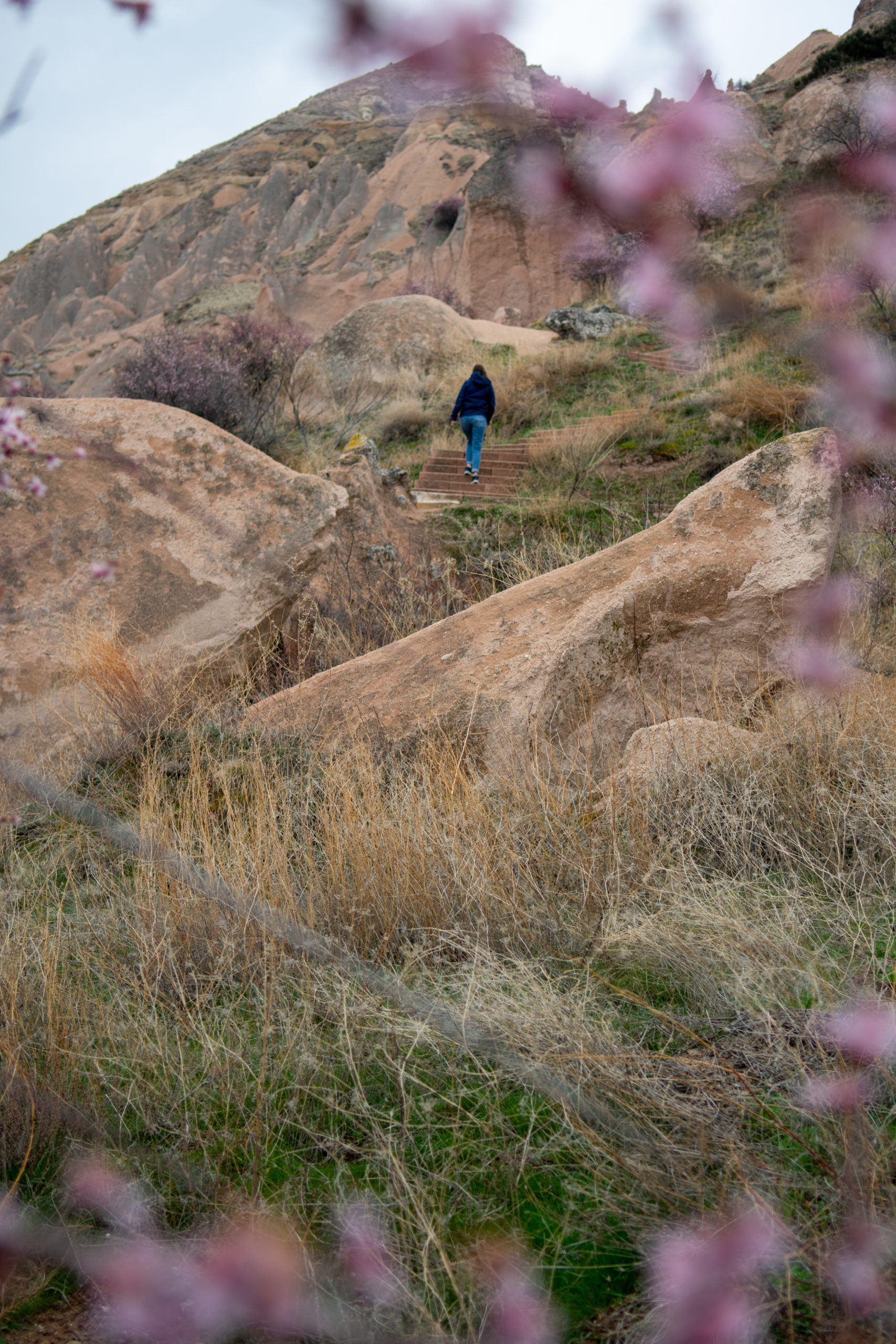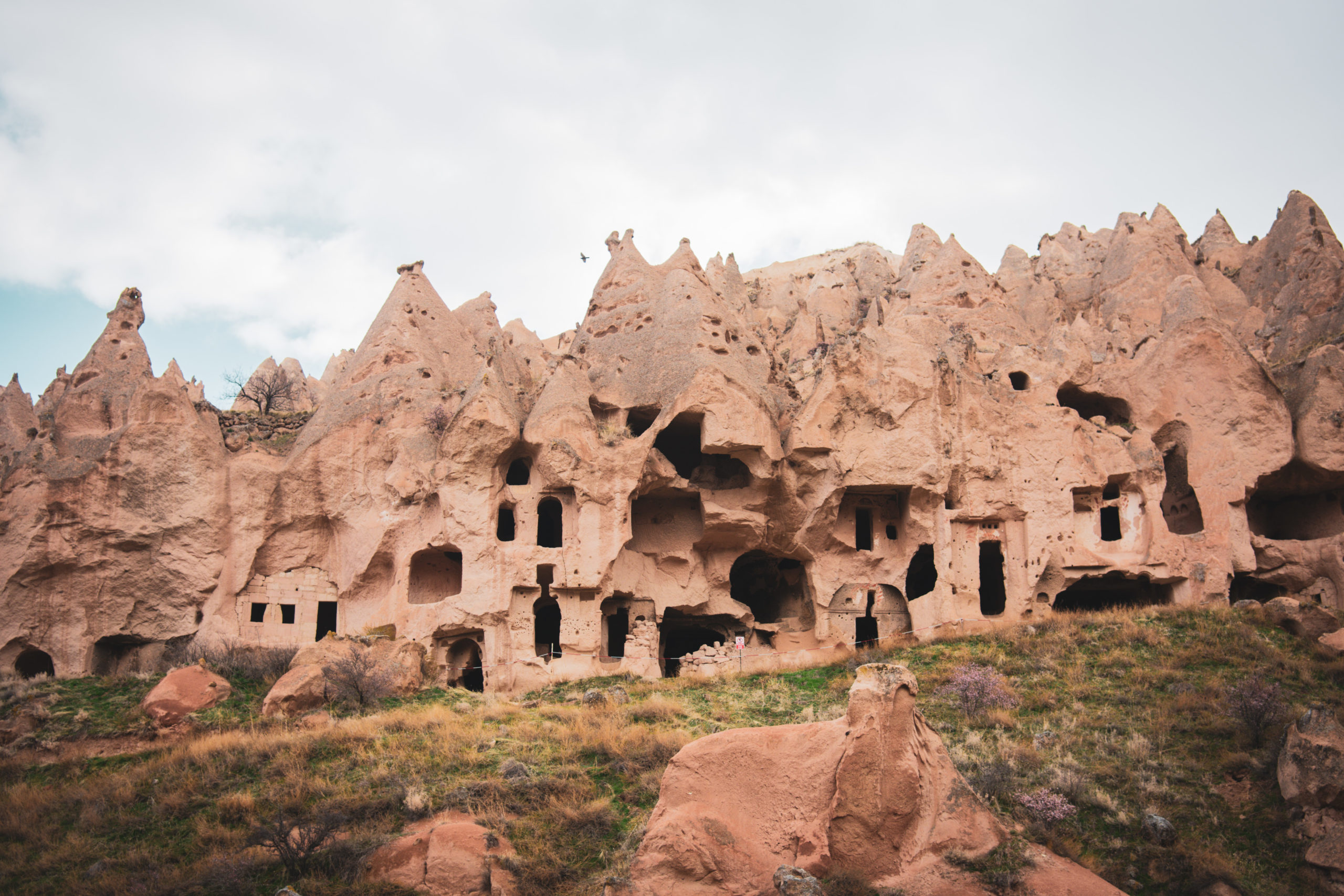 3. EXPLORING DERINKUYU UNDERGROUND CITY

Located a bit further from Göreme than all the other things in this list, Derinkuyu Underground City is about 30min by car from the city center. It has such a remarkable cave system and underground tunnels (side note: people where shorter than us and it shows ahah it's not so easy to navigate inside those). The craziest part is to think that this place once was the home to more than 20,000 people and their lifestock! There are stables, wineries, a church, and so much more.
Actually, Derinkuyu Underground City was used over the years by population which needed to hide from their enemies, and it was so well hidden that it was only discover when a local man decided to renovate his house and found the ancient city. And it's actually not the only underground city in Cappadocia, there are 36! But it is the deepest one.
The entrance fee is 50 TL/5€ and it's opened from 8am to 7pm in Summer and to 5pm in Winter.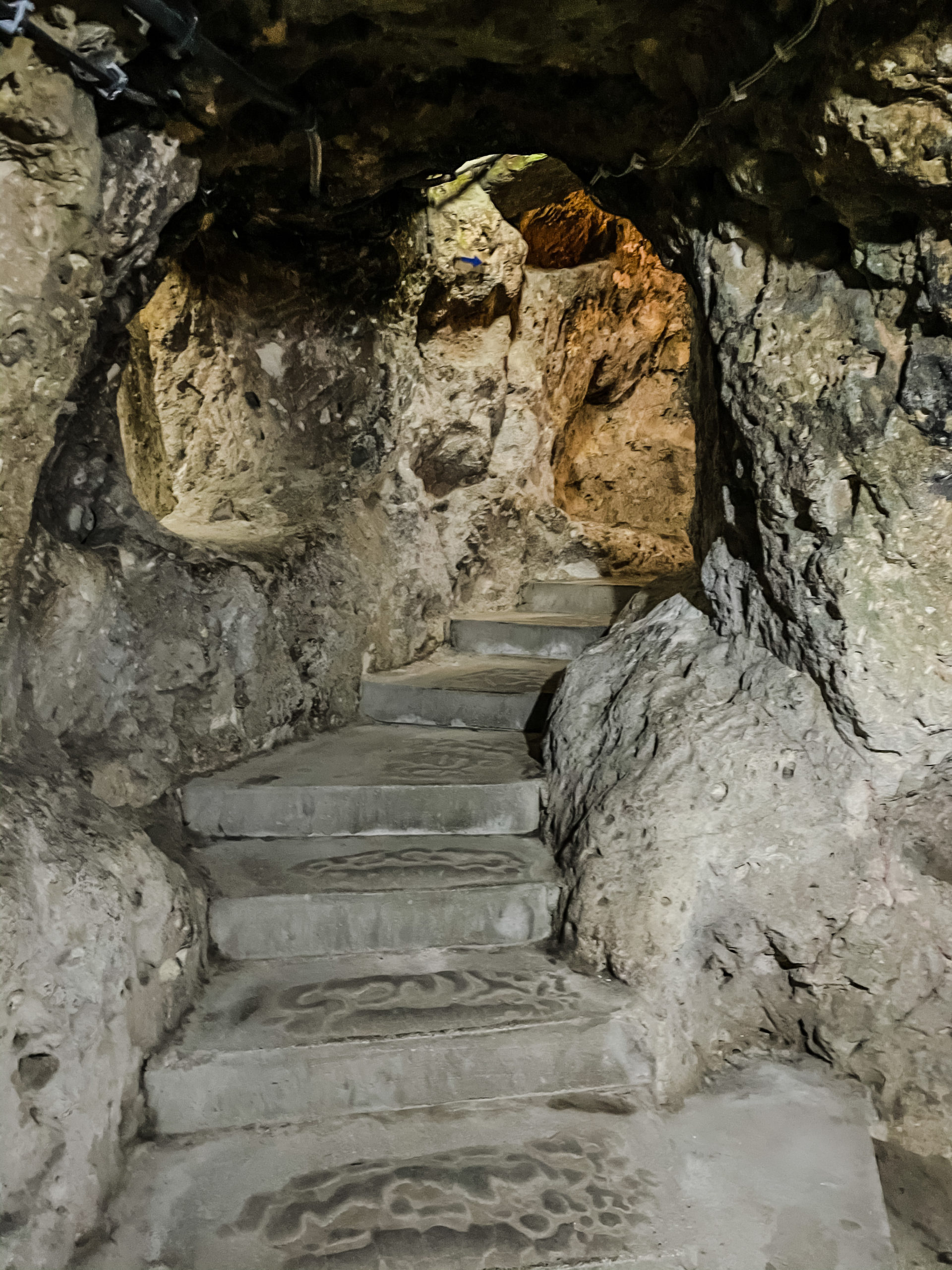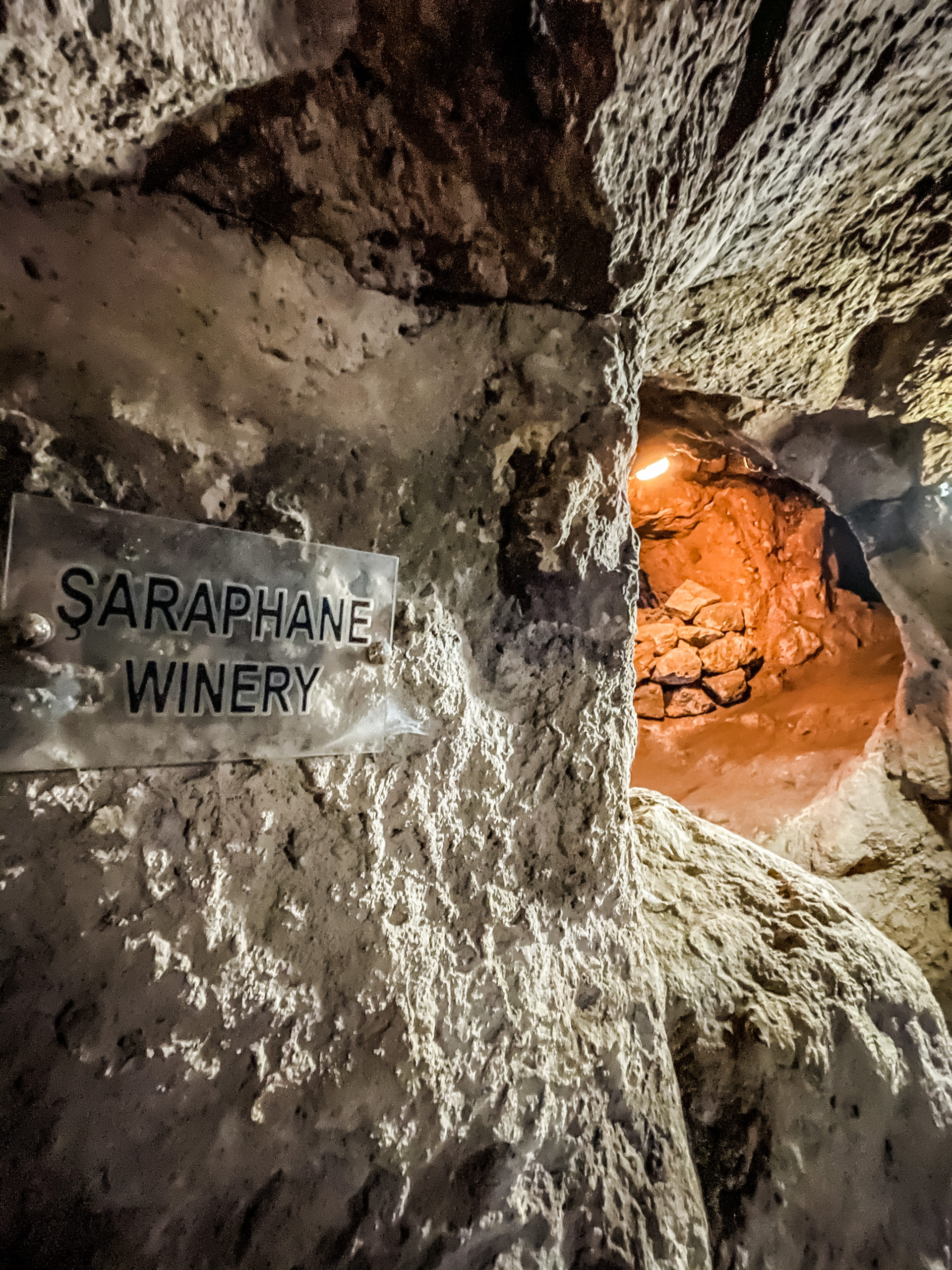 4. HORSE BACK RIDING AT SUNSET
If you know us, you know we are super picky when/if we decide to do an activity that involves an animal (which is for us only horse back riding or dog sledding basically). Marie is an experienced rider and of course she will enjoy riding in scenic landscapes, and I get to deal with that ahaha… Anyway, Cappadocia actually means land of beautiful horses, and horses are a big part of the culture there, so we thought why not! We were really pleased to do a tour with the Dalton Brothers Horse Ranch, the oldest ranch in Cappadocia. The private 2h tour at sunset costs 350 TL and it will take you around Sword Valley, Rose and Red Valley, up to a breathtaking view point for sunset!
It's really a nice experience to get another taste of Cappadocia and get some adrenaline on the beautiful Arabian horses. If you had to pick between renting an ATV or horse back riding, we would advise you to go riding (but this is just our opinion, we love quietness, don't blame us).
PS: Arabian horses can have a lot of energy, but they are really well educated at Dalton Brothers Horse Ranch so fear not and enjoy the ride!
PPS: please pick carefully the Ranch with which you go riding (if you don't go with Dalton Brothers), look at the state of the horses and the surroundings (is it rather clean, do they have food, etc.) and don't ride a horse that looks bad to you.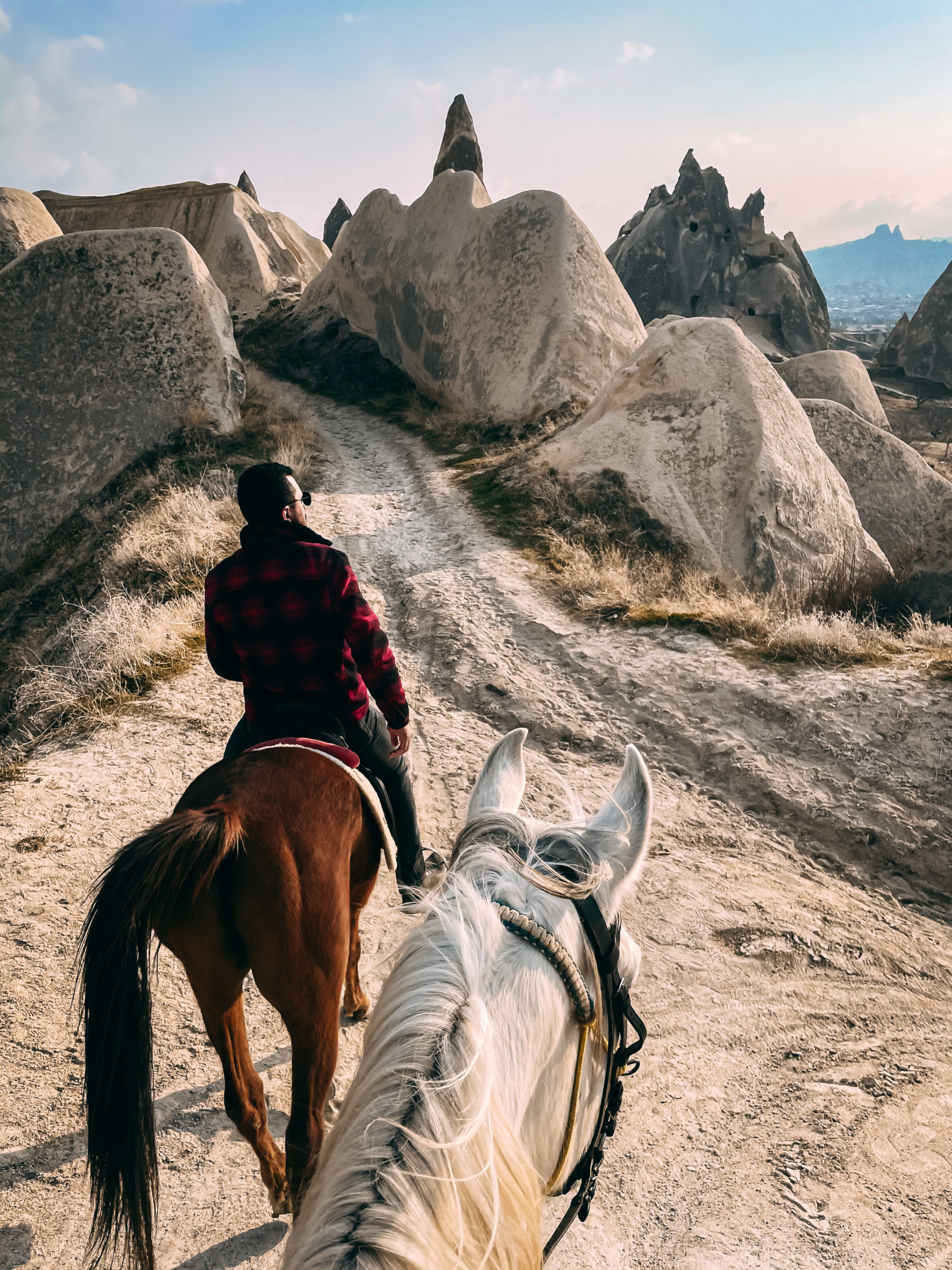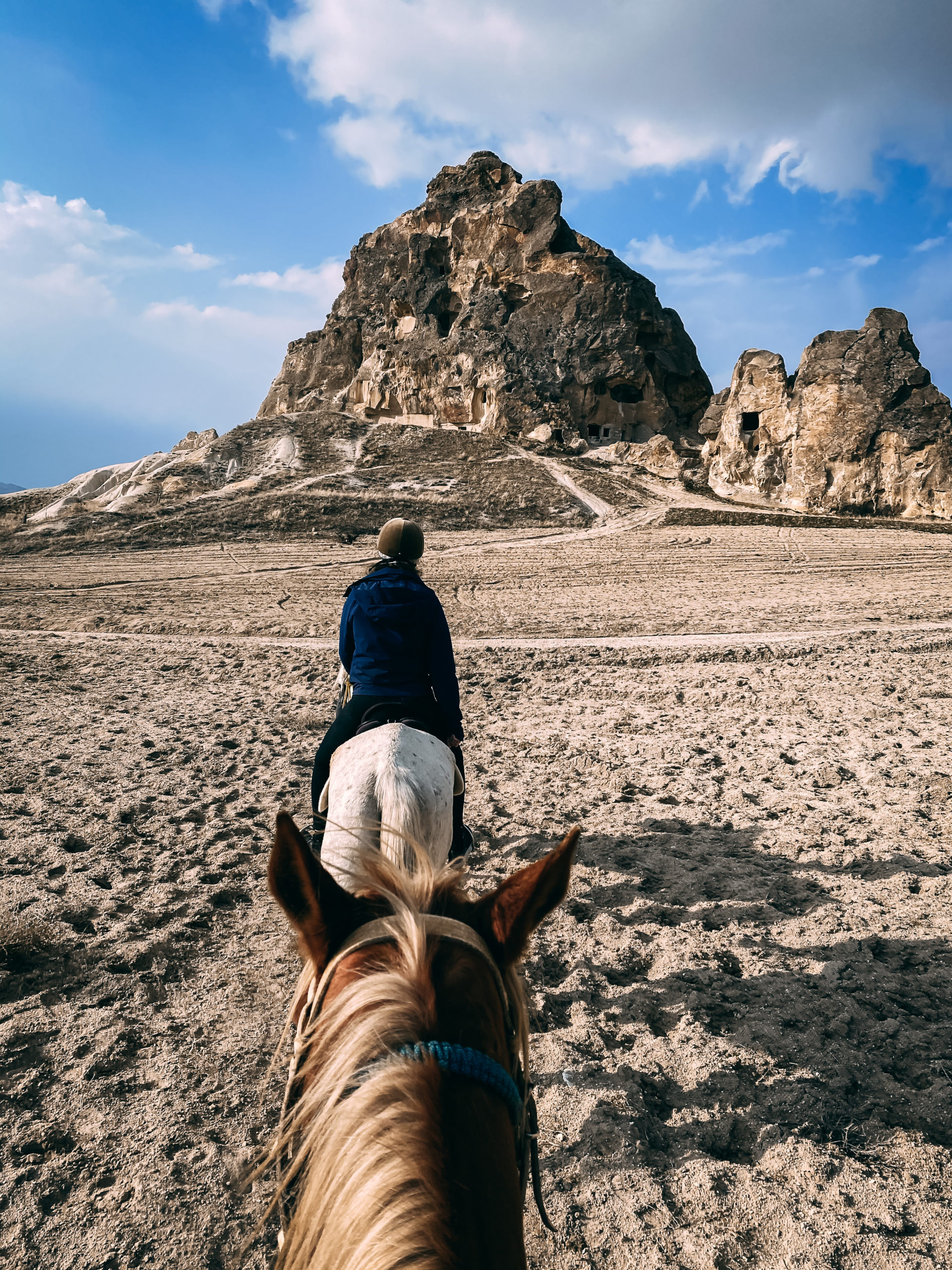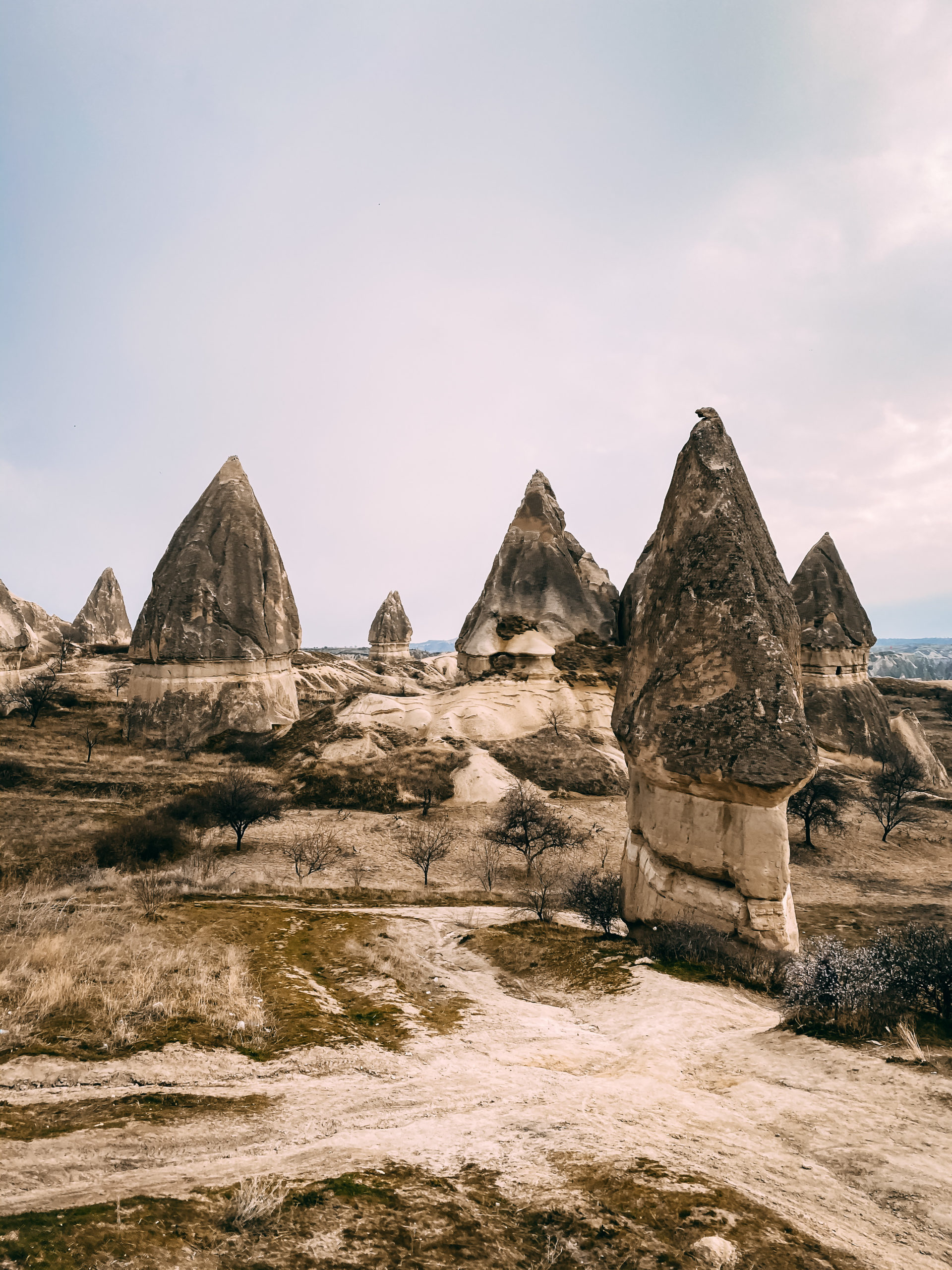 5. VISITING PASABAG VALLEY
Pasabag Valley is probably one of the most popular attractions in Göreme so be ready to see some tour buses and lots of tourists. BUT, it's is really worth seeing for its fascinating rock formations, fairy chimneys and cave dwellings. Those chimneys, that you can see in some of the other places we list, are really impressive as there often is a rock kind of balancing its way on top of the chimney, and you wonder how it just holds together. As you walk around the valley, don't hesitate to hope on some caves and you can explore the insides of the dwellings.
The entrance fee is 20 TL/2€ and it's open between 8pm to 7pm in Summer and to 5pm in Winter.
TIP: Pasabag Valley and Zelve Open-Air Museum are very close and should be visited the same morning/late afternoon to try to avoid the big crowd. If you are not renting a car, you can easily walk from one to the other as it's only 1.5km.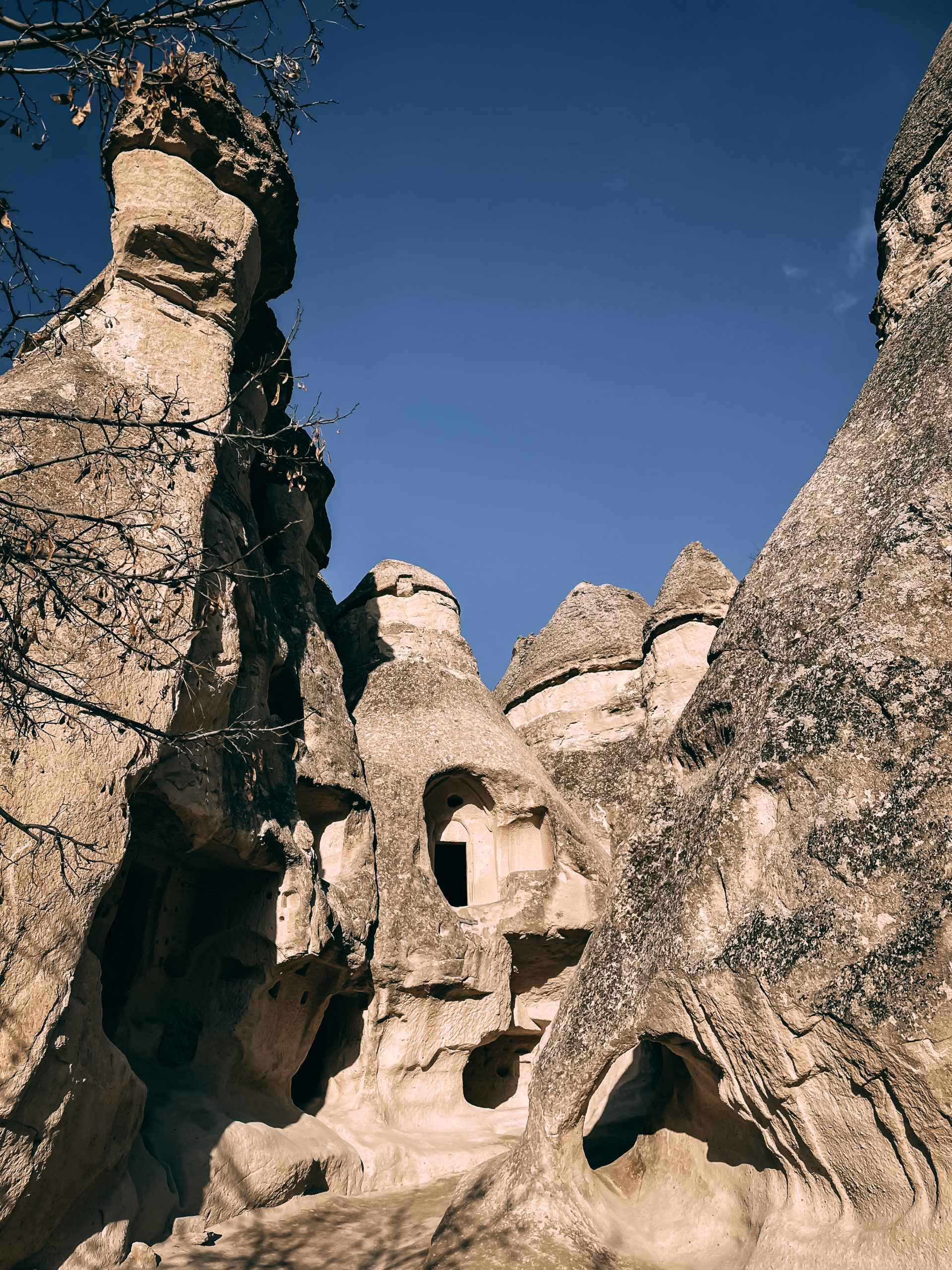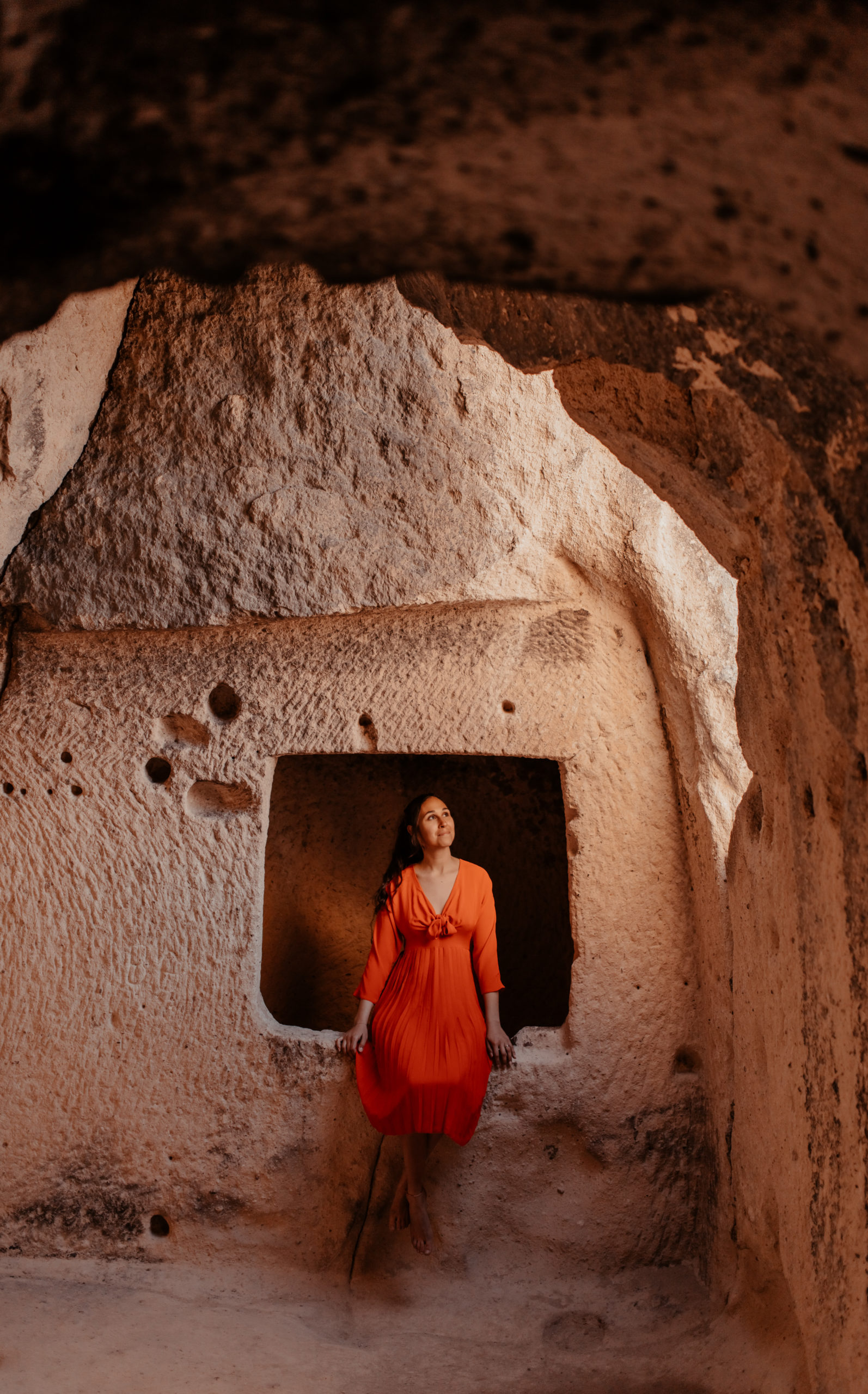 6. SPENDING SUNRISE AND/OR SUNSET AT LOVER'S HILL
Lover's Hill is the perfect spot to watch sunset and/or sunrise with a stunning panoramic view over the town of Göreme. Of course, such a viewpoint brings big crowds! In the morning, you can appreciate not only the view, but also the balloons cruising in front of you, or even slightly under you. So, despite the crowds, you will be able to take some stunning photos for sure!
Another good advantage of this viewpoint is that it is in walking distance from most of the hotels in town.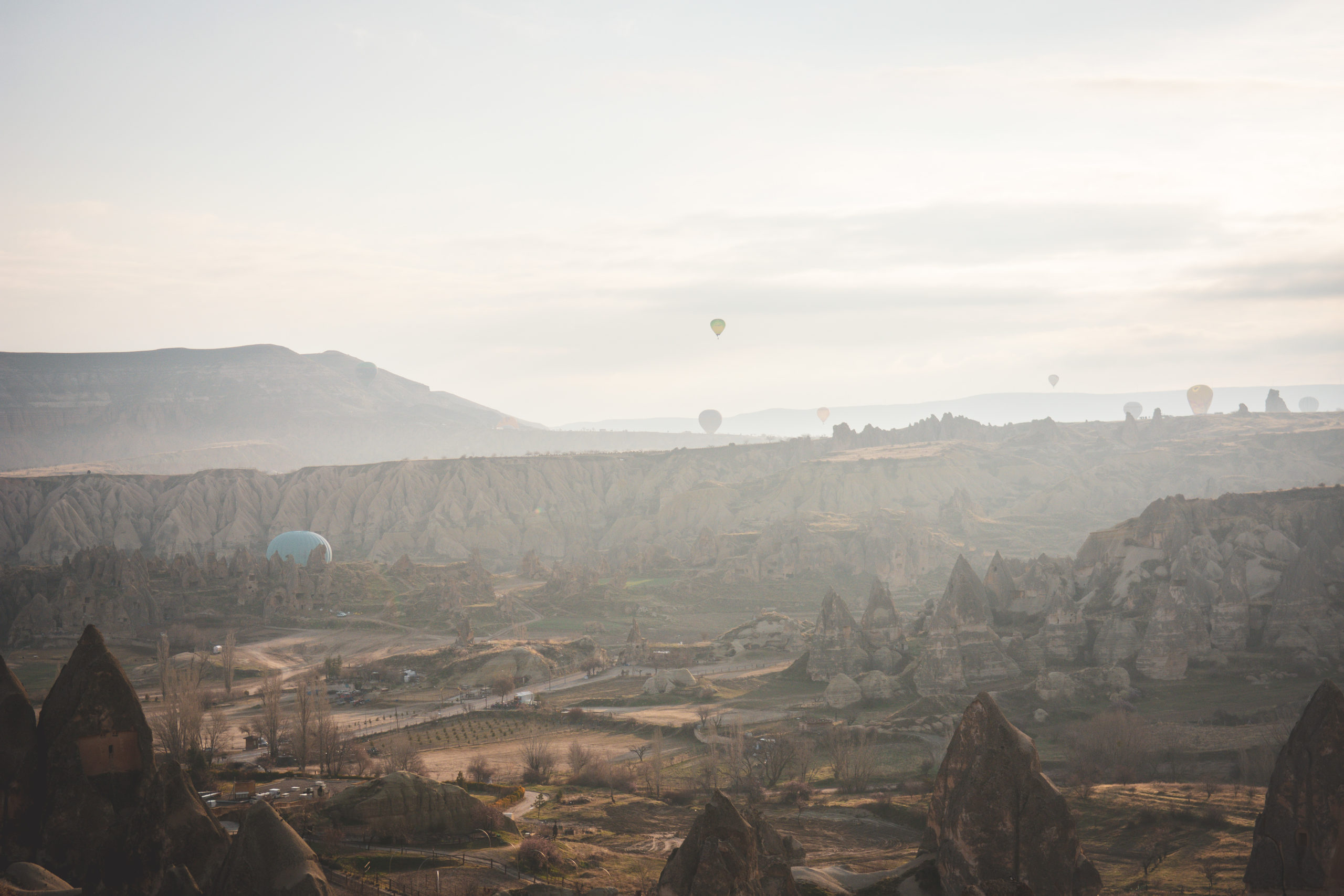 7. EXPLORING CAVUSIN VALLEY, CHURCH AND CASTLE
We found Cavusin to be a little more preserved from the big crowds, a little more off the beaten path, so of course we spent an entire afternoon just walking around there. There is just so much to visit, hundreds of caves and many fairy chimneys to stare at. If you follow the signs (which are not always super clear, we have to say, so don't hesitate to ask the locals) you can go inside an ancient church which has been craved inside the rocks. It is insane to see how well preserved some of the paintings on the walls are, but be careful as there is a bridge on the way there that is a bit broken and needs to be crossed carefully.
After visiting the church, you can go back on your steps a little bit and continue upwards once the path is clear to reach the top of Cavusin Castle. It has litteraly been built inside the rocks and is more like the continuity of the mountain than a castle. From up there you get a wonderful view over the valleys and it's probably an awesome spot for sunset too.
Tip: there seemed to be some really nice hotels, away from most tourists, so if you're looking for something a bit more off the beaten path, this might be for you!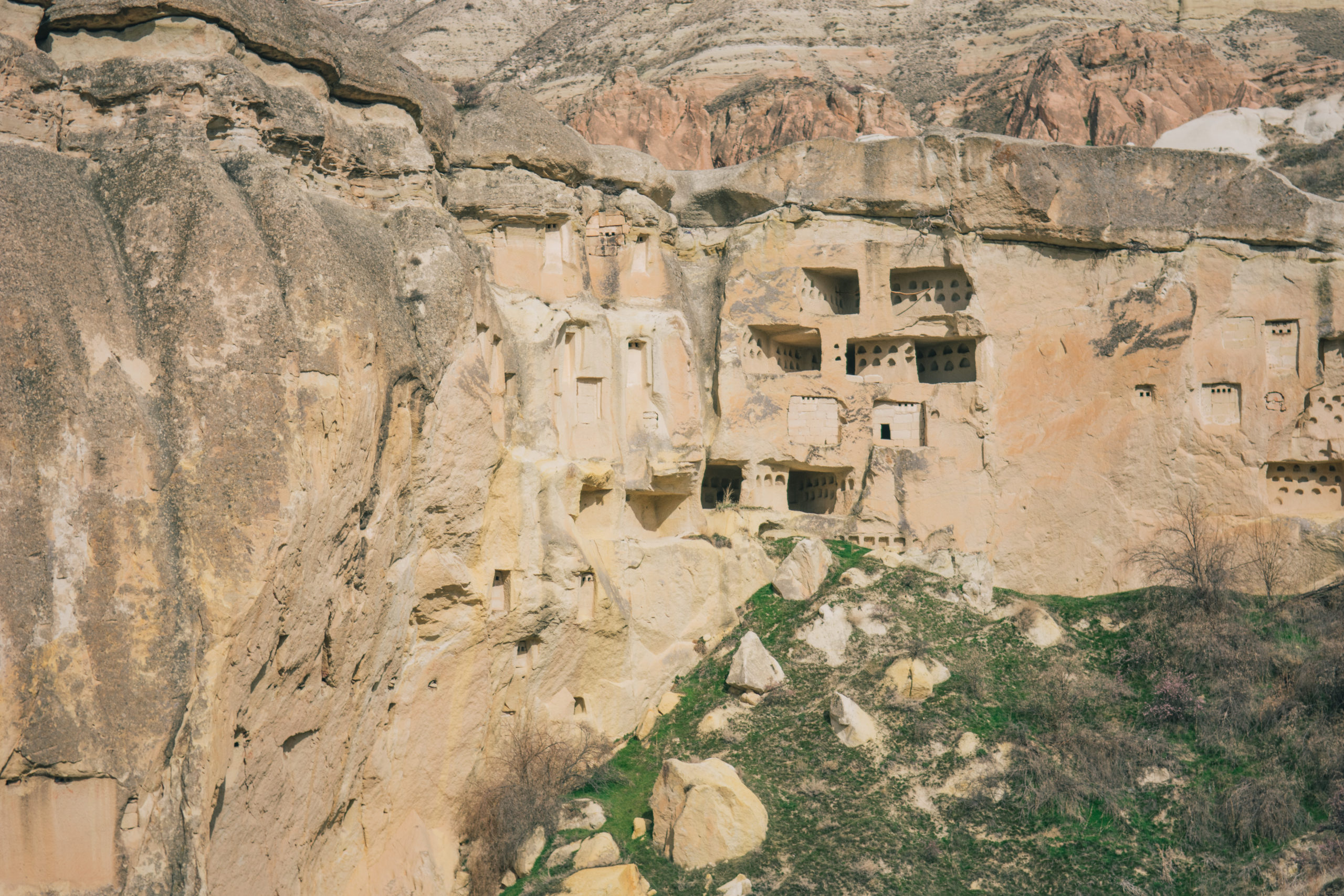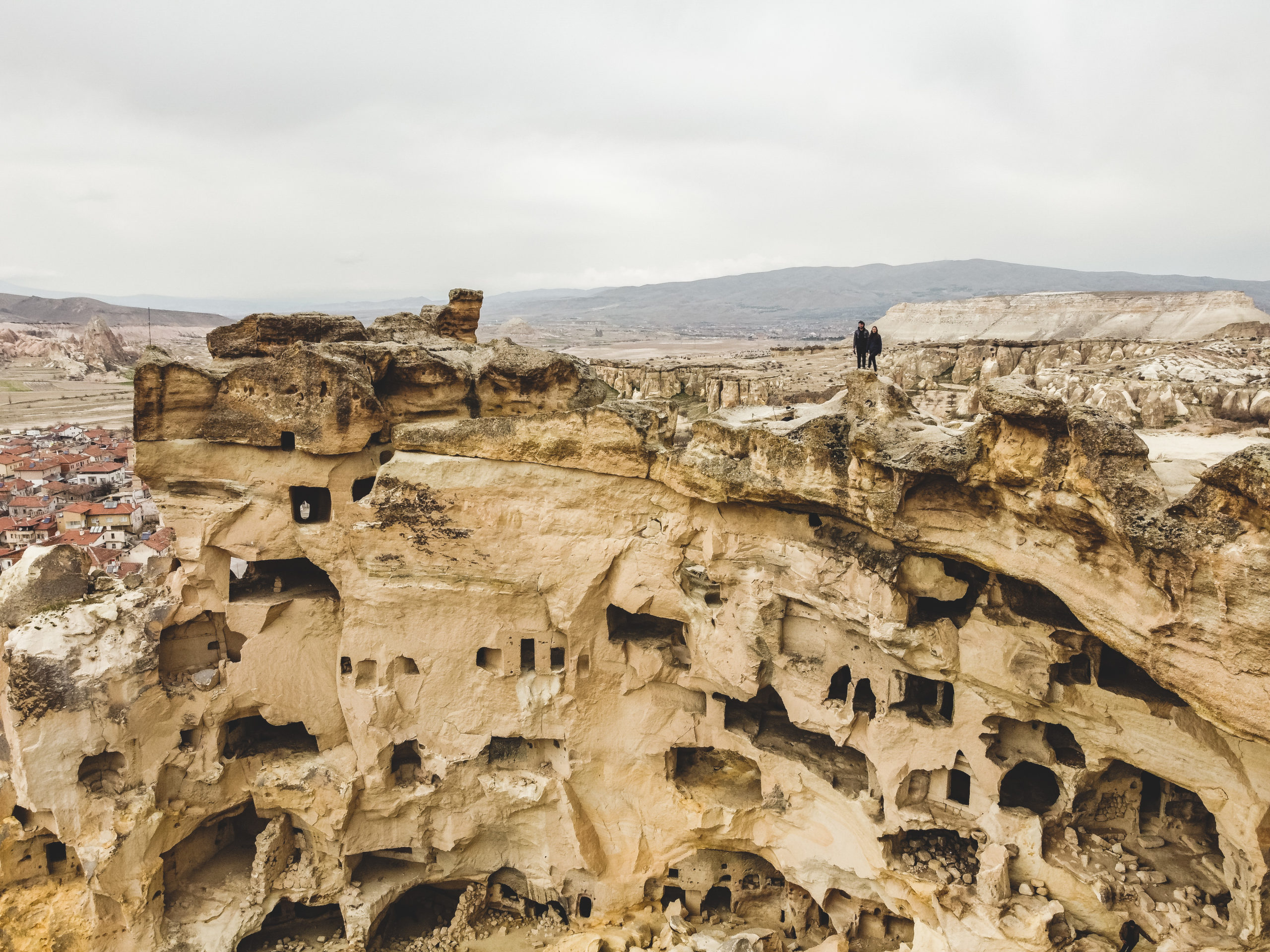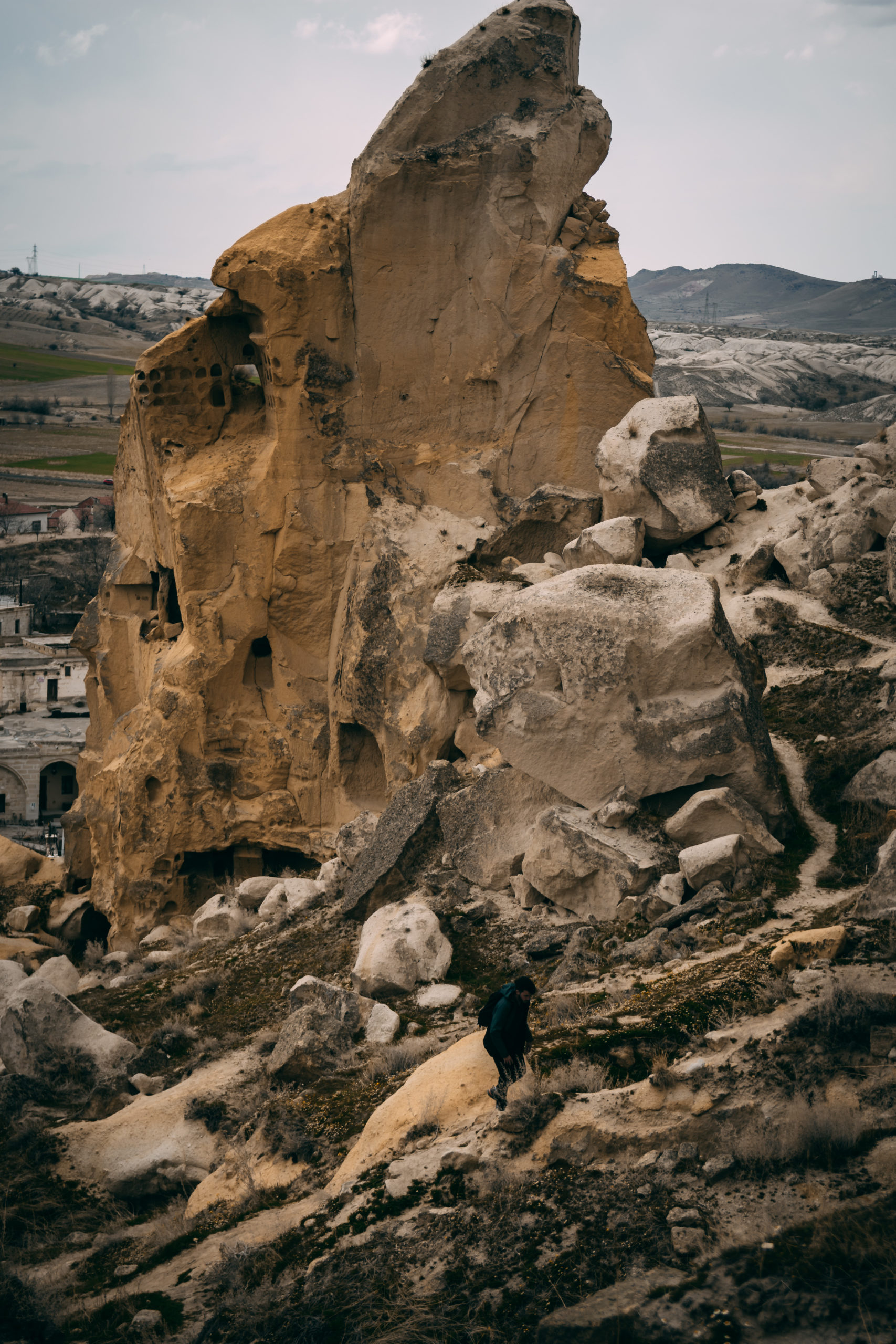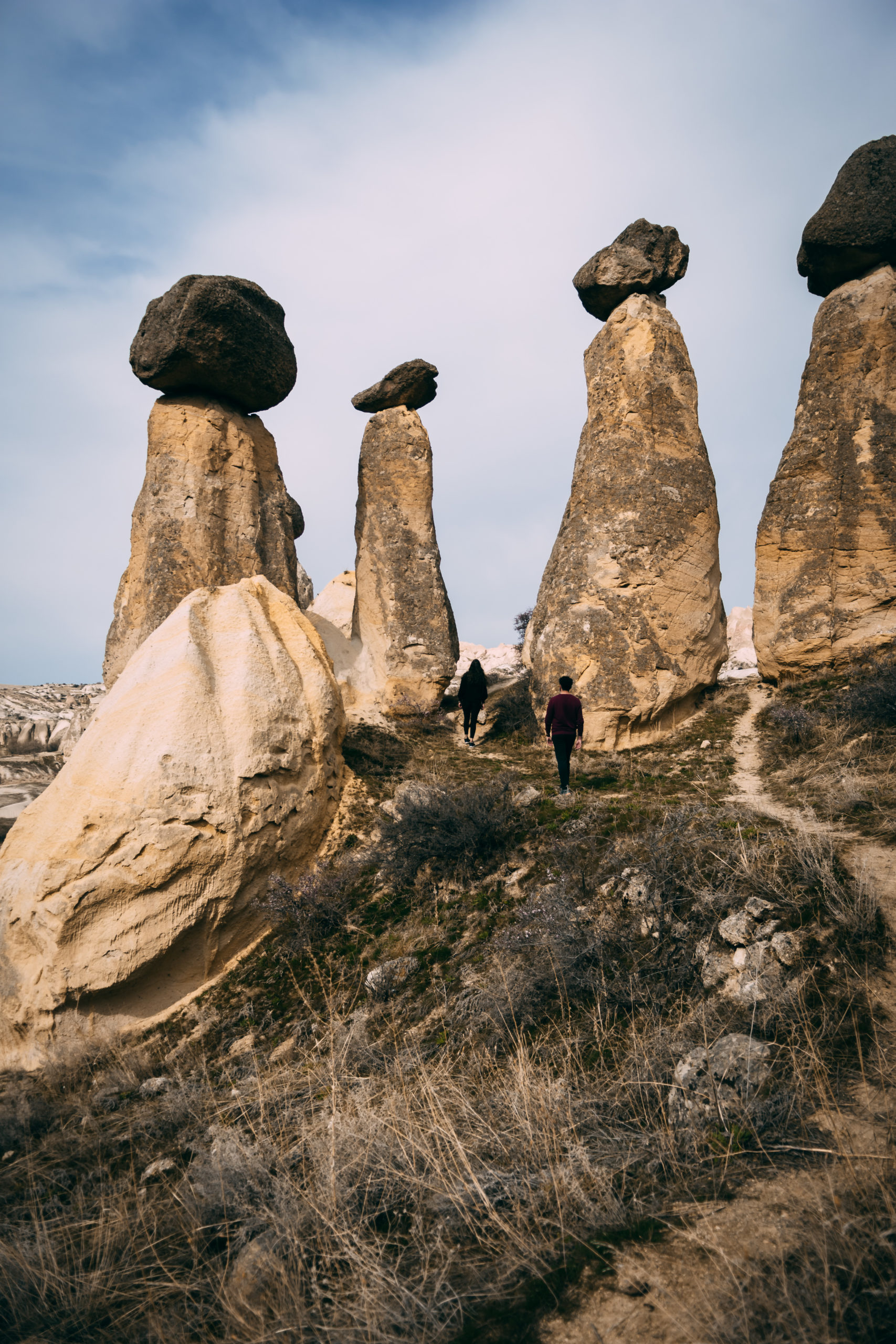 Tuz Gölü, also known as Salt Lake, is located about 1.5h drive from Cappadocia. Even if you decide to not rent a car for you whole trip, it's really worth it to rent one at least for a day to visit this incredible lake. Depending on when you visit, there will be more or less water, but never more than a couple of centimeters (you're not gonna be able to dive, or swim, there) and its vibrant pink color will be more or less present. When we visited it was end of March and there was quite a lot of water (like 3cm) but the lake was not really the bright pink you can see on Instagram. Nonetheless, the thing we love the most was the perfect reflection from the lake, it's just like a mirror.
The lake is quite big and there is an official pin on Google Maps but we just decided to park on the side of the road in what looked like a parking and walk all the way to the water (about 10min). We had the place to ourselves for the entire time we were there and it was awesome.
TIP: we recommend you to go there a 1 hour before sunset so that you can enjoy the bright colors and then appreciate even more the colors changing while the sun is setting on this mirror lake.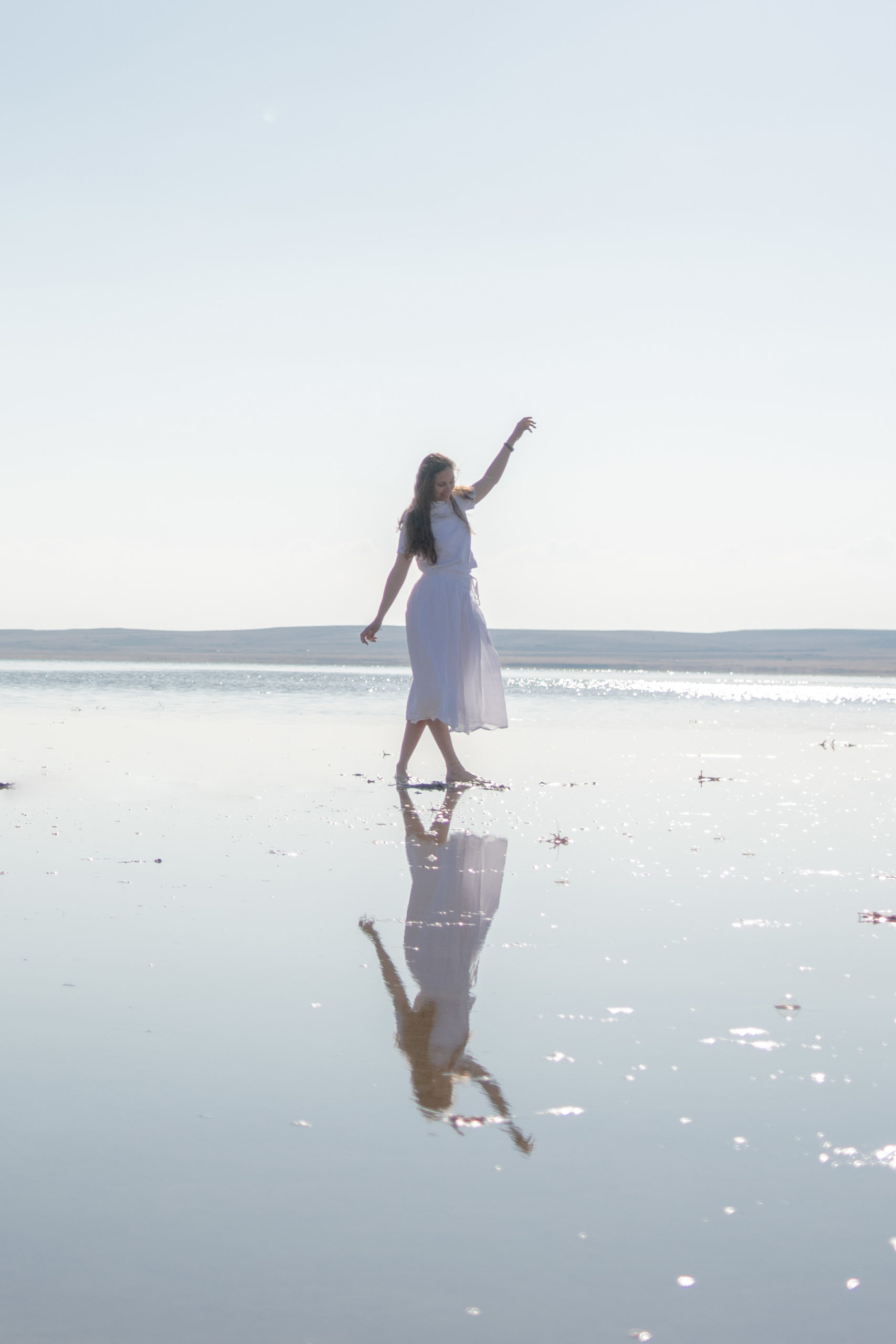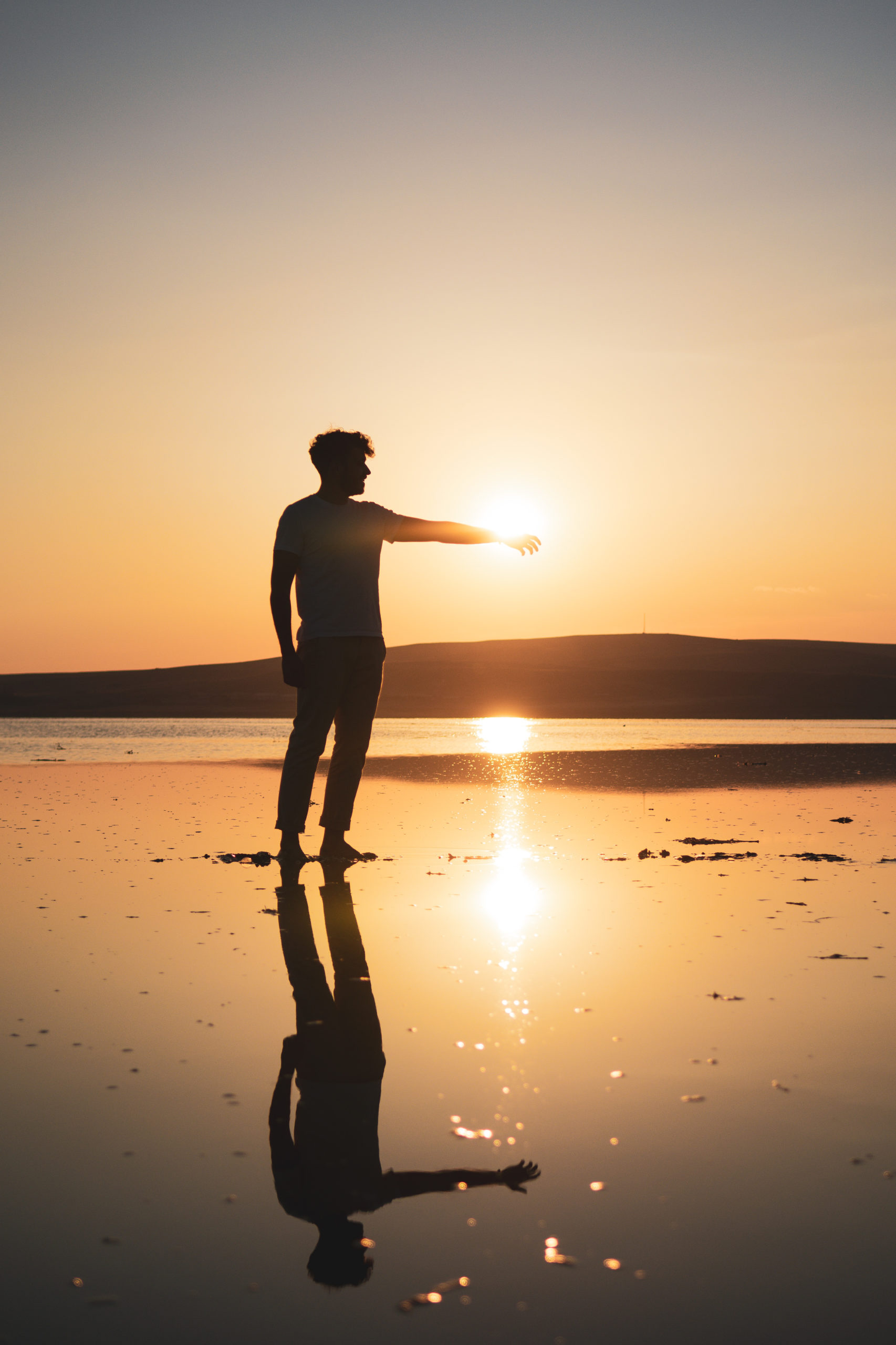 9. STOPPING BY THE TWIN FAIRY CHIMNEYS
Alright, you've read of fairy chimneys in a couple of previous points here but these Twin Fairy Chimneys are really unique. The rock formation is so special that it is hard to believe this is not man made! The place is very popular and bring large crowds that come look at this masterpiece.
You won't need to walk really, you will simply park and walk/cross the road towards the observation platform. It's a stop that can be made quickly while you explore the surroundings.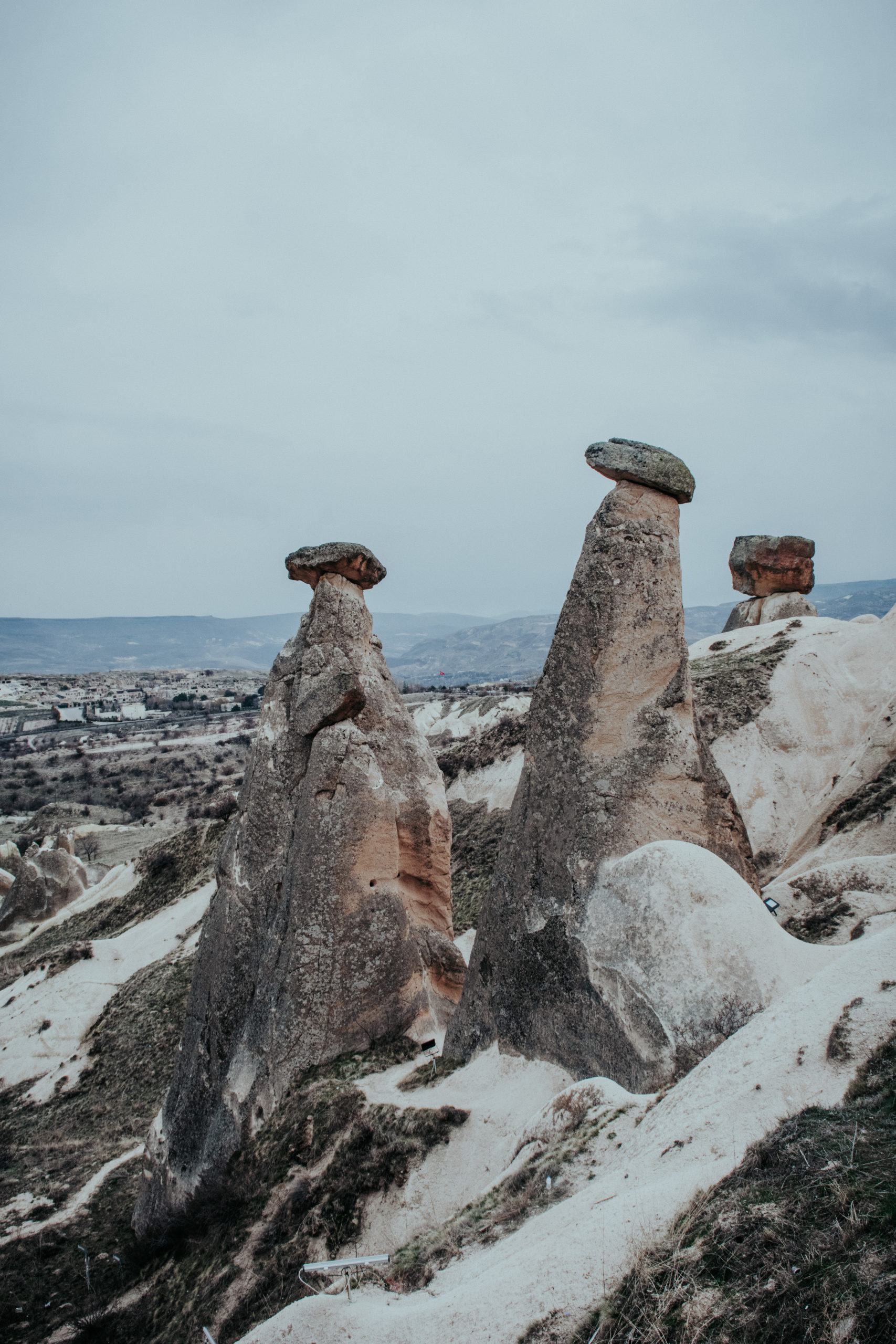 10. WATCHING SUNSET FROM UCHISAR CASTLE

Uchisar is a small, but really pretty, town in Cappadocia, not very far away from the popular Göreme but a little bit more quiet. It has a very nice castle built in the rock sitting on top of the town, and it gives you some of the best views over the whole region. In fact, it's the highest point of the area! Given it's location, it is said to be one of the best spot in the world to watch sunset, away from most of the crowds.
The entrance fee is 9 TL/1€.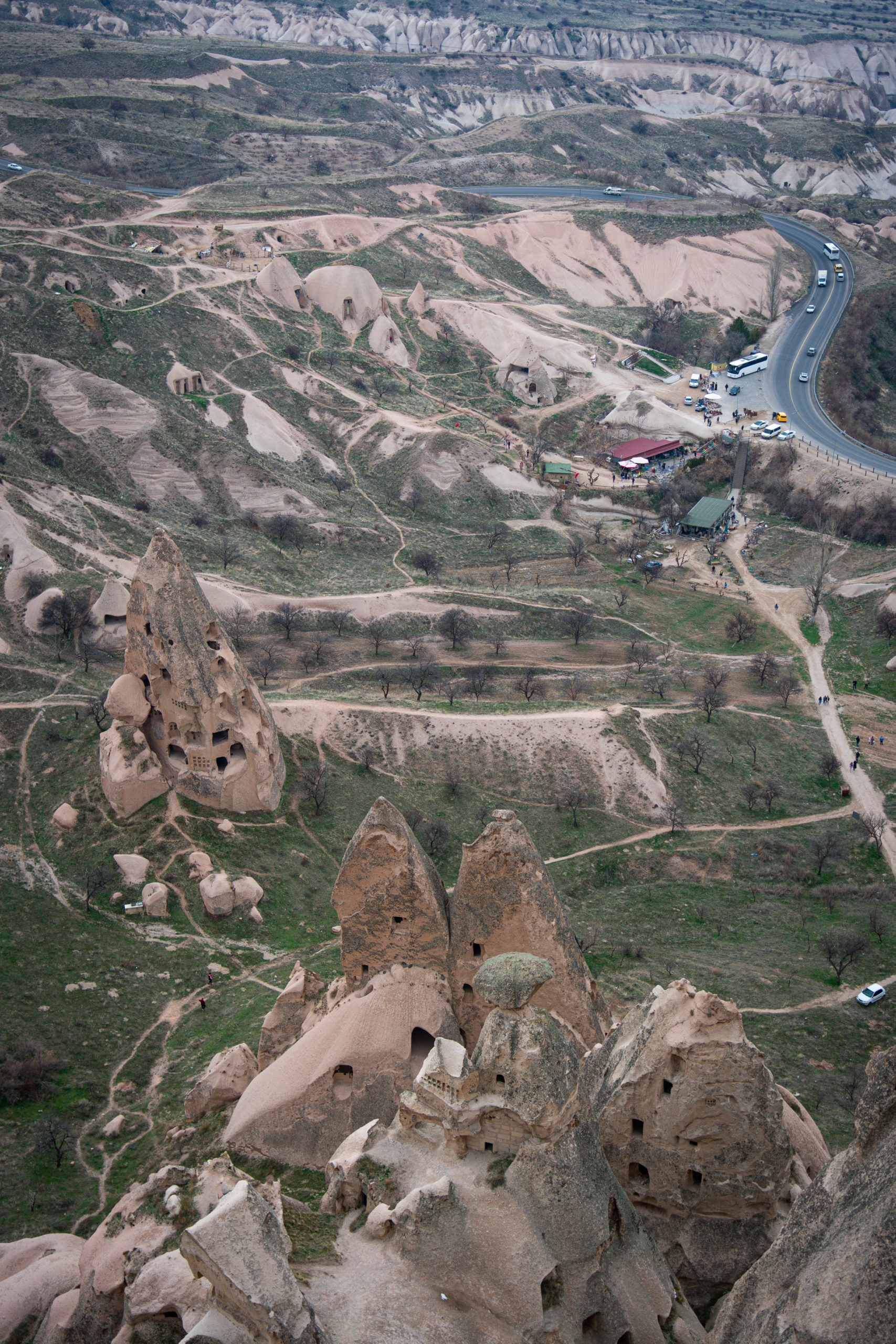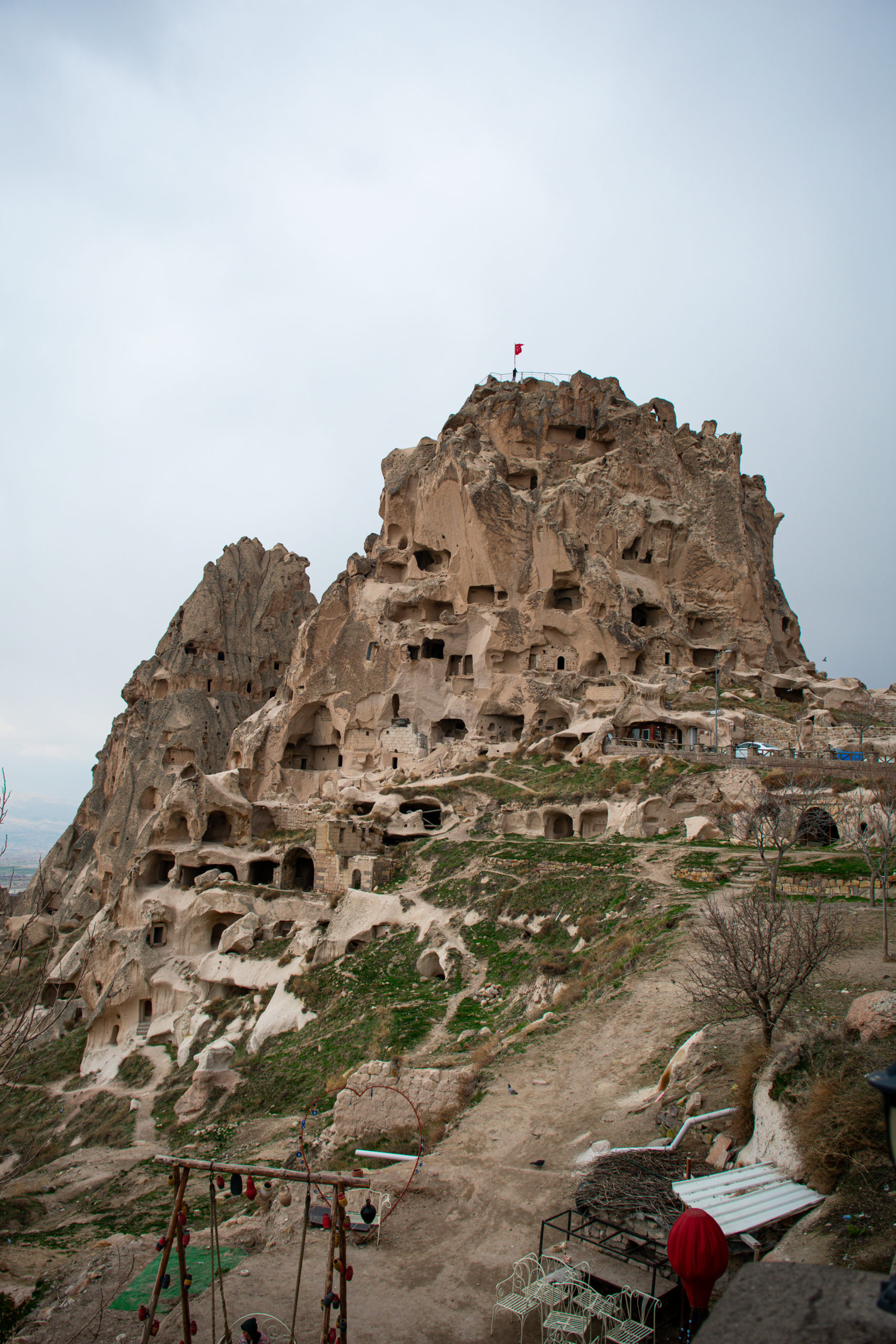 11. ENJOYING THE VIEW FROM ORTAHISAR CASTLE

Okay, I feel like I said that for all of the points, but really, Ortahisar Castle is one of the best viewpoints, with views stretching over the valley, to Uchisar and Göreme. It's an awesome spot for sunset and golden hour also, especially as you have several platforms and a panoramic view.
The entrance fee is 5 TL/0.50€ and it is open from 8am to 6pm.
TIP: to get an incredible view of the castle, you can follow the road that leads to Lavanta Panorama Cafe. It is simply amazing there.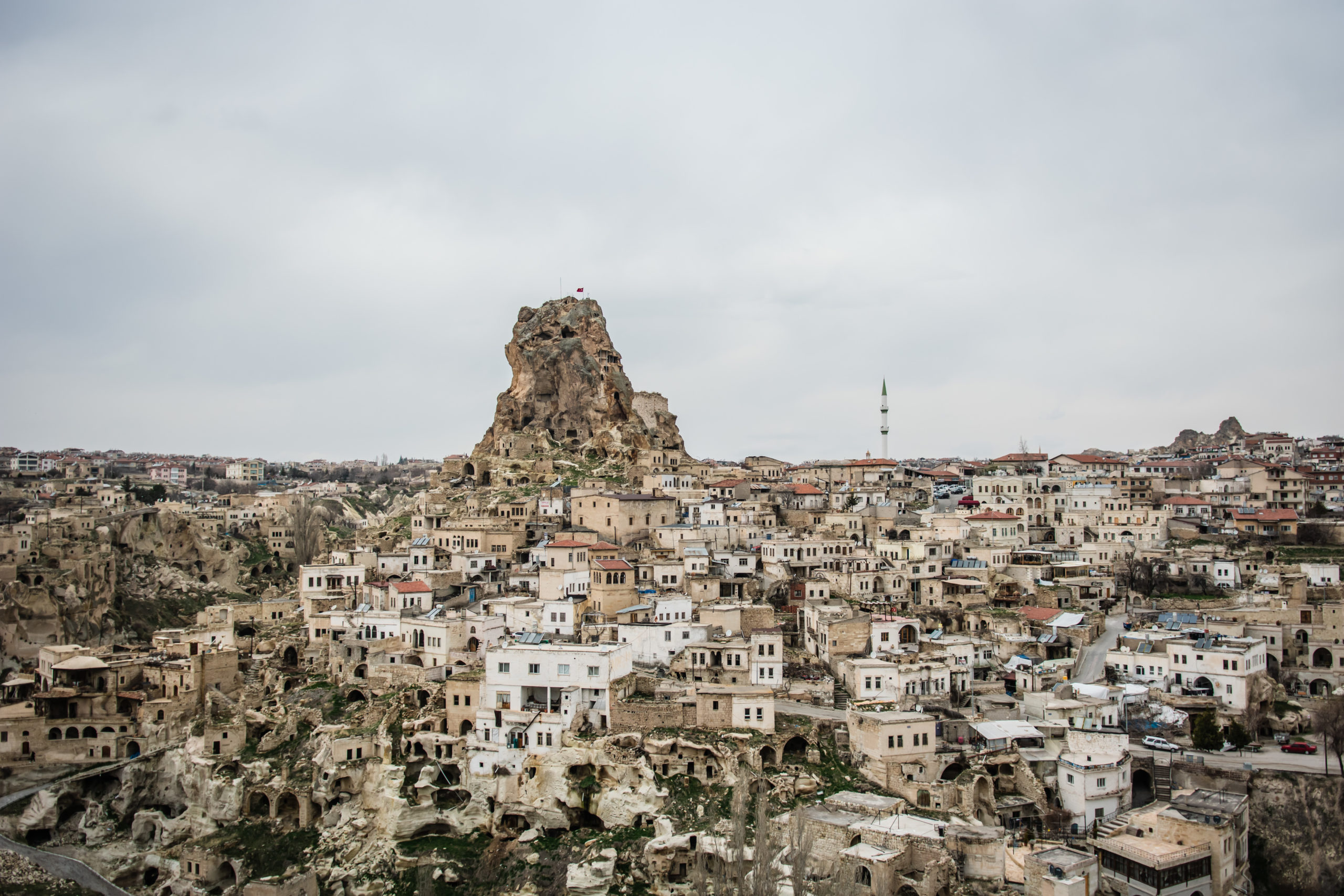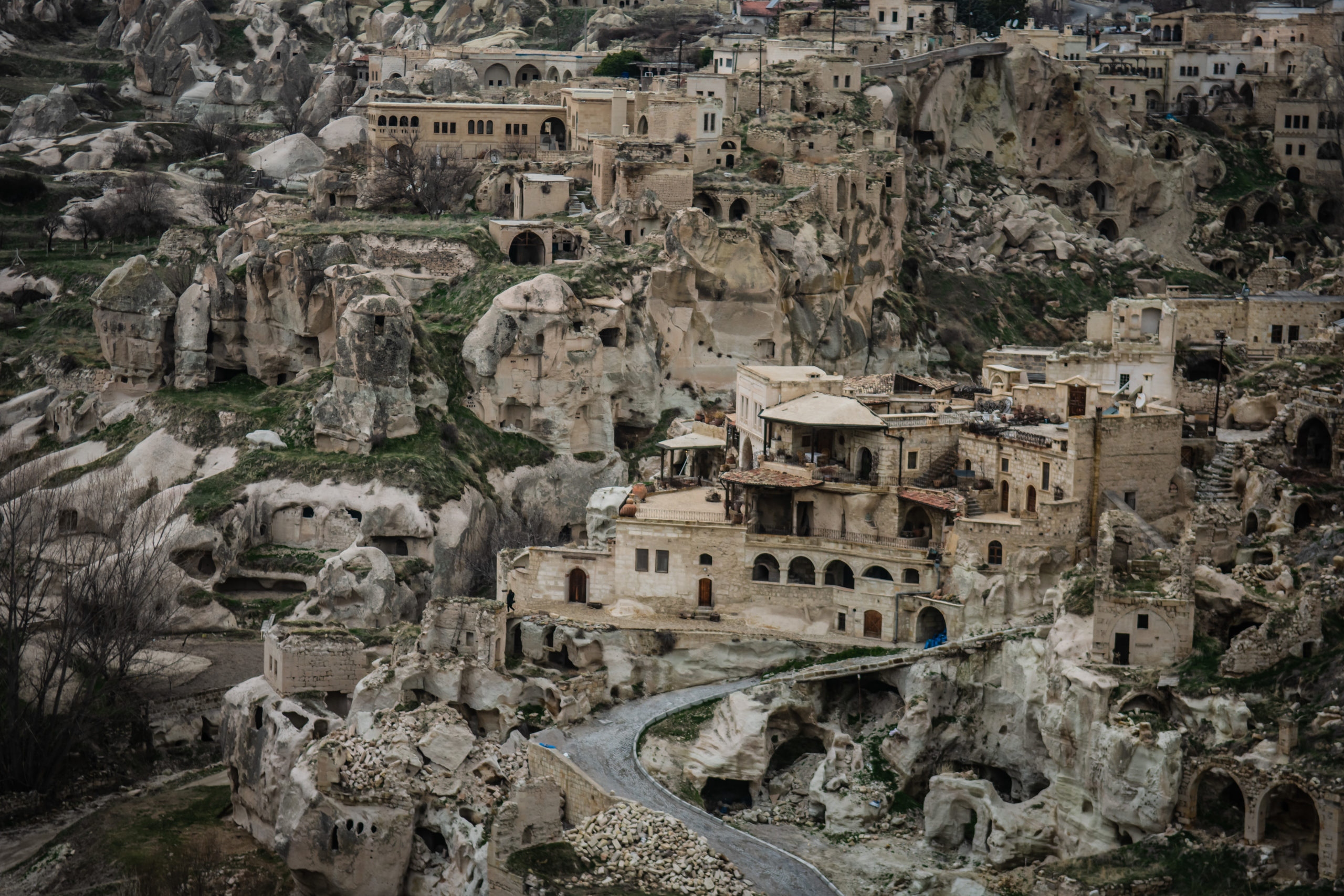 12. STROLLING THROUGH MESKINDIR VALLEY

The hike through Meskindir Valley is not really an official hike as it's more like a part of Red Valley, so if you ask the locals they might struggle a bit to help you get there. In fact, we really struggled to find it ahah! It is not a famous part of Cappadocia, but it's definitely worth a visit. The trail is quite short, about 4km round trip, and it will lead you through some cave dwellings and tunnels until you reach an ancient church. At this point, you can decide to turn around or to continue towards Red and/or Rose Valleys.
You can find more information on this trail in our article on the hikes we did in Cappadocia.
TIP: you can start the hike right after Kaya Camping, you'll follow the red paint pointing towards Red/Rose Valleys and then there will be a wooden sign with Meskendir written on it.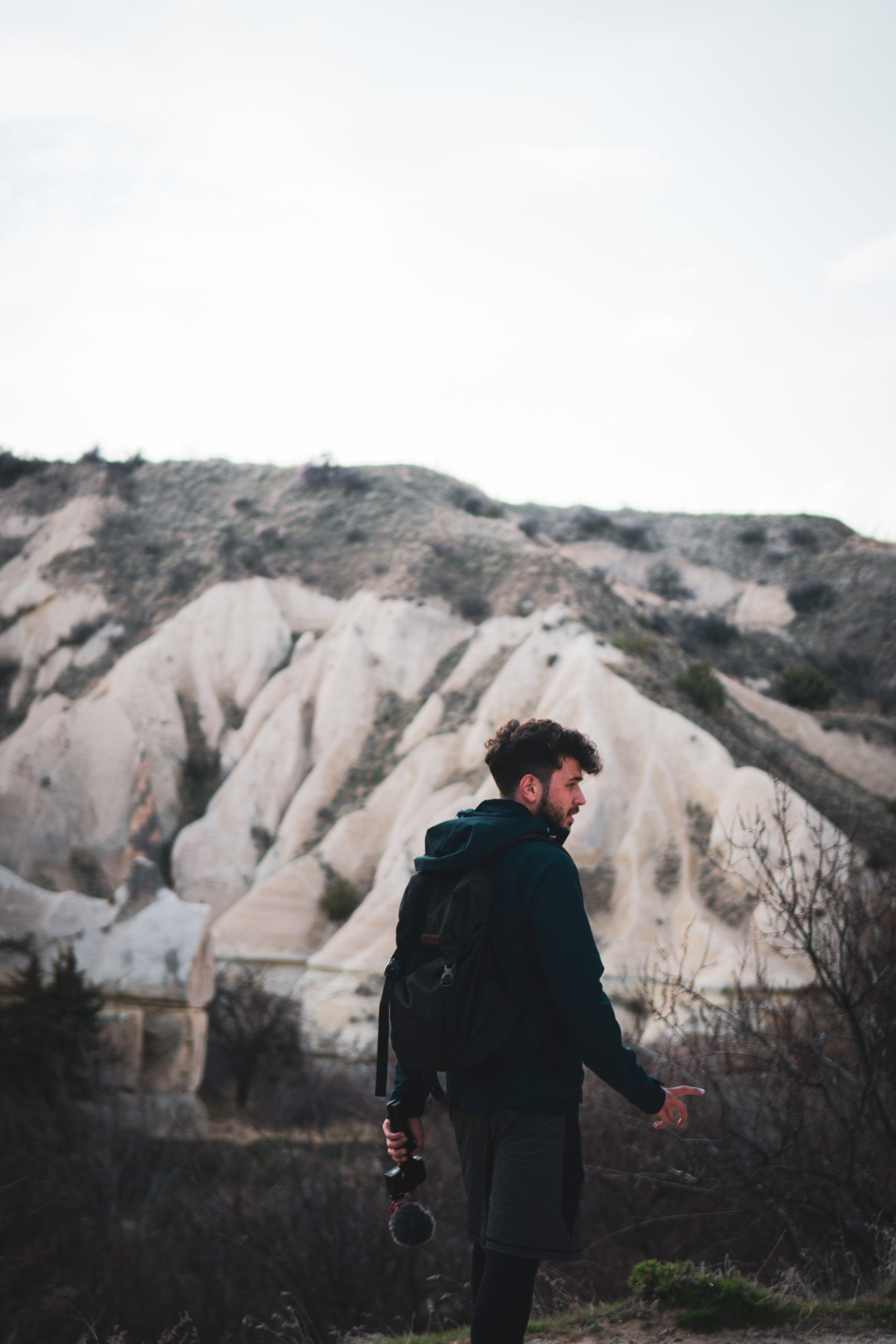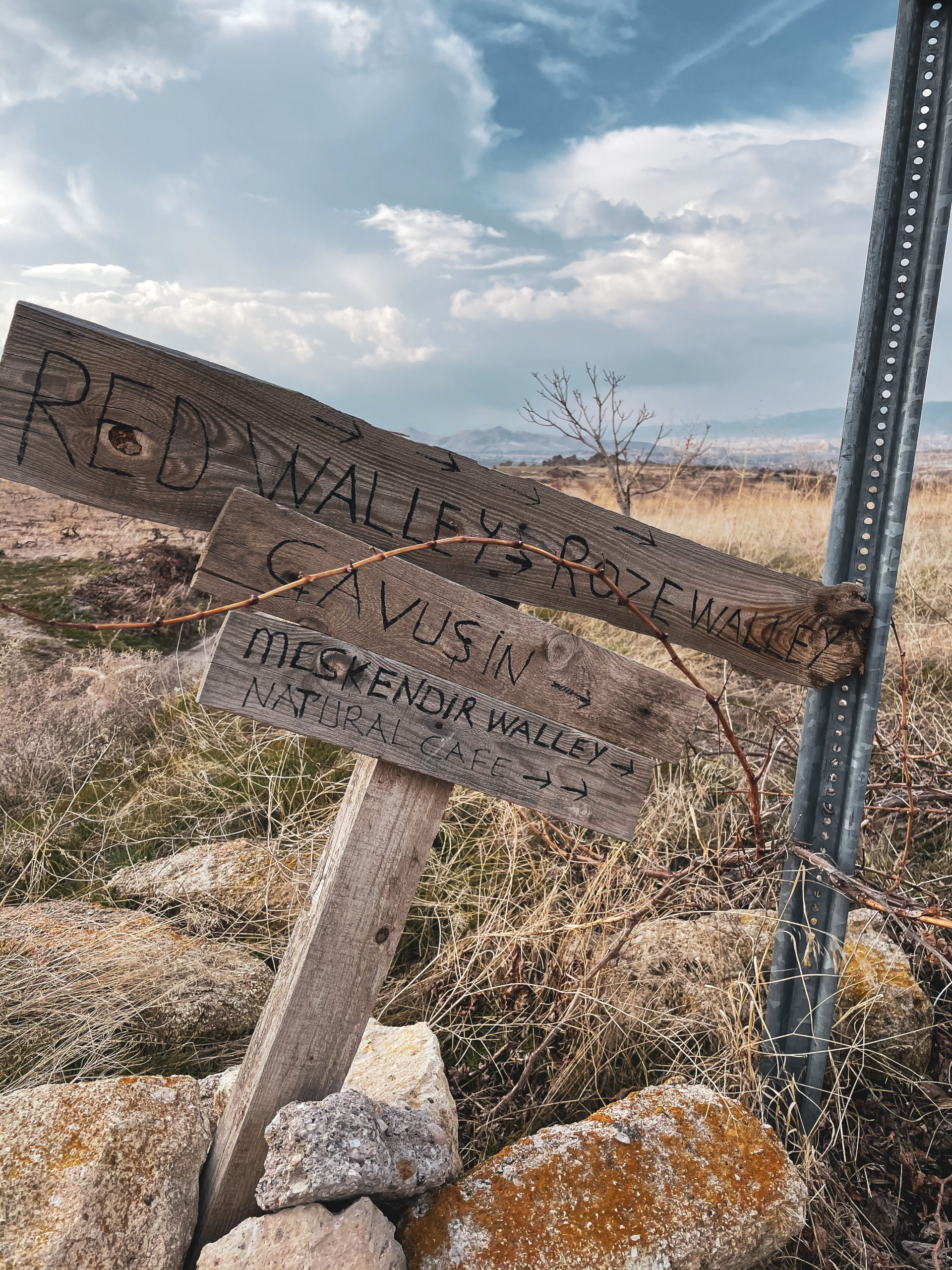 13. WANDERING AROUND DEVRENT VALLEY

Devrent Valley, also called Imagination Valley, is another wonderful site with mindblowing rock formatoins. We found this place to be a little more off the beaten path as there was way less tourists than in most of the other places we visited. This is especially true if you keep walking up the steep hills and don't just stop at the first rocks. Those rocks are said to be animal shaped, so you can have a little fun trying to picture some of them!
You can probably spend anytime between 10 min to a couple of hours there, it really depends how much you are willing to explore of course.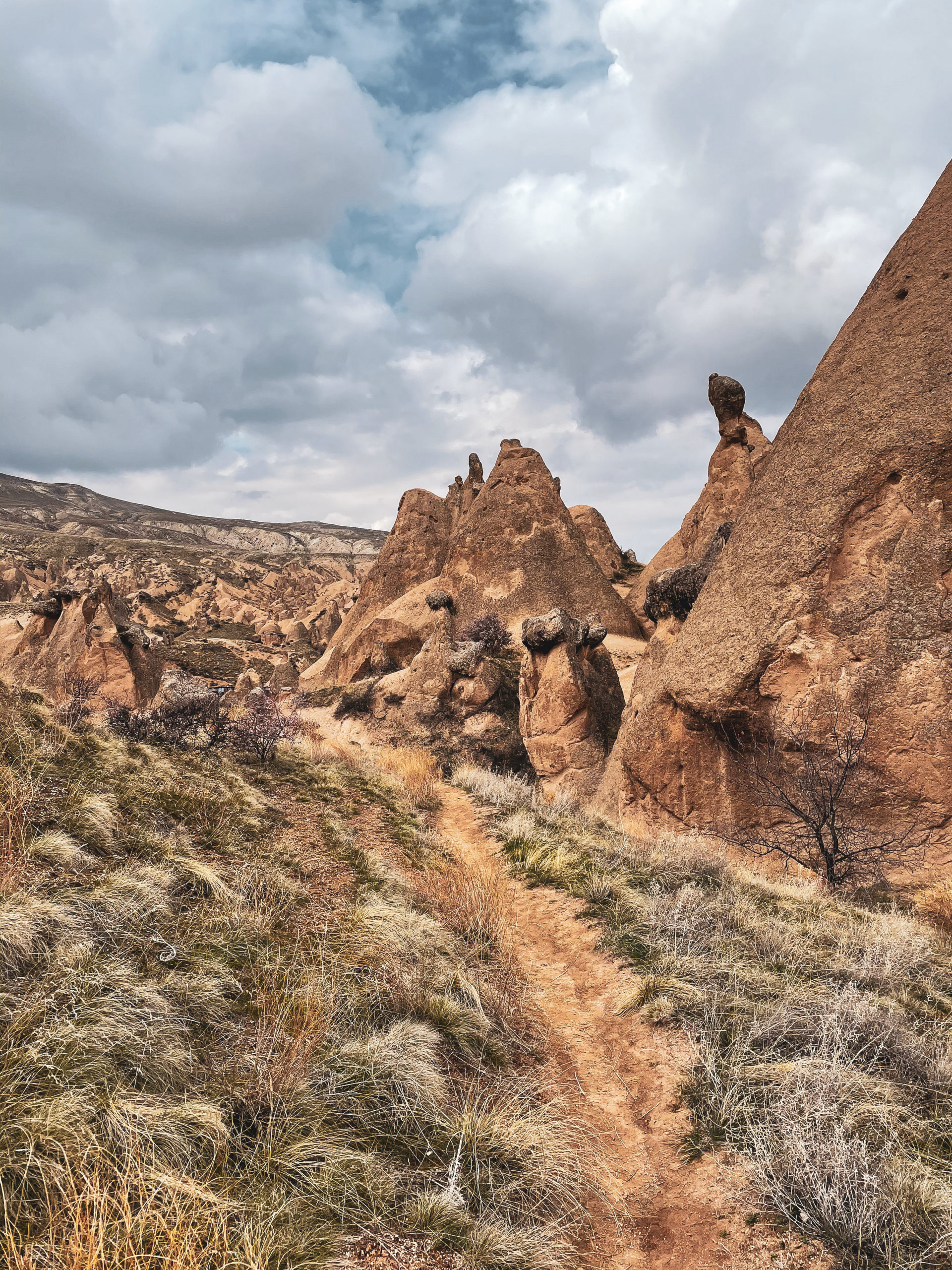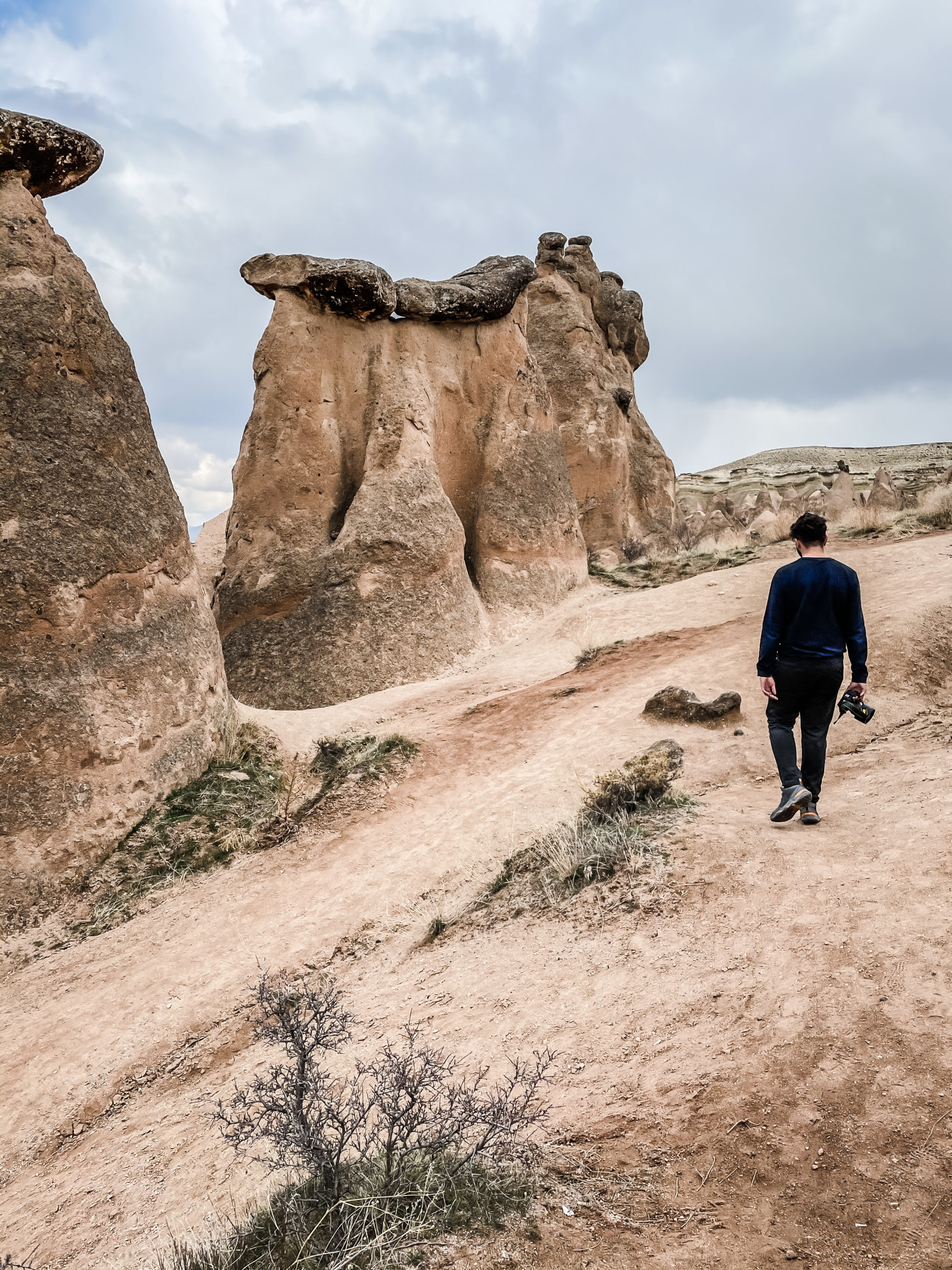 14. HIKING PIGEON VALLEY TRAIL

Pigeon Valley is also sometimes referred to as Guvercinlik Valley and is one of the most popular trails in Cappadocia. We can see 3 main reasons to that: it stretches from Uchisar to Göreme, it is not long nor difficult (4km) and there many beautiful dwellings, paintings, pillars and, you guessed it, pigeons, on your way.
We started from the parking spot "Pigeon Valley" near Uchisar and followed the signs down to the valley. Once we reached Göreme, we took a taxi back to our car, it is a really short ride and not too expensive, but there are also some buses that operate between the two towns. Also note that sometimes the signs are not very clear, this is why we give you all the directions in our specific article on all the hikes we did.
Once again, it's really crazy to think that people built all these cave dwellings and pigeon houses an actually lived there during the Byzantine period.
Pigeon Valley trail was one of our favorite thing to do in Cappadocia and we can only recommend it to you.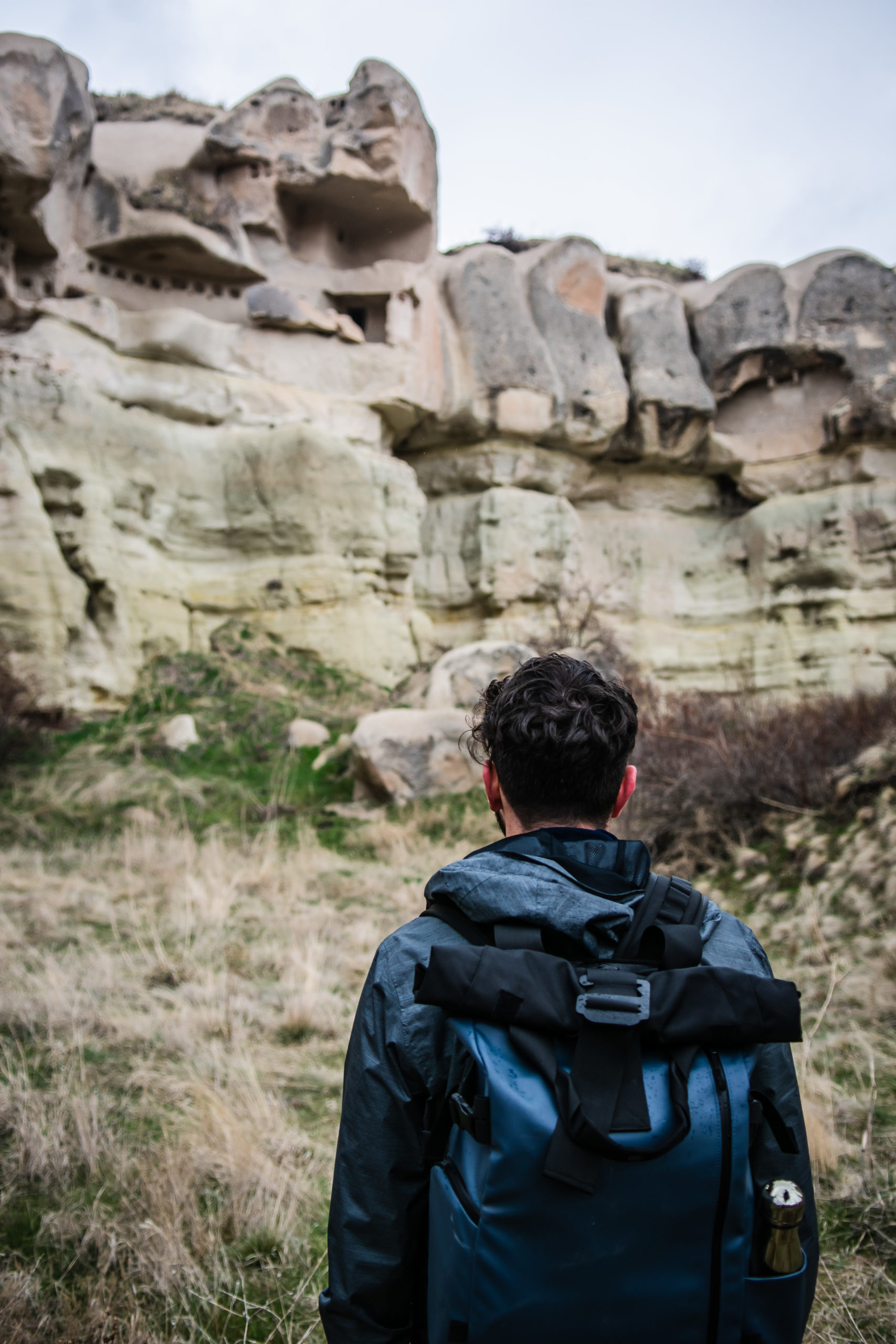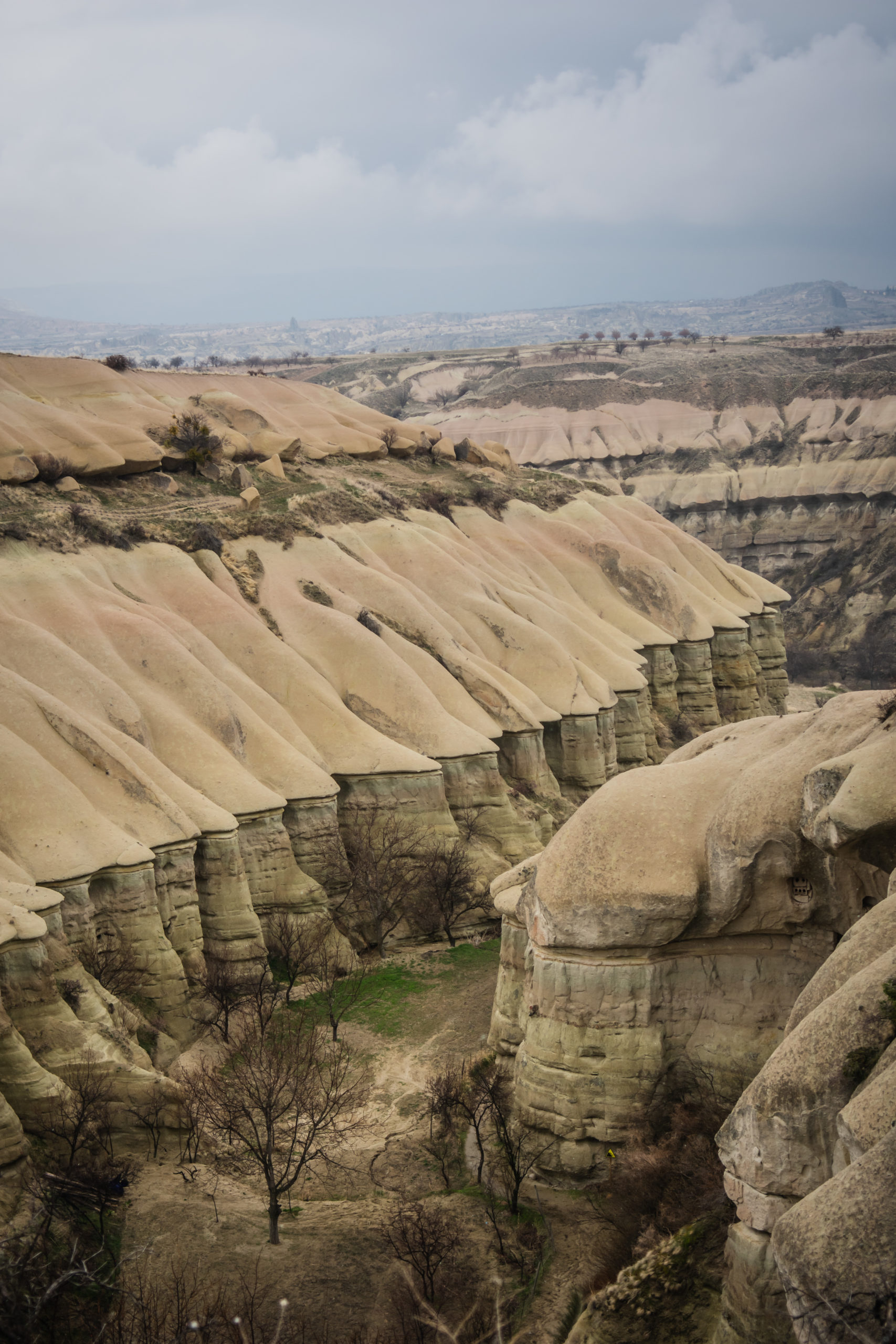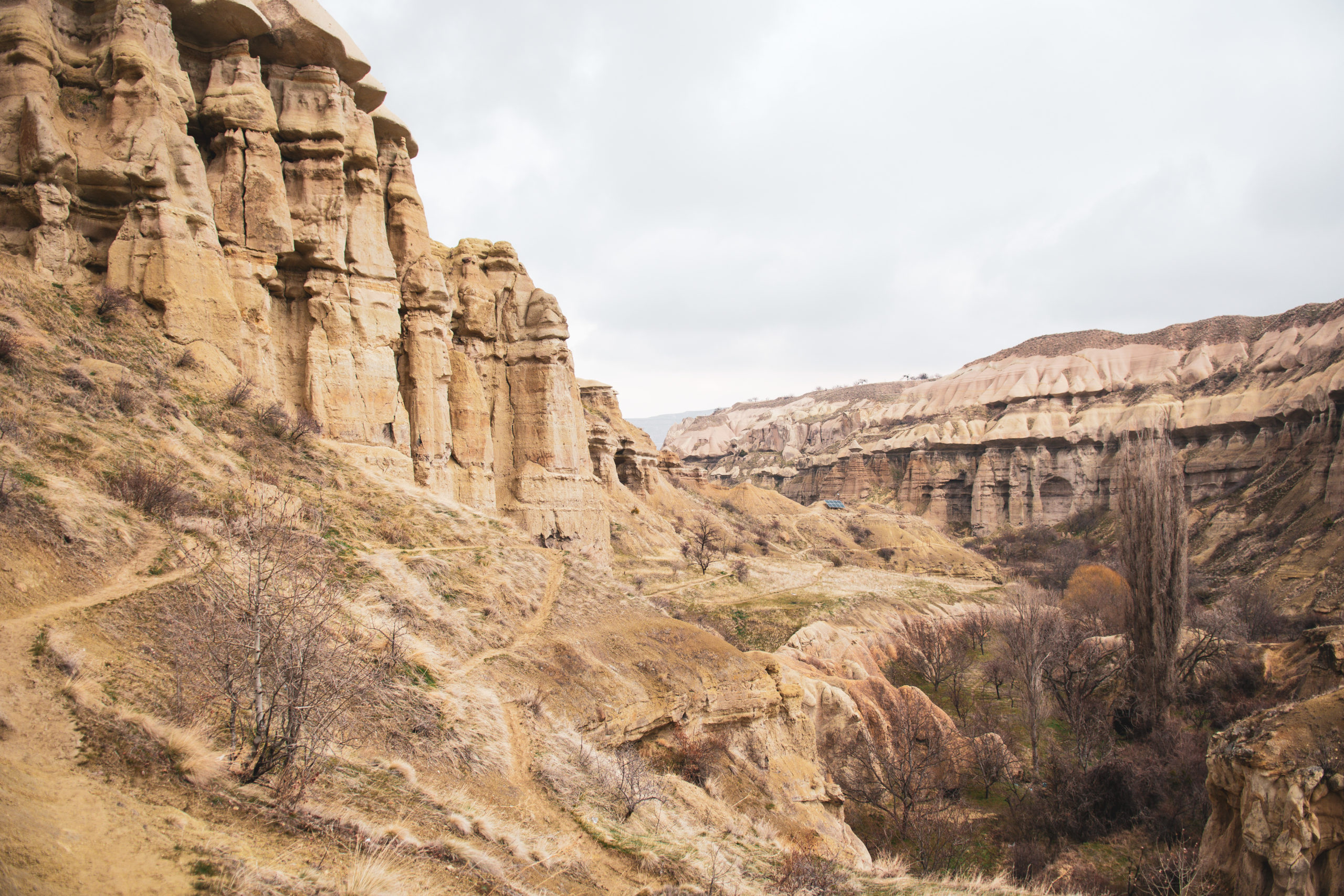 15. AVOIDING THE CROWDS BY HIKING IN LOVE VALLEY

We probably don't need to actually present it anymore, Love Valley is simply one of the main attractions of Cappadocia. BUT most tourists only stop at the viewpoint overlooking the valley. Yes, the view is amazing but you should really get down in the valley! You will find yourself with way less tourists and surrounded by incredible rock formations and earth pillars (and you could also get to witness a wedding photoshoot).
You probably already saw some pictures of these penis-shaped rocks, but did you know this why the valley is actually called "Loved Valley", funny no?
TIP: there is a trail that goes from the Love Valley all the way up to Uchisar Castle, it takes between 1 and 2 hours and it is brilliant. Why not start hiking in the late afternoon and then enjoy the sunset in Uchisar? Beautiful colors guaranteed!
You can find all the information on this trail in our guide about hikes in Cappadocia.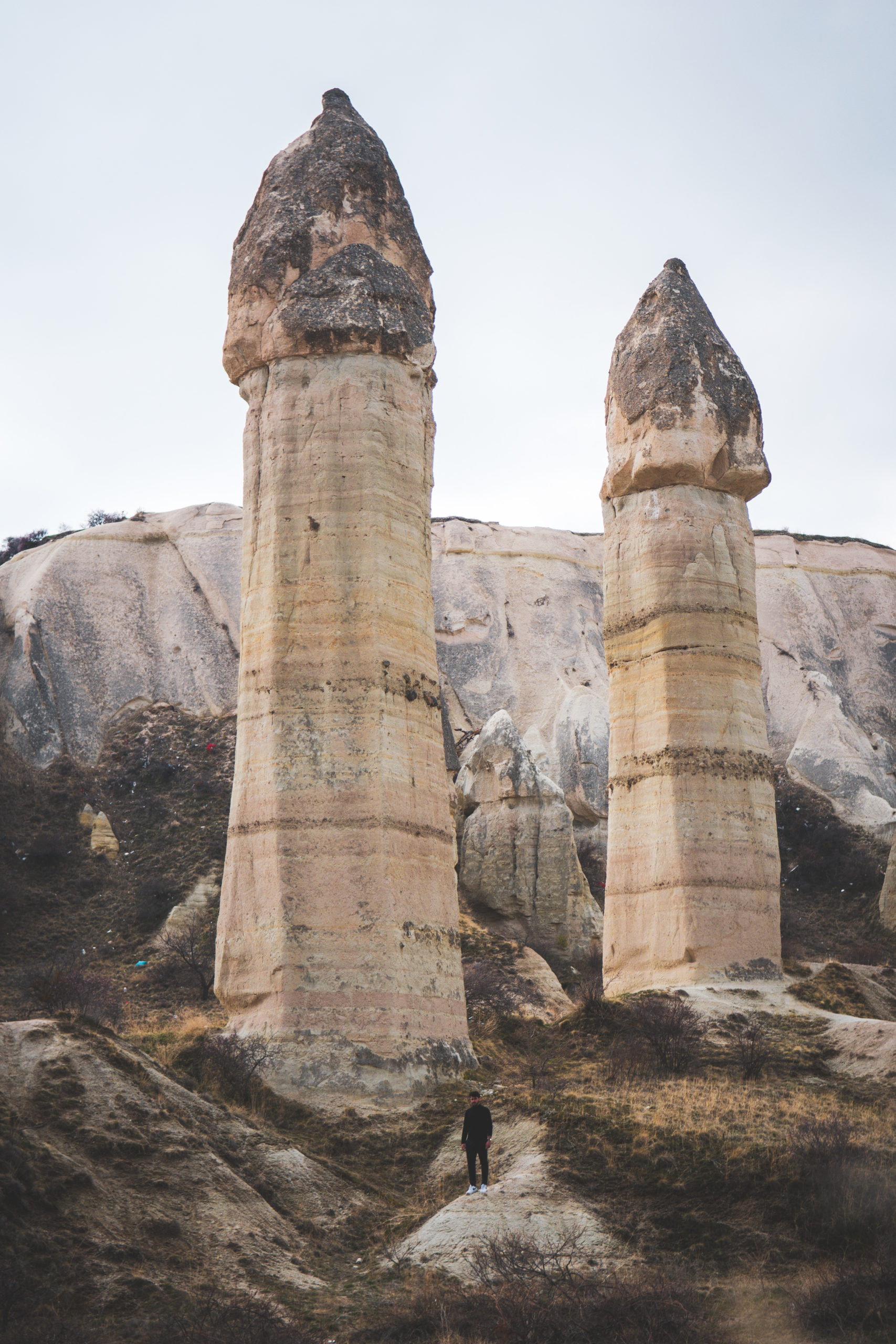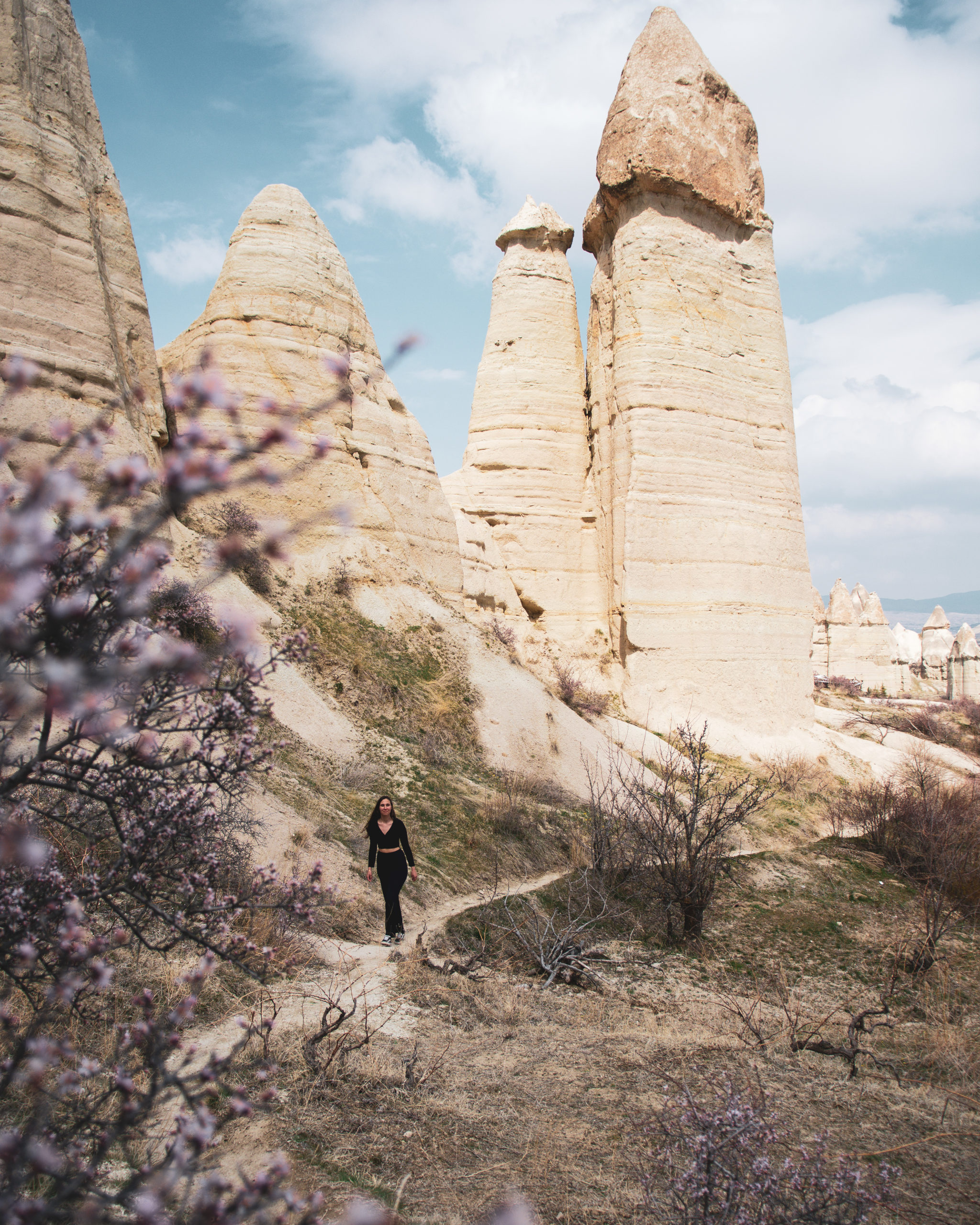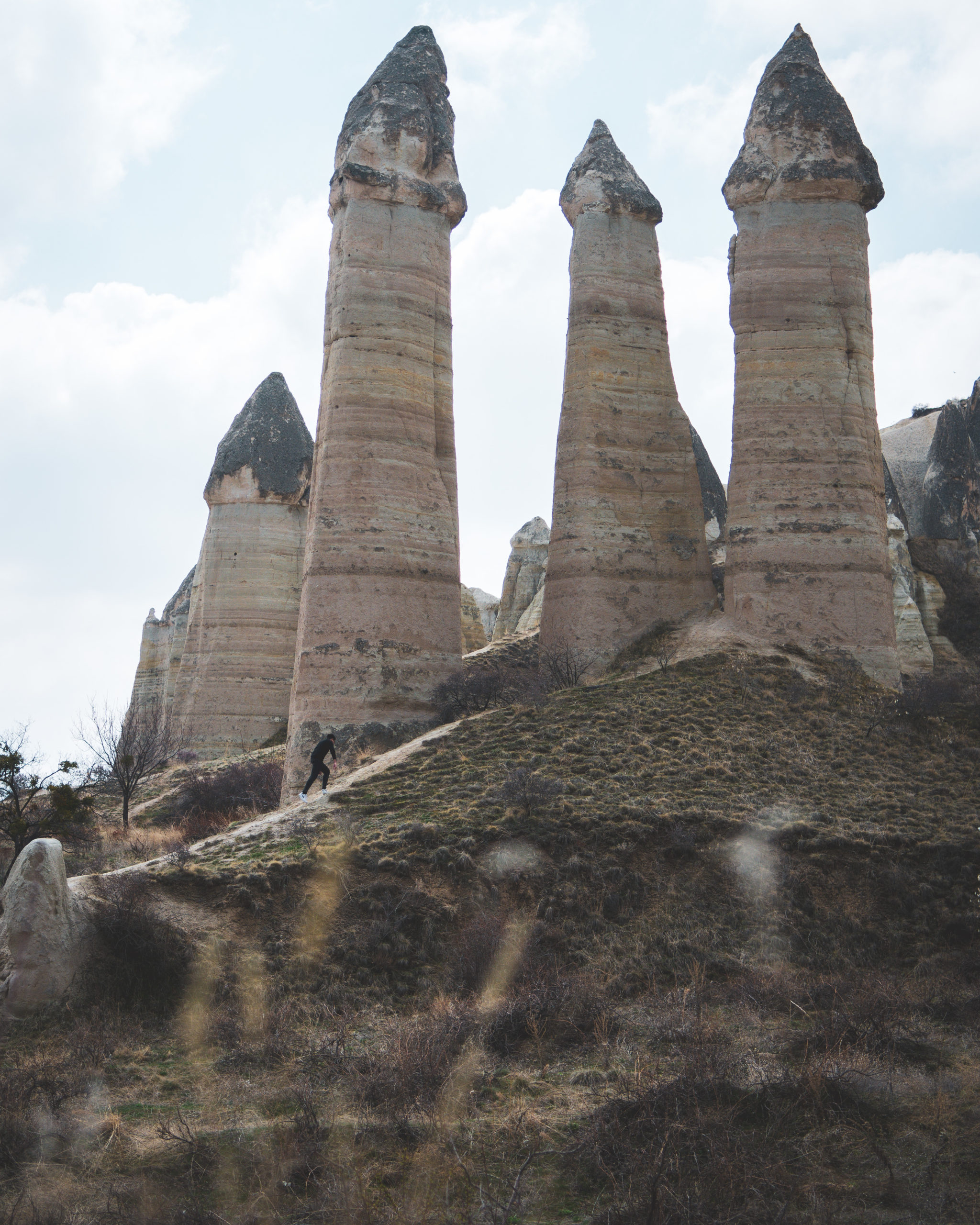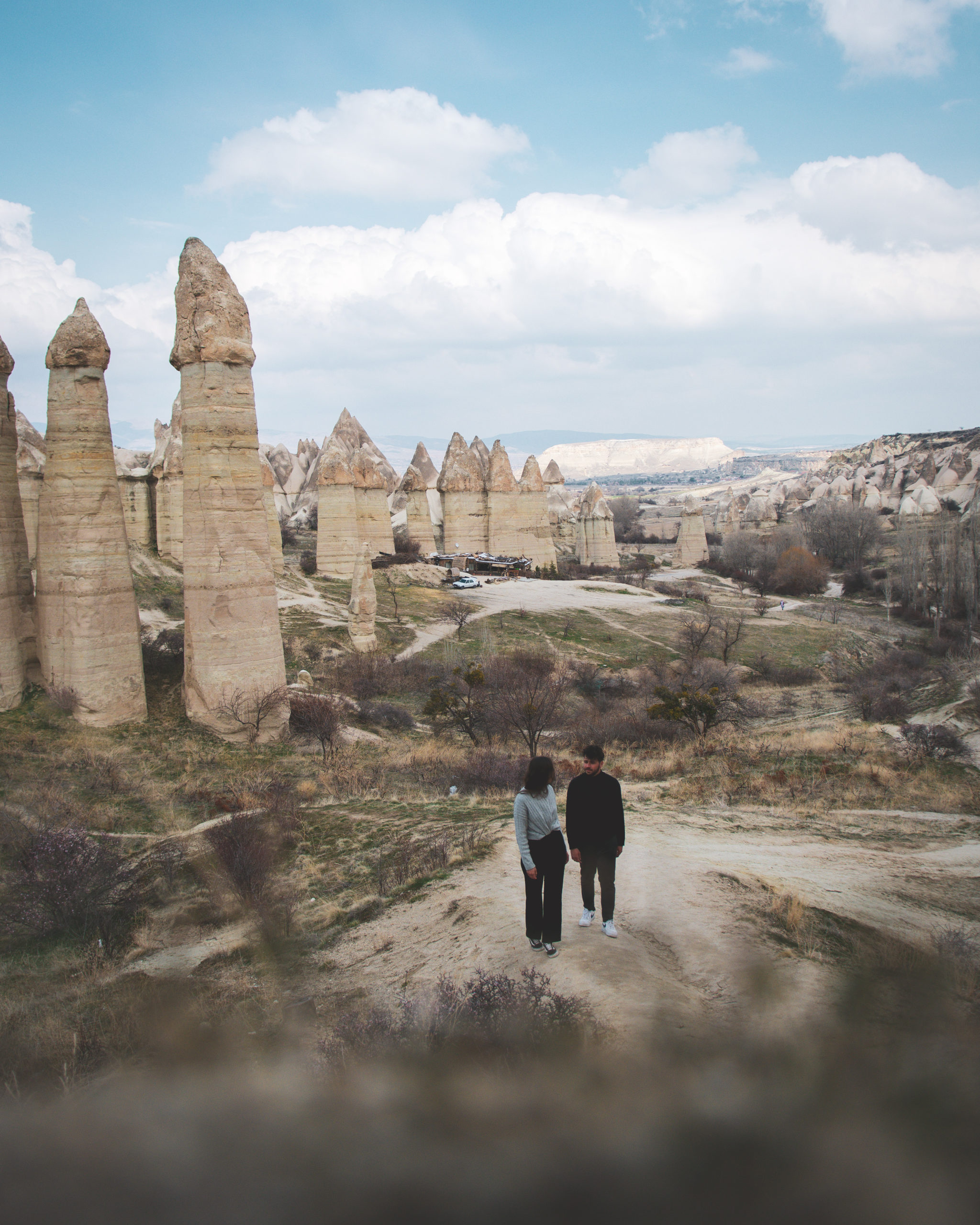 16. HIKING ROSE VALLEY UP TO THE SUNSET SPOT

We went to Rose Valley and the sunset spot during our horse back riding tour and we were so blown away by the beauty of the place that we decided to come back to hike! The color of the rocks is so amazing, especially close to sunset as the pink gets more vibrant. Over thousands of years, the ridges have been shaped and created a unique landscape in which you feel really small and insignificant in comparison to the force and beauty of Mother Earth.
The hike to the top is a bit steep but nothing really difficult, everybody can do it! We hiked there while coming from Meskendir Valley, and we did a loop to go back to Kaya Camping and it was a great hike! If you go there at sunset, expect to see a lot of riding groups as this is one of the best spots.
You can find all the information on the hikes in our specific article.
PS: be careful of the riders, they can go quite fast on these narrow paths and can surprise you. 2 riders came out of nowhere galopping super fast but hopefully we heard them right before they arrived and we had the time to jump on the side of the path ahah!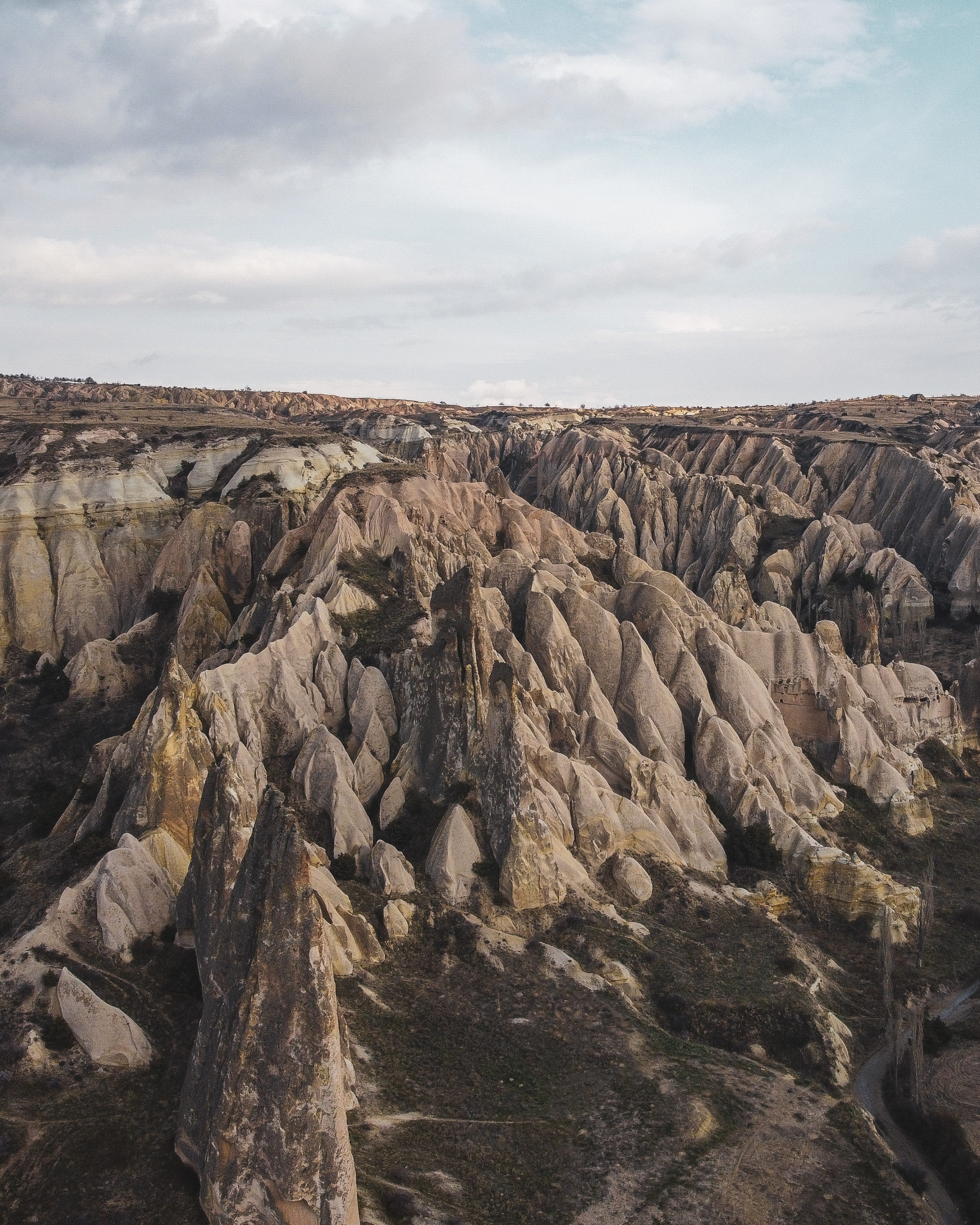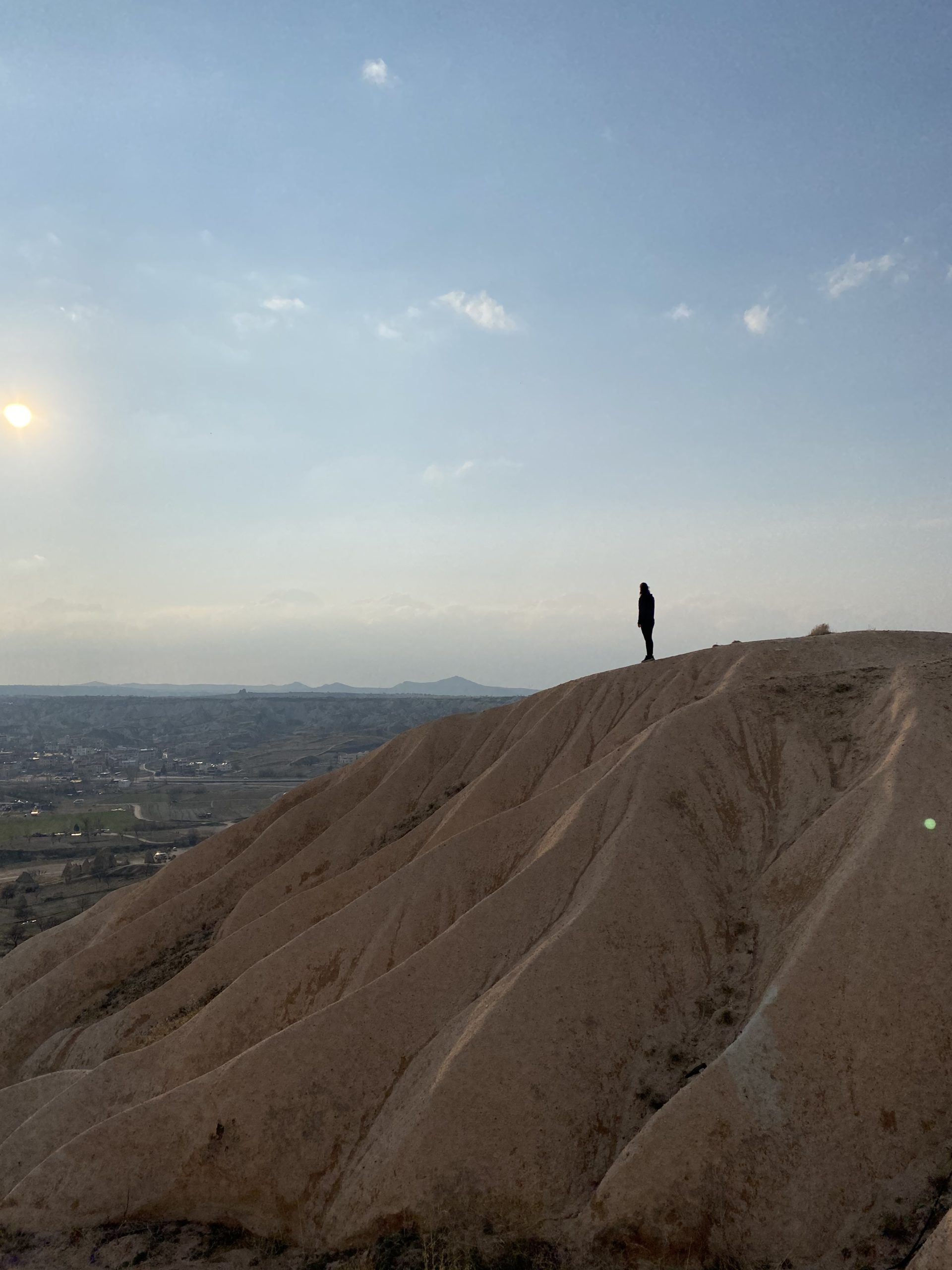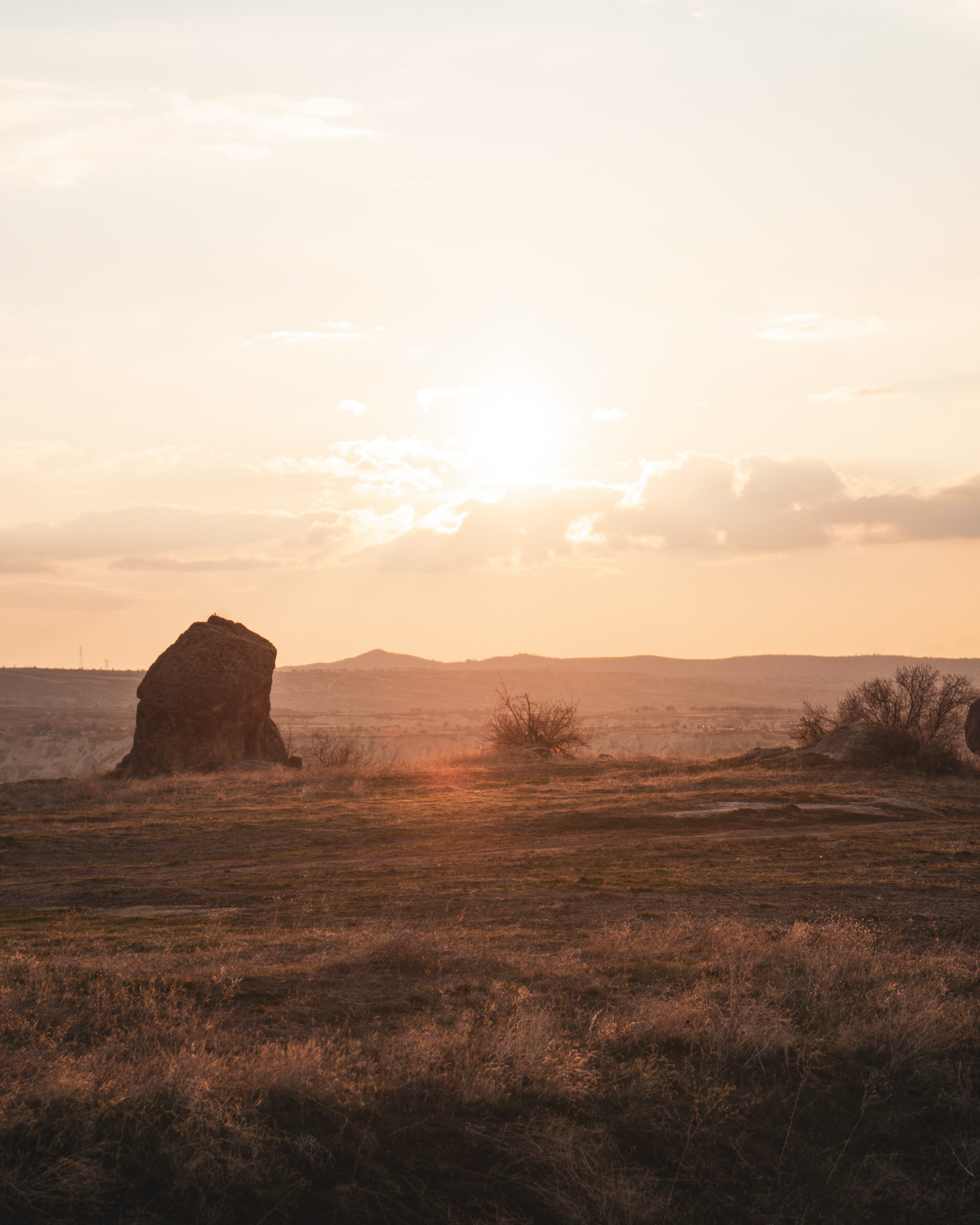 17. HIKING RED VALLEY UP TO THE SUNSET SPOT

We've already told you that we've ridden there during our horse back riding tour, and Meskendir trail is also part of Red Valley but you can explore even more and hike all the way up to the sunset spot too!
This time is not the pink color that will blow your mind, but the bright red color which intensifies at sunset. This was truly for us the best sunset spot. If you had only 1 night to spend in Cappadocia, we would tell you to go there!
You have several possibilities and basically you could decide to hike Meskendir, Rose and Red Valleys in a loop, or you could also simply drive to the sunset point which is indicated on Google Maps. There are a couple of cafés there that will offer you really nice seats facing the setting sun, but you could also decide to walk a bit further and find more isolated spots. Either way, this is really a must see!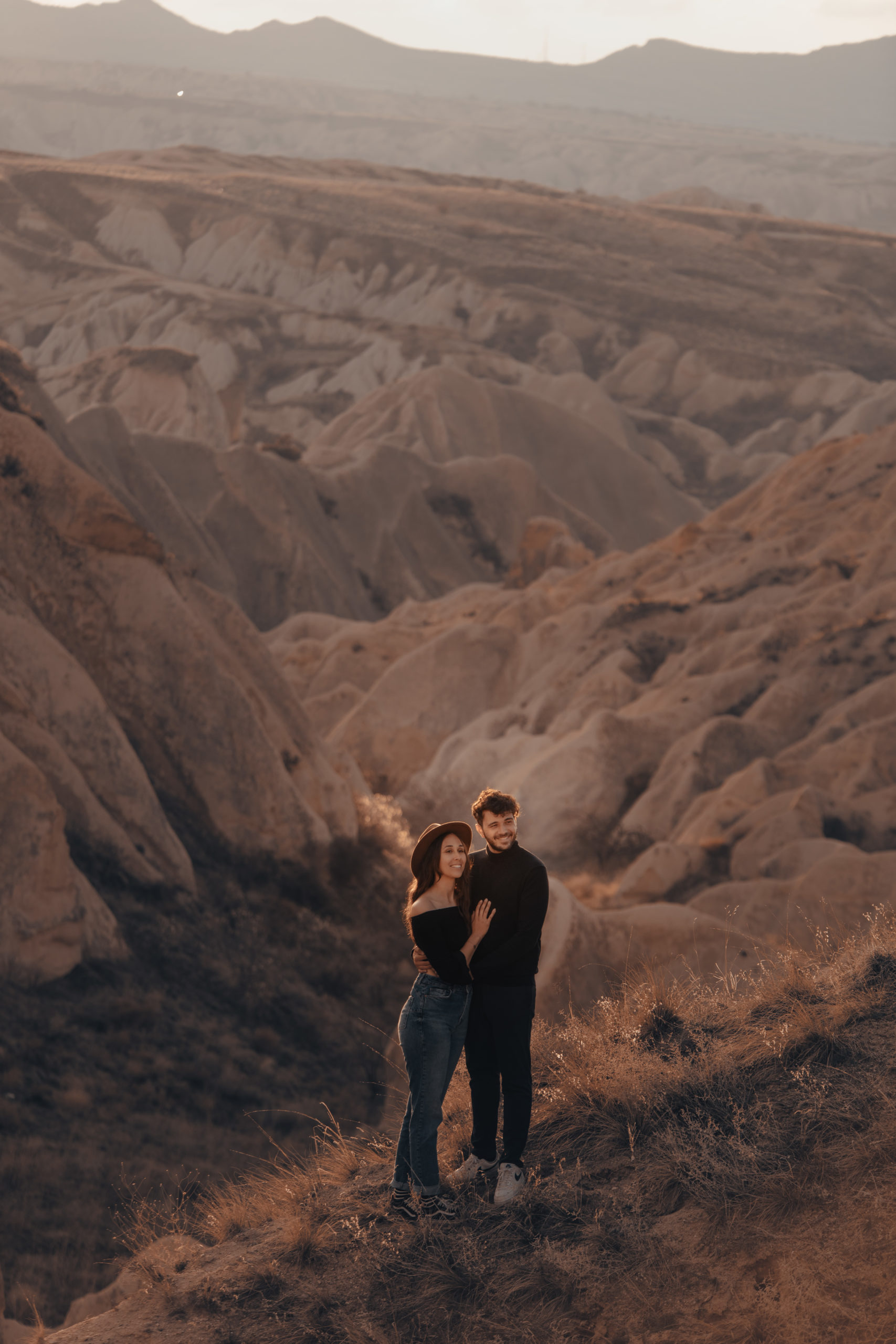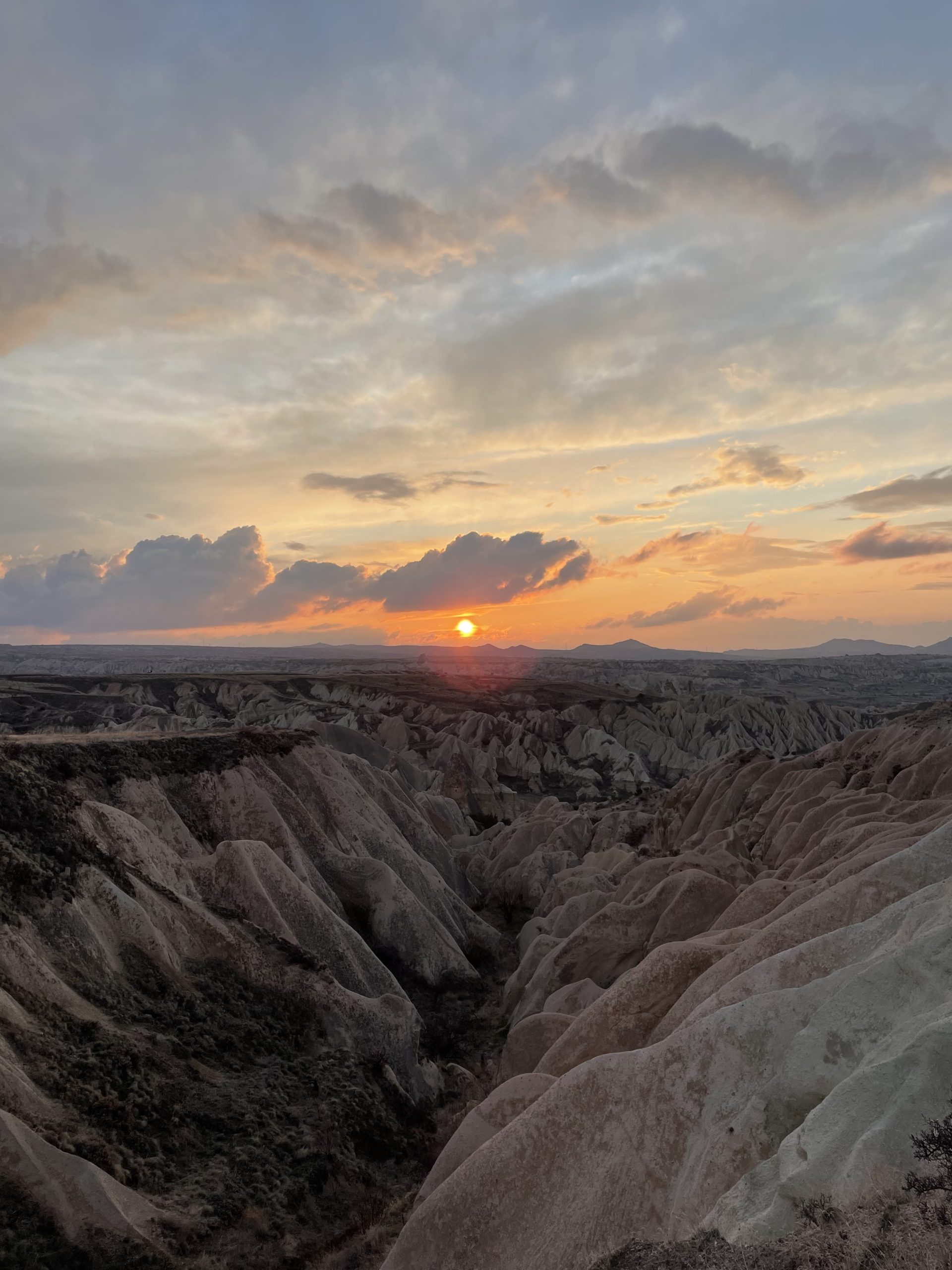 ADDITIONAL TIPS TO MAKE THE MOST OUT OF YOUR TRIP TO CAPPADOCIA!
First, you must realize that Cappadocia is a region, not a town. It is composed of some well known towns such as Göreme, Uchisar, Ürgüp, Ortahisar, Cavusin and many more! We drove there from Ankara as part of our road trip in Turkey but there are two airports serving Cappadocia: Kayseri Airport and Nevsehir Kapadokya Airport.
When to visit?
Cappadocia is wonderful all year round. If you've seen pictures during winter, you know that the snow is only making it look more like a fairy tale! Now, winters can get really cold and the balloons fly a little less often due to the weather, but flying over snow must be a unique. During the summer, balloons will fly most of the days, which is awesome, and you will also get the most beautiful sunrises and sunsets. However, it can be really hot, don't forget that you'll be in a desert, and it makes the hikes a little less comfortable, that's why we will advise you to hiker either early in the morning or late in the afternoon.
How many days to stay?
Many people think that a couple of days are enough to visit Cappadocia, how wrong! As we said before, there is so much to see, so much history to discover and trails to hike that we will advise you to stay at least 5 days. And, of course, it is the best way to maximize your chances of flying!
TIP: you can check the official flights state on this website. That way you can know if your flight is maintained or not (altough you'll be contacted by the company you're flying with, don't worry), but most importantly, for the days you're not flying, this will allow you to know if you should wake up for sunrise or not!
Where to stay?
The region is famous for its cave hotels, and yes you should try it! It's such a cool experience to sleep in a cave, we loved it!
We stayed at: KOZA CAVE HOTEL, they have the highest rooftop in the region and the best spot to witness the balloons at sunrise. But most importantly for us, it is a family-run sustainable hotel with only 10 rooms and the most friendly staff we've ever met. Bonus: they have the 2 cutest cats of Göreme! You can book your stay here.
We also stayed at MUSEUM HOTEL, which is a true masterpiece of architecture! The rooms are decorated with antique art pieces and the heated pool was a pure delight! It also has incredible view on the balloons (when the weather allows it ahah). You can book your stay here.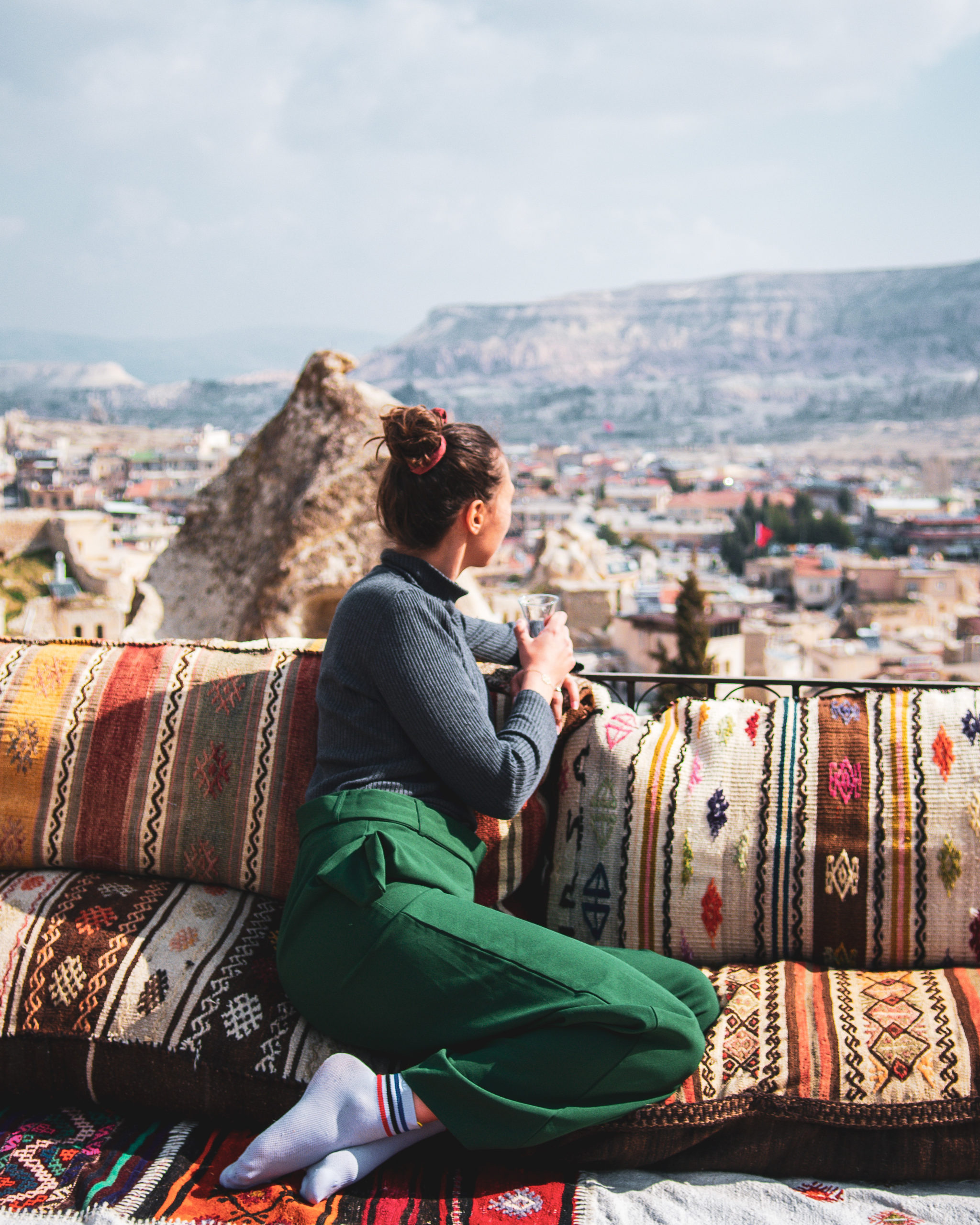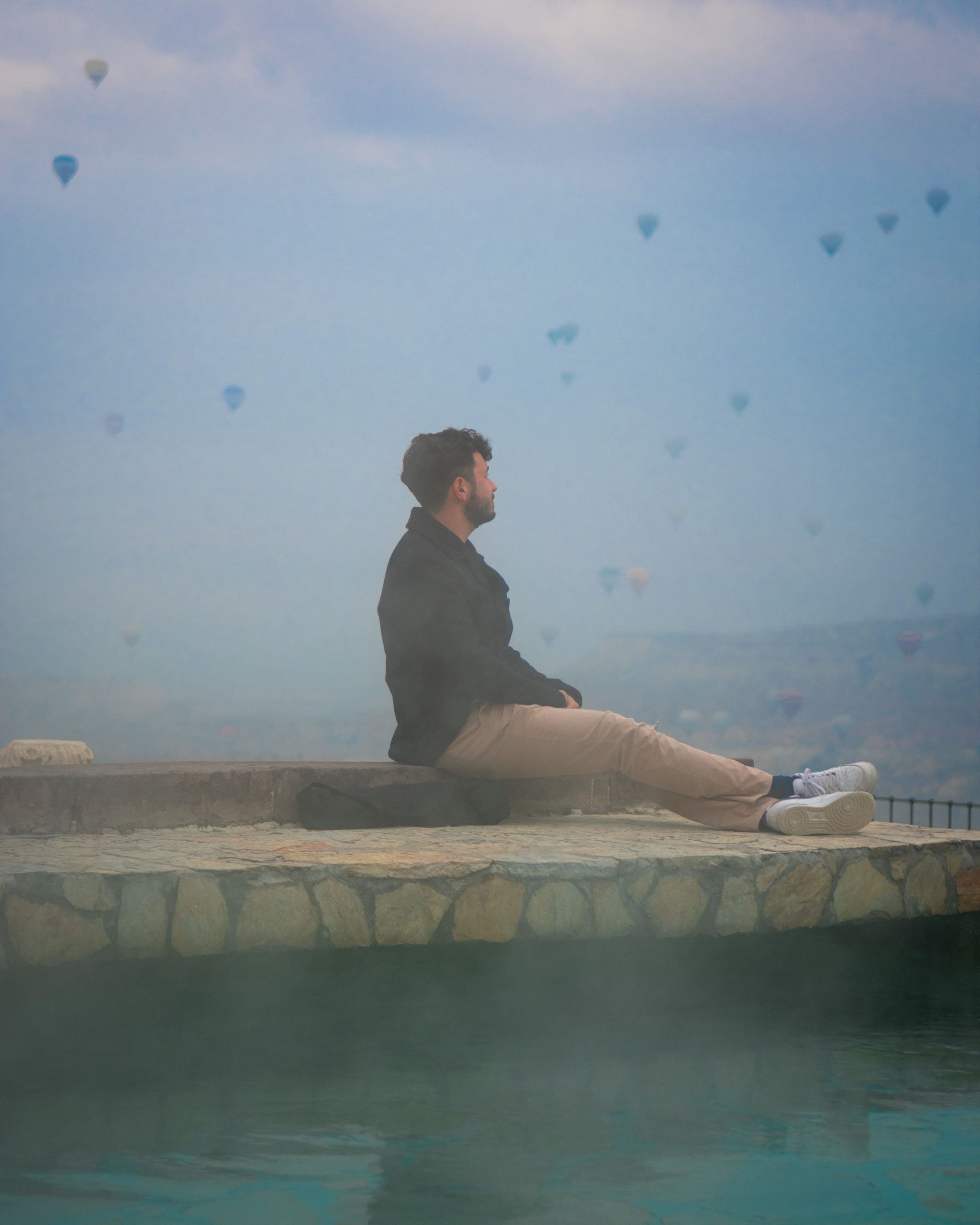 We hope you will enjoy your trip to Cappadocia!
HAVE YOU ALREADY CHECKED OUT OUR OTHER ARTICLE ON CAPPADOCIA?!
The perfect guide to hike in Cappadocia: you'll find out about all the hikes we did with details, directions and photos.
Marie & Karim
(If you liked this article or have any questions, please comment below! And make sure to follow our adventures on Instagram @InspiringExplorers