Of course, Cappadocia is well known for its hundreds of hot air balloons floating in the sky at sunrise, its wonderful landscapes and crazy rock formations.
But there is also so a range of beautiful hikes around Cappadocia that will give you the opportunity to really immerge yourself in the scenery. Overall you should try to stay at least 5 days to really get a chance to embrace the region and everything it has to offer. We stayed there for 5 days, while we initially planned to stay only 3 days because we were afraid to get bored, we didn't know how wrong we were ahah!
In this hiking guide, we will give you details on each of the hikes we did, how to get there, directions and photos to help you understand what you can expect.
TIP: when we hike, we usually use Maps.me to go around as we find it more reliable when hiking than Google Maps and also you can download the maps and use them offline!
THE HIKING GUIDE FOR CAPPADOCIA
The Meskendir Valley trail is quite short and is really off the beaten path so you shouldn't see too many people there, but it also made it the hardest hike to find for us.
We combined Meskendir trail and Rose Valley trail, you could also combine Red Valley trail, we didn't because we started hiking a bit late so we were short on time but it's really a good option. Alternatively, you can also simly do an out and back hike on the Meskendir Trail.
How to get there?
We parked right after Kaya Camping when coming from Göreme, there will be a road on your left and you can park there (or ask a taxi driver to drop you there). There will be a red sign on the wall (pictured below) saying Rose/Red. You should follow those signs until you reach a wooden sign with Meskendir written on it.
Now, you just have to follow the trail through the sandstone tunnels, the canyon and rock formations. There will be a couple of little cafés on your way (really little, and closed when we were there but they probably open in summer). If you use Maps.me, it will guide you up to the ancient church and the last café. At this point, you've reached the end of Meskendir trail, you can either turn back and head back to Kaya Camping, or you can continue towards Red or Rose Valley.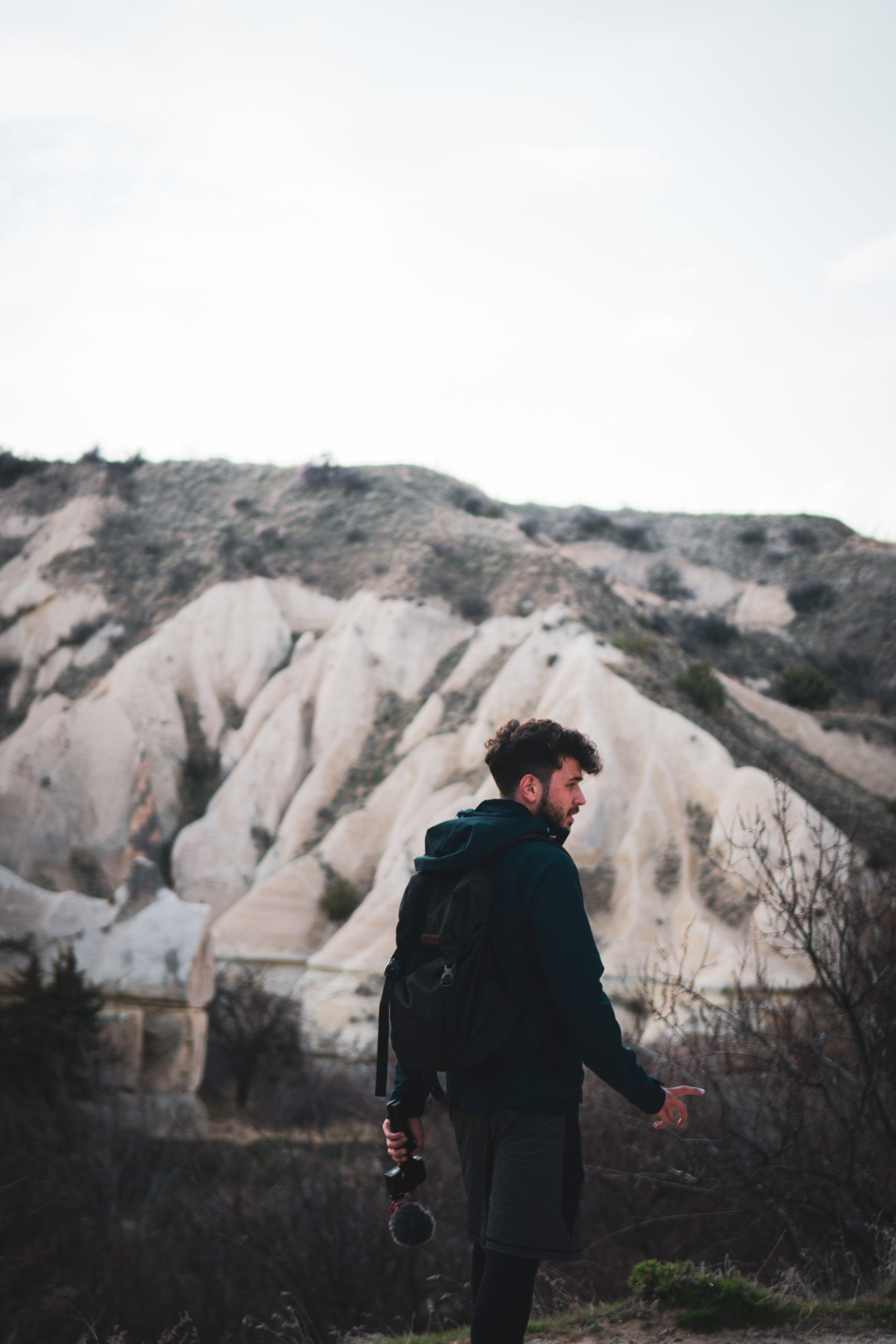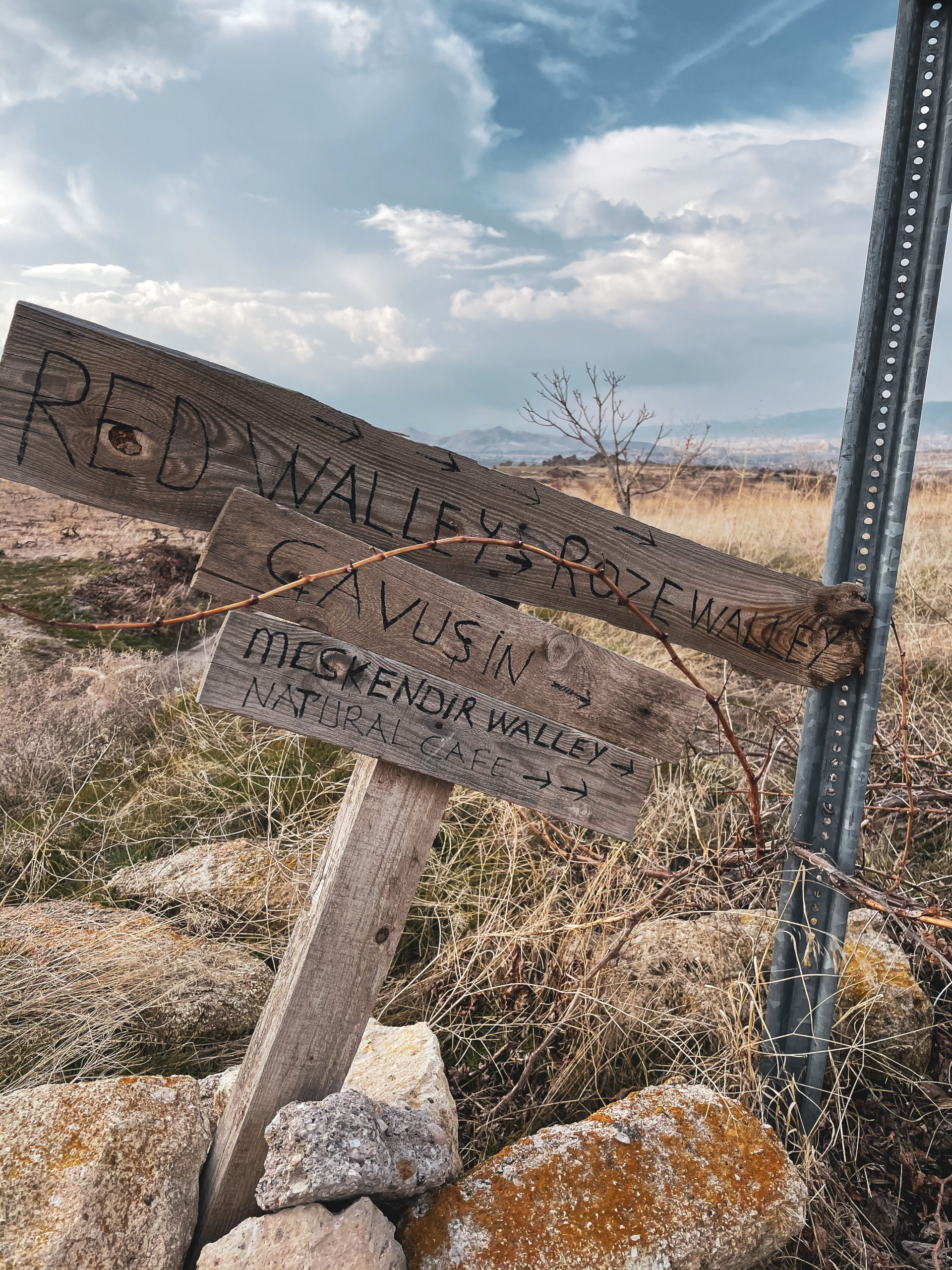 Pigeon Valley is also sometimes referred to as Guvercinlik Valley and is one of the most popular trails in Cappadocia. We can see 3 main reasons to that: it stretches from Uchisar to Göreme, it is not long nor difficult and there many beautiful dwellings, paintings, pillars and, you guessed it, pigeons, on your way.
How to get there?
You can start either from Uchisar or Göreme, the most common choice, and the one we did, is to start from Uchisar. You have 2 options now, for example if you are staying at a hotel in Göreme, you could take a taxi to the starting point and then join Göreme by foot, or like we did, you can park your car at the starting point and take a taxi back to your car.
The starting point of the trail is next to Pigeon Valley Gifts (which you can find on Google Maps). You will leave the crowds behind and go straight down the steep trail into the valley. It is one of the most popular trail of the region, however keep in mind that most tourists don't really come to hike, so it shouldn't be too crowded either.
At the beginning of the trail, the signs are quite clear but then it can get confusing. basically you can follow the signs up to the bridge and then you should walk straight for a little while and then turn left to hike uphill instead of continuing straight as the sign might mislead you. Once you are up there, you can follow the ridge until you find a sign again that will lead you back down to the valley. At that point, you will also pass a small cafe and a sign that will let you know you are in the right place. From there, you can simply continue to follow the path.
The hike is 4km and pretty easy.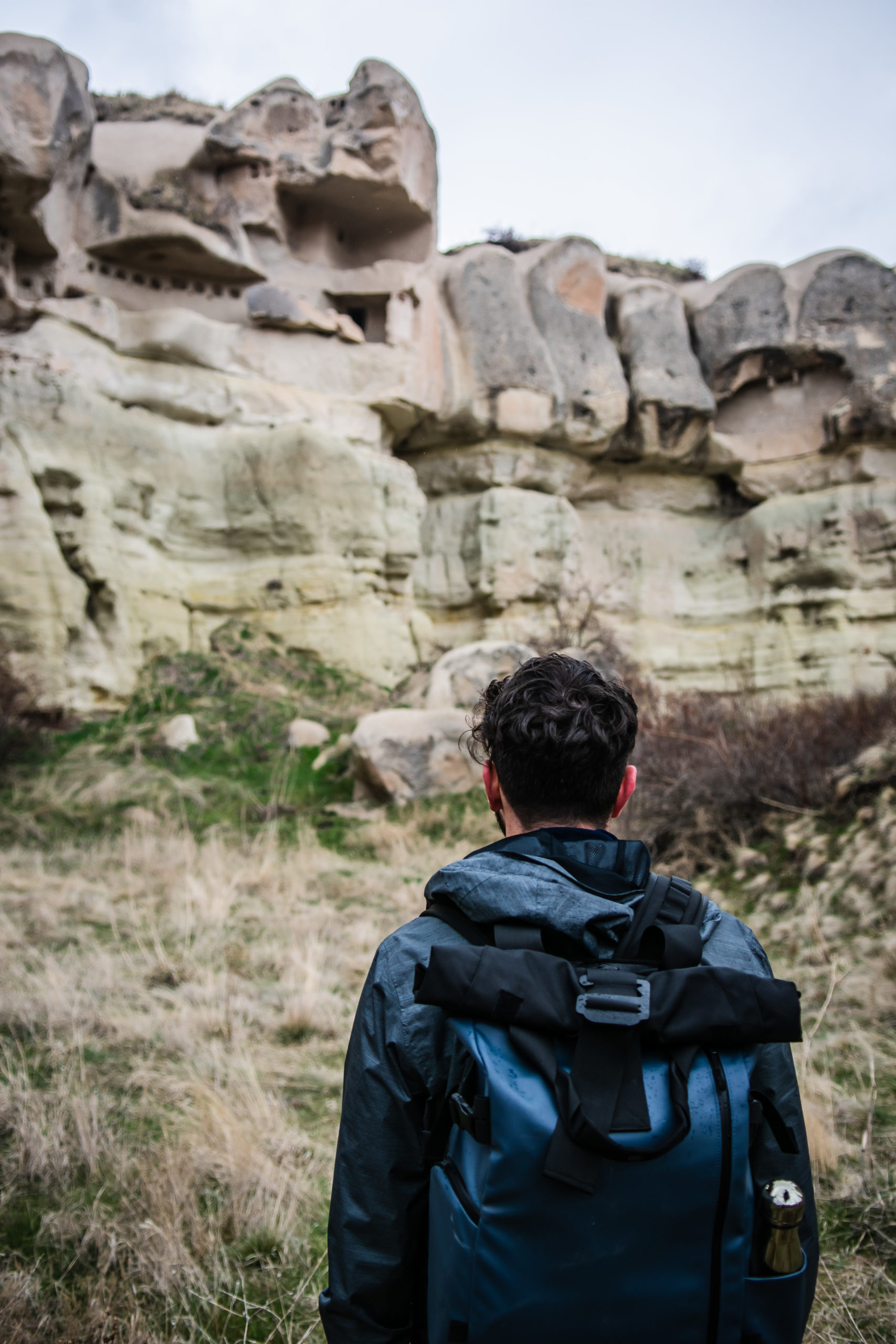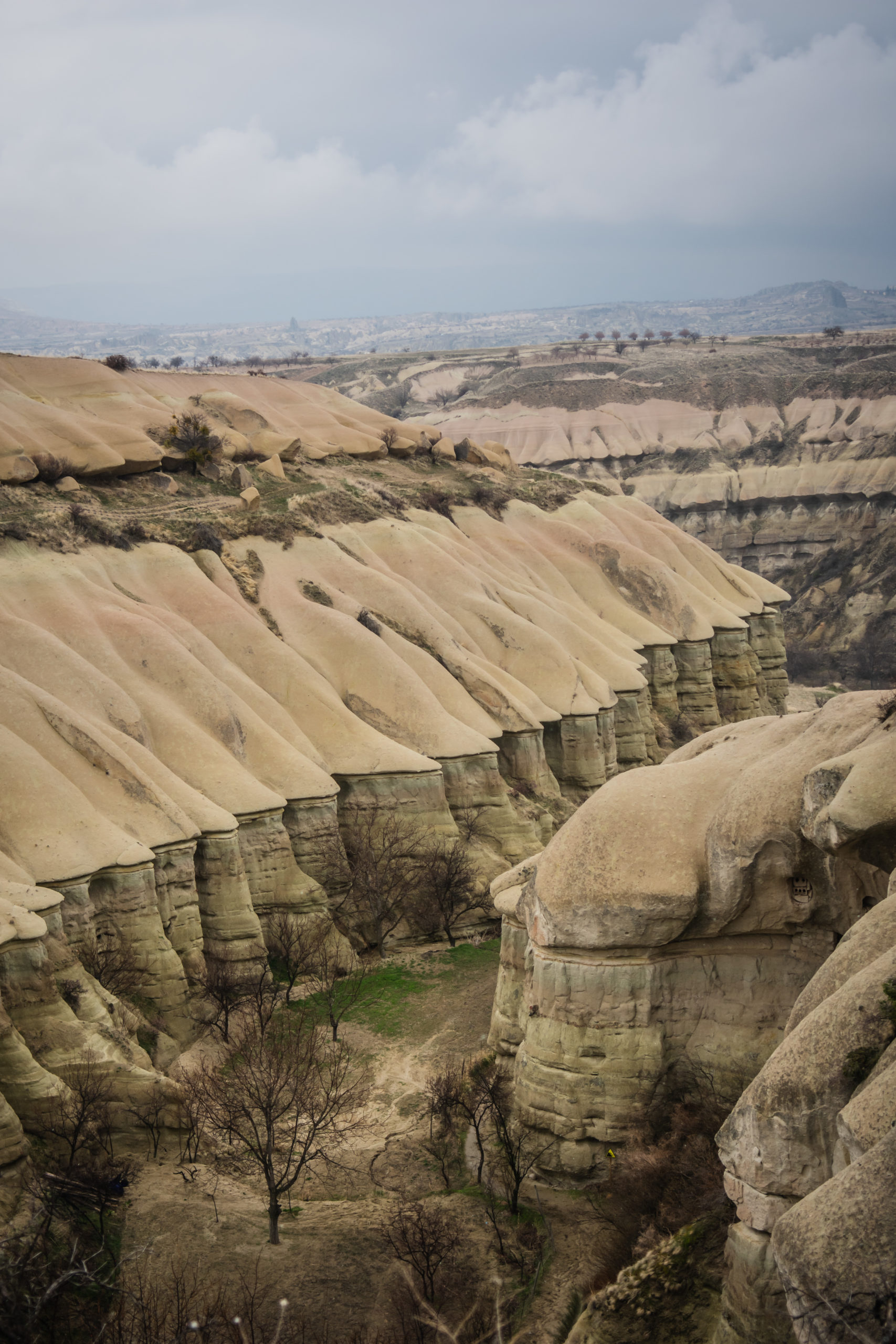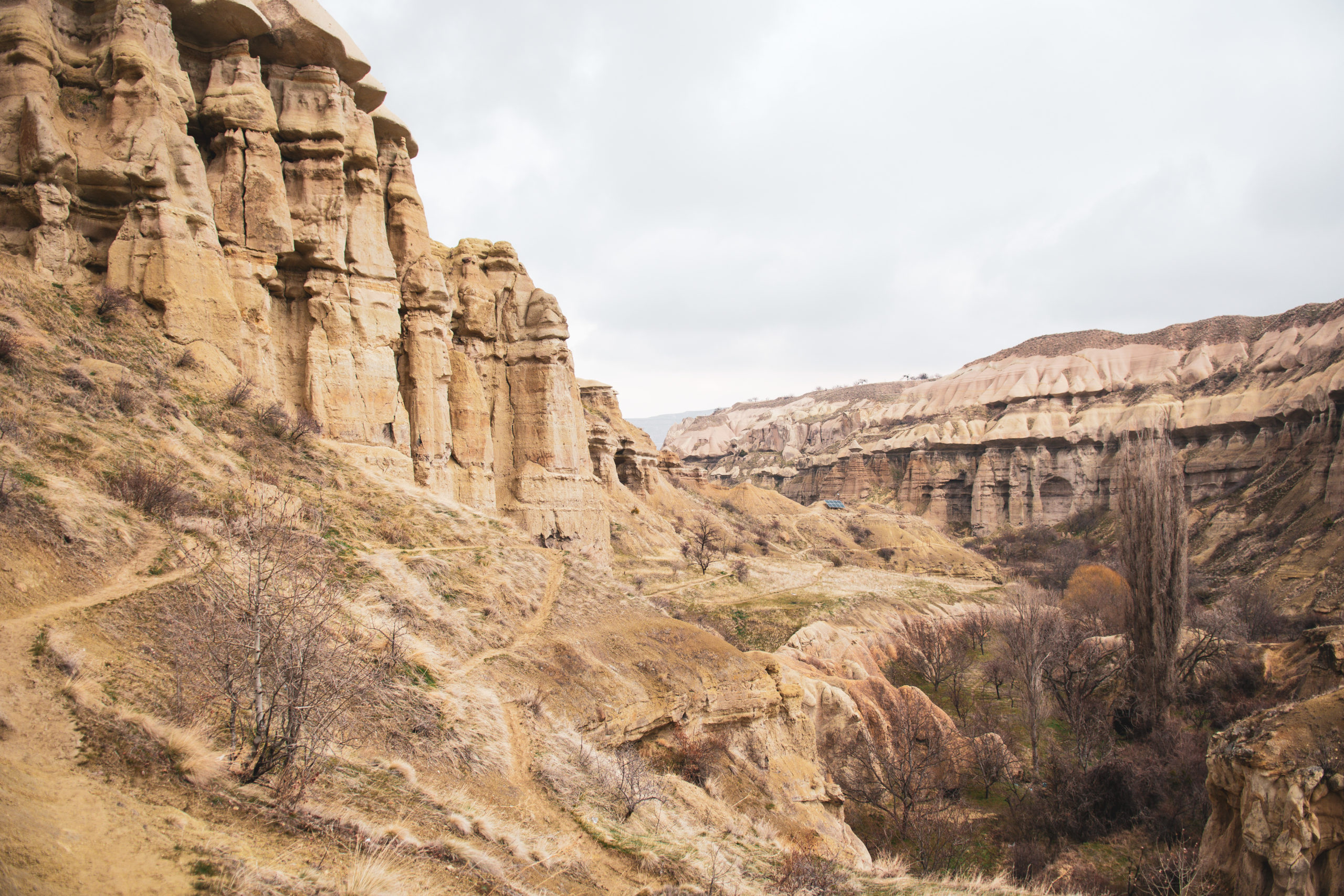 Located right outside Göreme, Love Valley is one of the most popular places in Cappadocia.  
You probably already saw some pictures of these penis-shaped rocks, but did you know this why the valley is actually called "Loved Valley", funny no?
Most tourists drive to the viewpoint that overlooks the valley, and yes it is beautiful but we really are convinced that the best way to enjoy Love Valley is by getting down there and hike through it!
How to get there?
If you search for "Love Valley" on Google Maps it will take you to the viewpoint, you want to follow that direction to leave Göreme, once you've turn left, you will turn left again. There is a rock on which it is written Love Valley in red paint, watch out for this and you've found the beginning of the trail!
From here, you have 2 options: you can just walk around in the middle of these increcible rock formations, enjoy a nice turkish coffee at the small café and head back or if you feel like it, you can hike all the way to Uchisar Castle! It should take you between 1 and 2 hours, note that this trail is not very popular path and sometimes it will not be a very clear one. The castle will be visible from the path so if you have a doubt, you can just walk towards it and you'll find your way!
No matter which option you choose, it's probably going to be one of your favorite hikes in the region!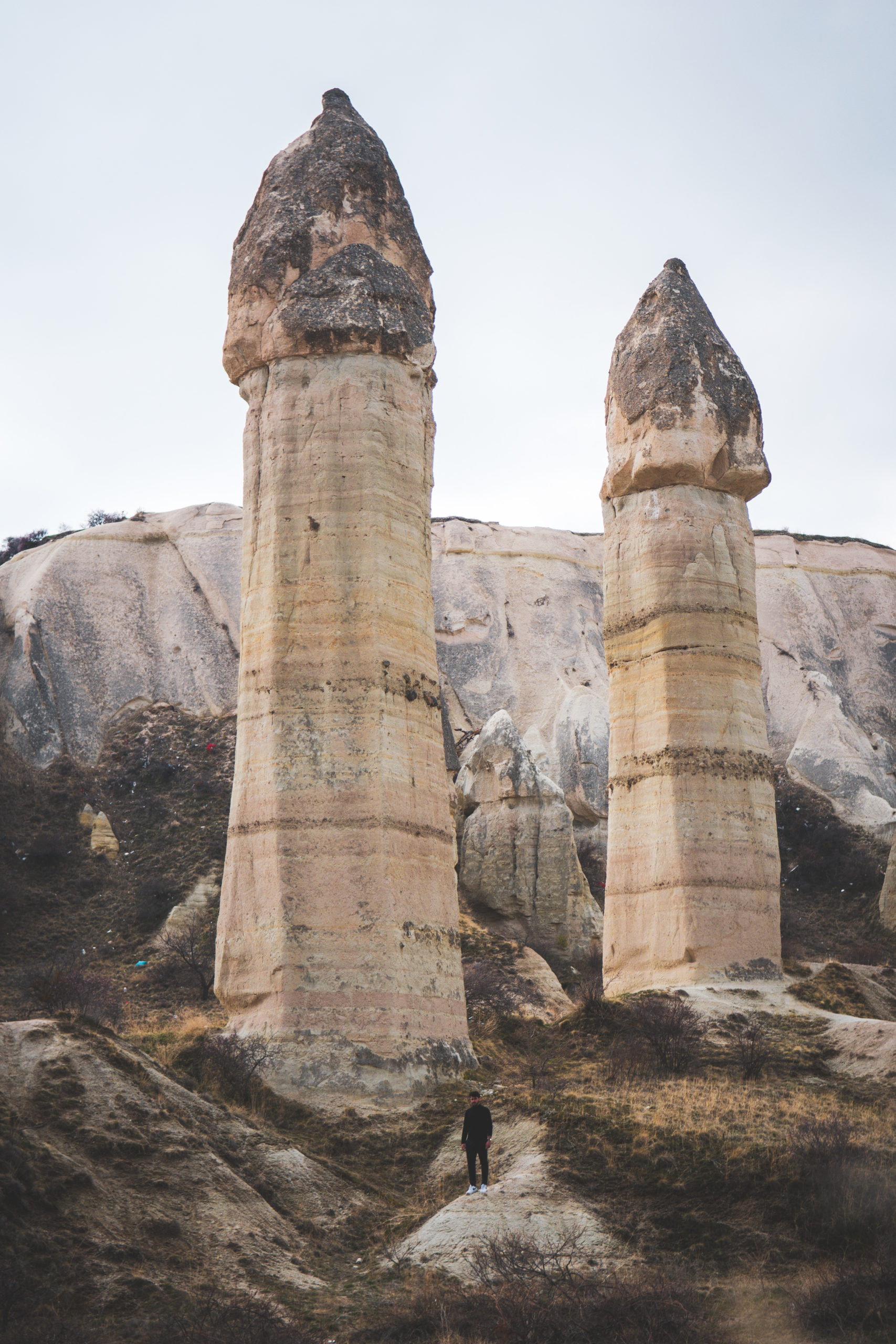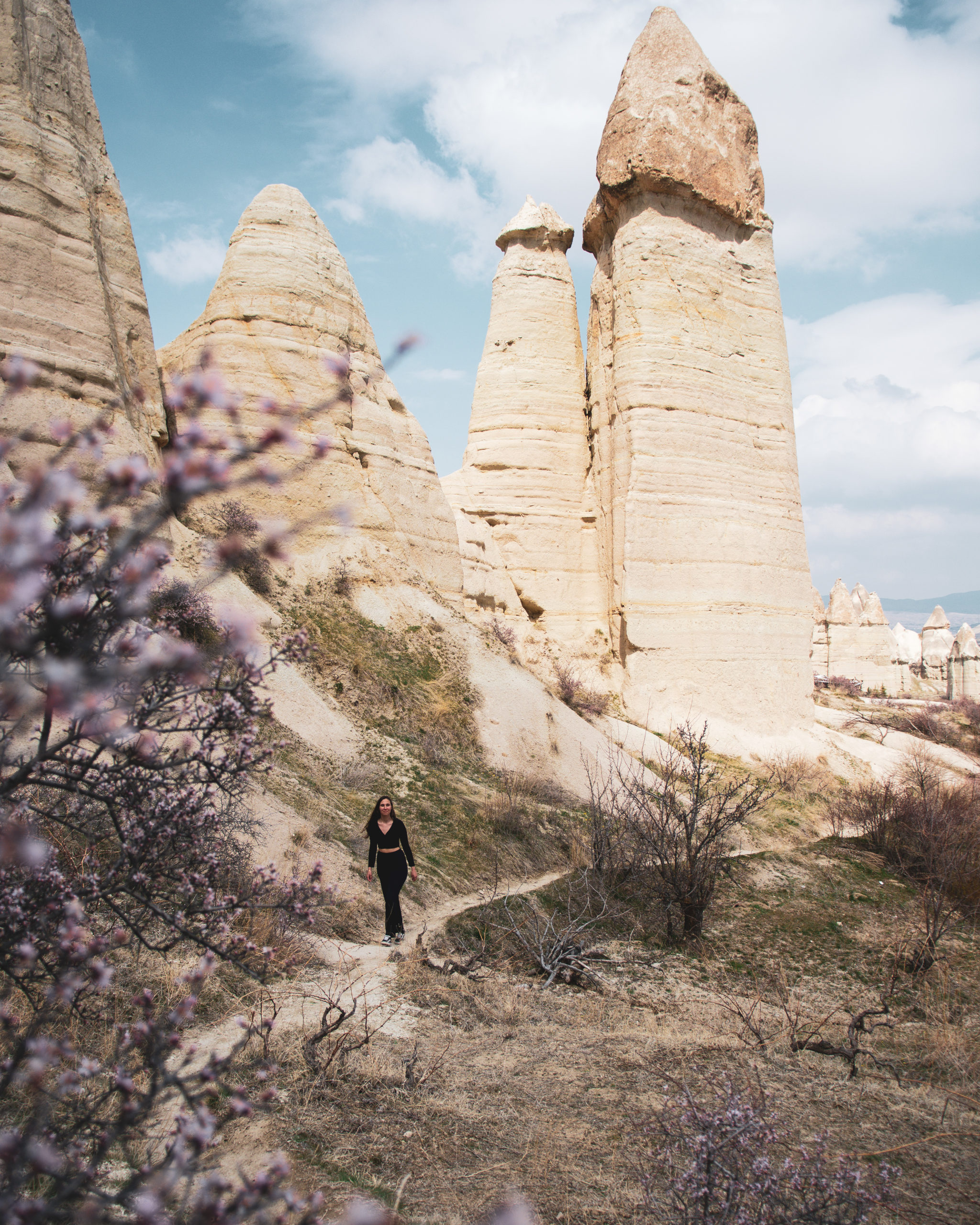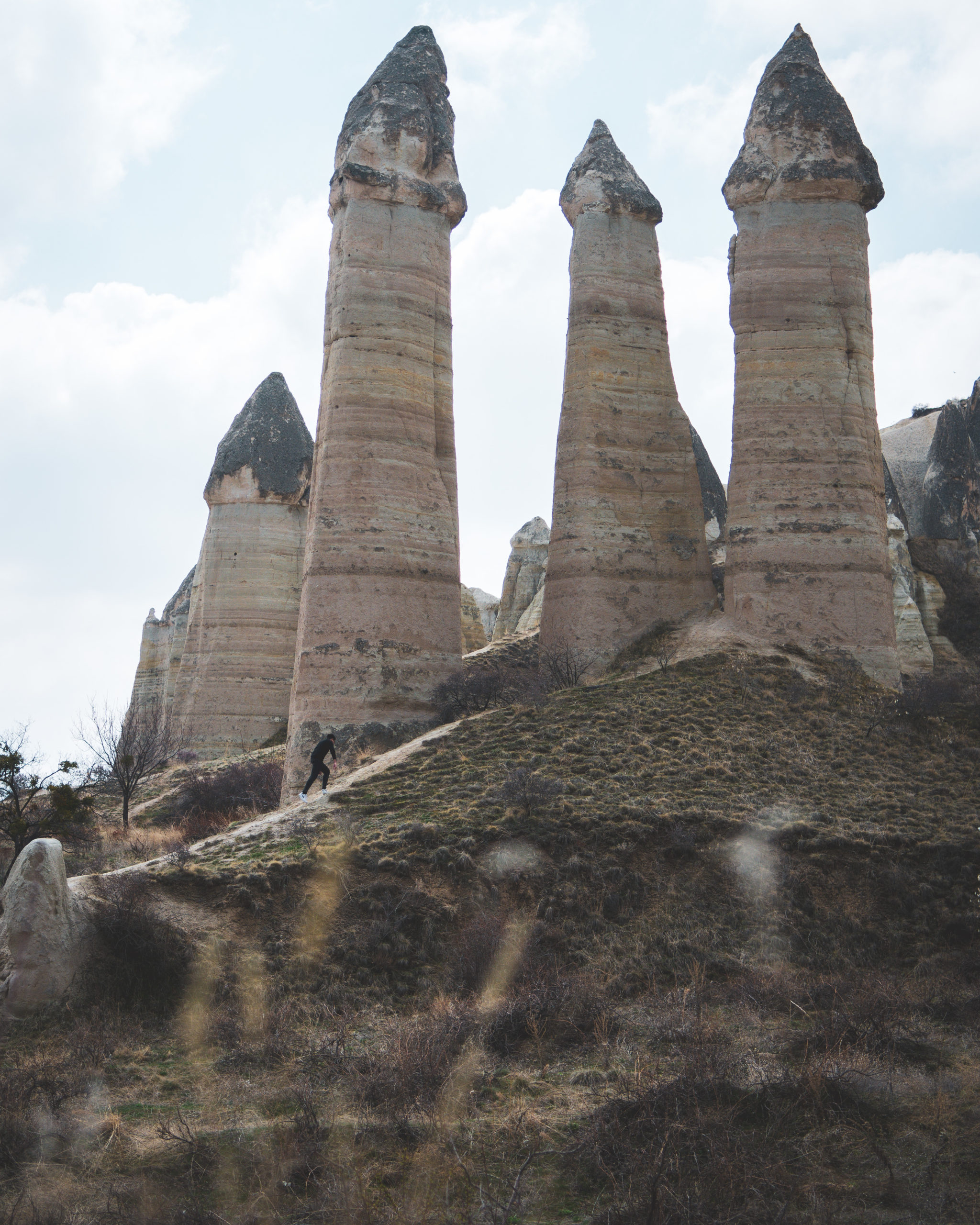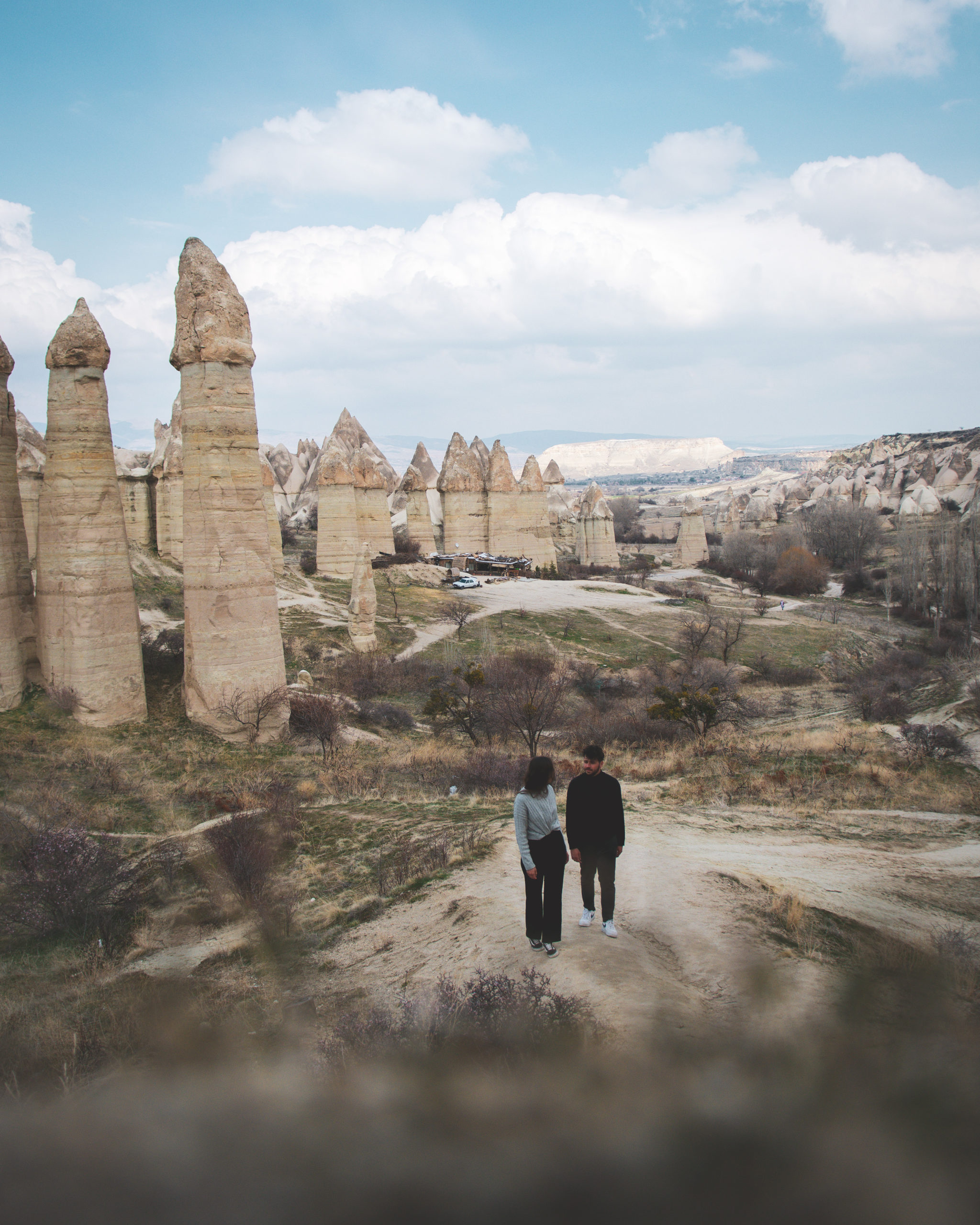 We went to Rose Valley and the sunset spot during our horse back riding tour and we were so blown away by the beauty of the place that we decided to come back to hike!
How to get there?
You have 3 options: you can drive to the sunset viewpoint, you can drive to the Rose Valley Trailhead or, that's what we did, you can drive to Meskendir Valley Trailhead. We parked right next to Kaya Camping and we followed the red paint that pointed toward Red and Rose Valley.
When you look at your map (we recommend downloading Maps.me), you'll see that the Rose Valley trail is a loop which is connected to Red Valley and it looks like a 8 figure. You easily do that additional hike to the top of Red Valley and it will be only an extra 15-20min.
We hiked Meskendir and Rose Valley as a loop and it took us about 2h with lots of photo-stops.
PS: be careful of the riders, they can go quite fast on these narrow paths and can surprise you. 2 riders came out of nowhere galopping super fast but hopefully we heard them right before they arrived and we had the time to jump on the side of the path ahah!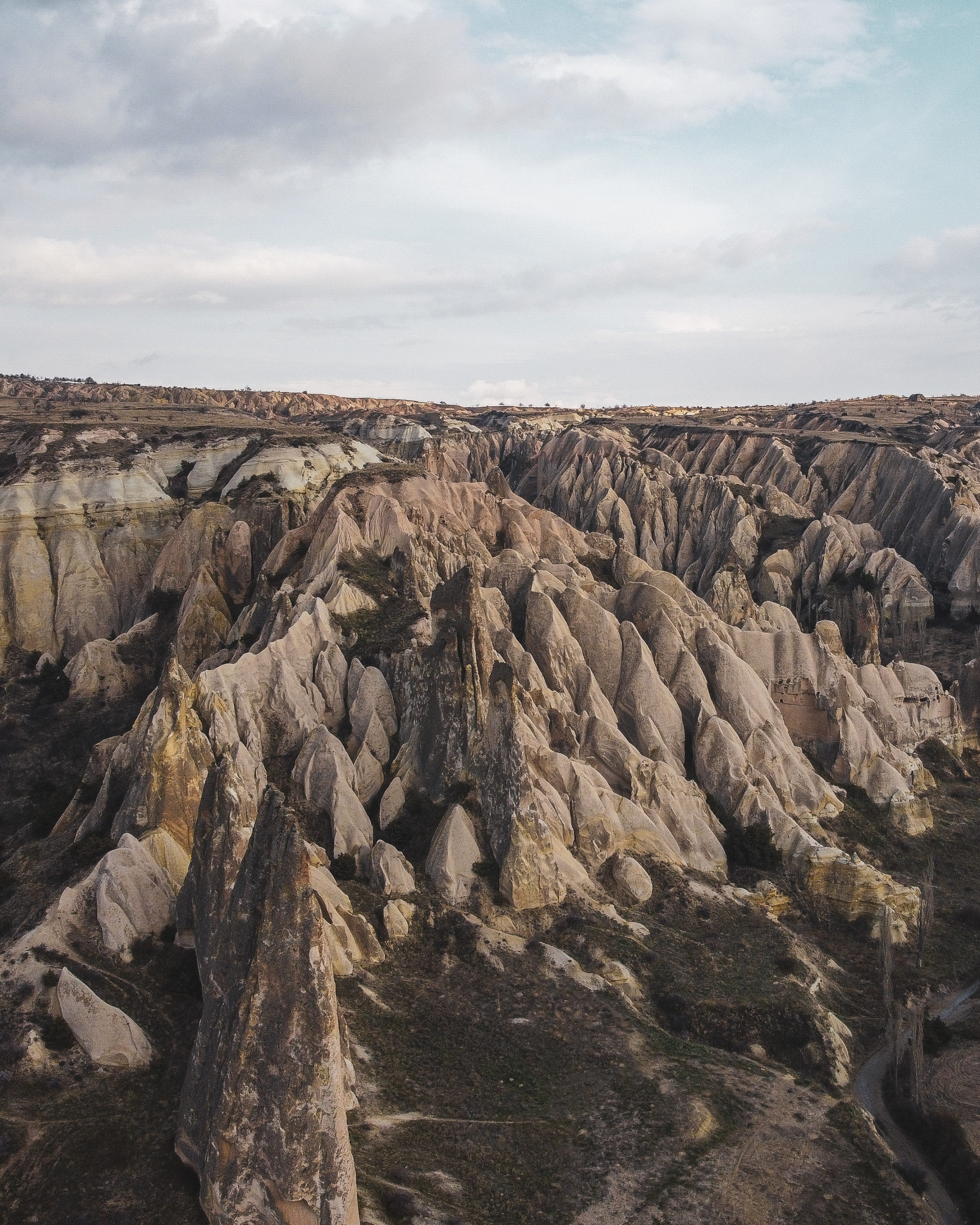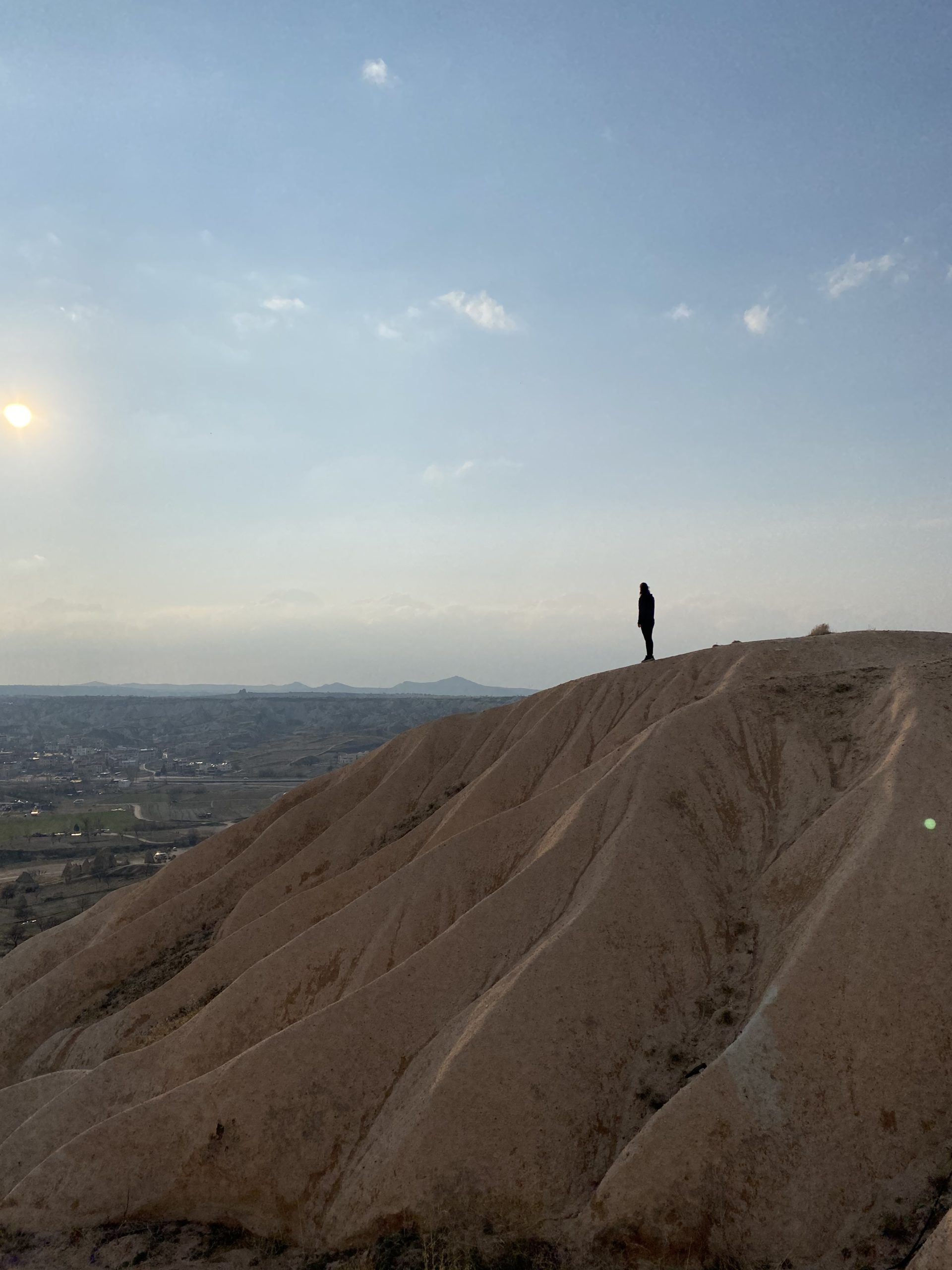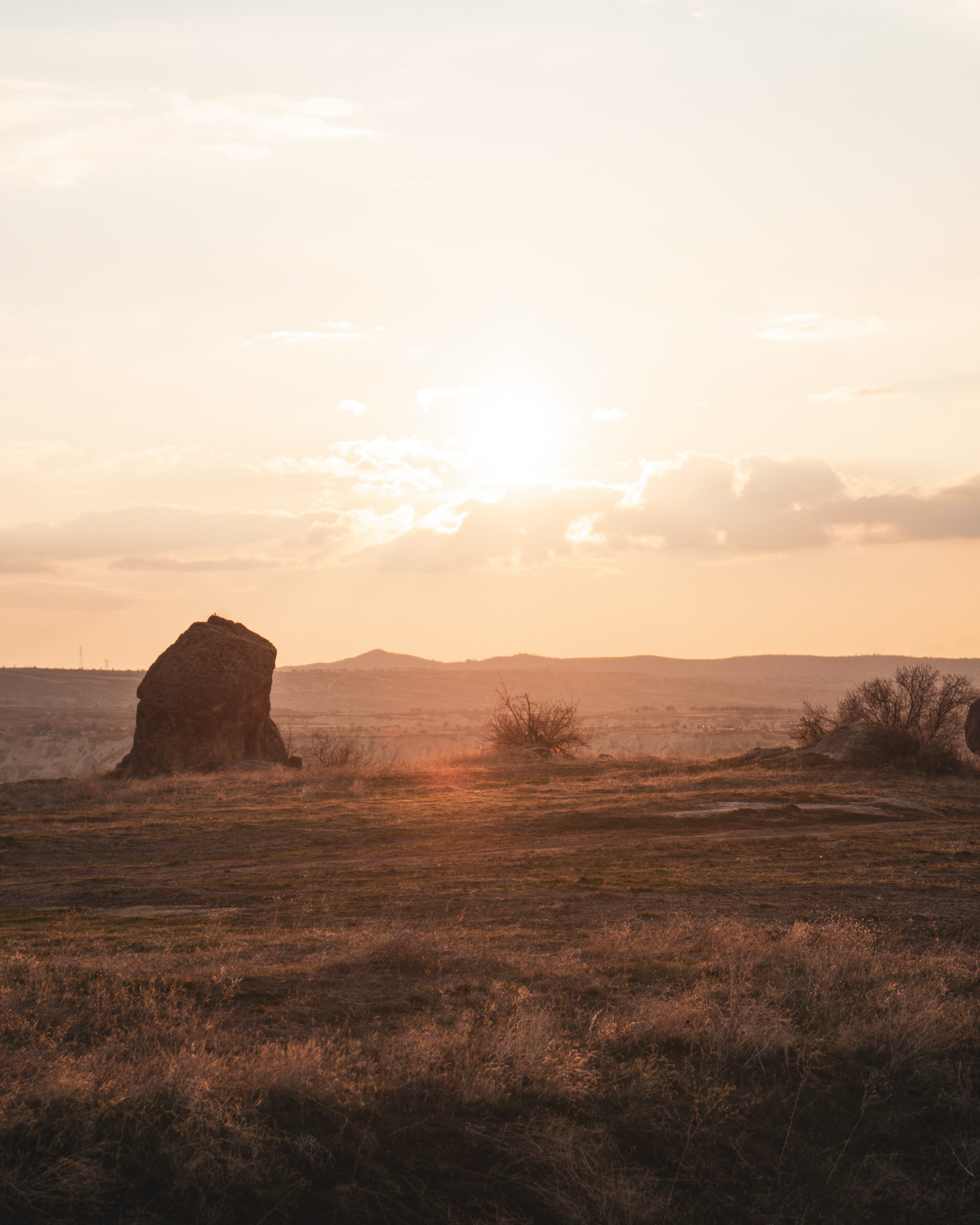 ADDITIONAL HIKES TO CHECK!

Because we stayed "only" 5 days, we couldn't do all the hikes we wanted to do but we thought we could spare you long hours of research by sharing with you the other hikes we wish we could have done!
Red Valley: you can simply add the small detour from your hike to Rose Valley to go to the top of Red Valley. And in any case, don't forget to there for sunset as it's one of the best spots of the region (the best for us!).
Ihlara Valley: it's a beautiful gorge and you won't believe such a wonder exist in the middle of a desert, it's all green and peaceful and there is a river and a waterfall. It's further away from Göreme than most of the other spots (almost 1.5h) but you can combine a visit there with the visit of Derinkuyu Underground City and potentially push to Tuz Gölü. There are a couple of possible loops to do in Ihlara, from 4km to 32km. The entrance fee is 30 TL/3€.
Zemi Valley: even a cab driver told us about it, apparently it's really amazing and so underrated! The trail is 6km starting in Göreme, close to the Open Air Museum and apparently the signs during the trail are pretty clear. At the end of it you may need to hitchhike back to Göreme, or alternatively you can be dropped by a cap at the end of the trail and walk back to town.
ADDITIONAL TIPS TO MAKE THE MOST OUT OF YOUR TRIP TO CAPPADOCIA!

First, you must realize that Cappadocia is a region, not a town. It is composed of some well known towns such as Göreme, Uchisar, Ürgüp, Ortahisar, Cavusin and many more! We drove there from Ankara as part of our road trip in Turkey but there are two airports serving Cappadocia: Kayseri Airport and Nevsehir Kapadokya Airport.
When to visit?
Cappadocia is wonderful all year round. If you've seen pictures during winter, you know that the snow is only making it look more like a fairy tale! Now, winters can get really cold and the balloons fly a little less often due to the weather, but flying over snow must be a unique. During the summer, balloons will fly most of the days, which is awesome, and you will also get the most beautiful sunrises and sunsets. However, it can be really hot, don't forget that you'll be in a desert, and it makes the hikes a little less comfortable, that's why we will advise you to hiker either early in the morning or late in the afternoon.
How many days to stay?
Many people think that a couple of days are enough to visit Cappadocia, how wrong! As we said before, there is so much to see, so much history to discover and trails to hike that we will advise you to stay at least 5 days. And, of course, it is the best way to maximize your chances of flying!
TIP: you can check the official flights state on this website. That way you can know if your flight is maintained or not (altough you'll be contacted by the company you're flying with, don't worry), but most importantly, for the days you're not flying, this will allow you to know if you should wake up for sunrise or not!
Where to stay?
The region is famous for its cave hotels, and yes you should try it! It's such a cool experience to sleep in a cave, we loved it!
We stayed at: KOZA CAVE HOTEL, they have the highest rooftop in the region and the best spot to witness the balloons at sunrise. But most importantly for us, it is a family-run sustainable hotel with only 10 rooms and the most friendly staff we've ever met. Bonus: they have the 2 cutest cats of Göreme! You can book your stay here.
We also stayed at MUSEUM HOTEL, which is a true masterpiece of architecture! The rooms are decorated with antique art pieces and the heated pool was a pure delight! It also has incredible view on the balloons (when the weather allows it ahah). You can book your stay here.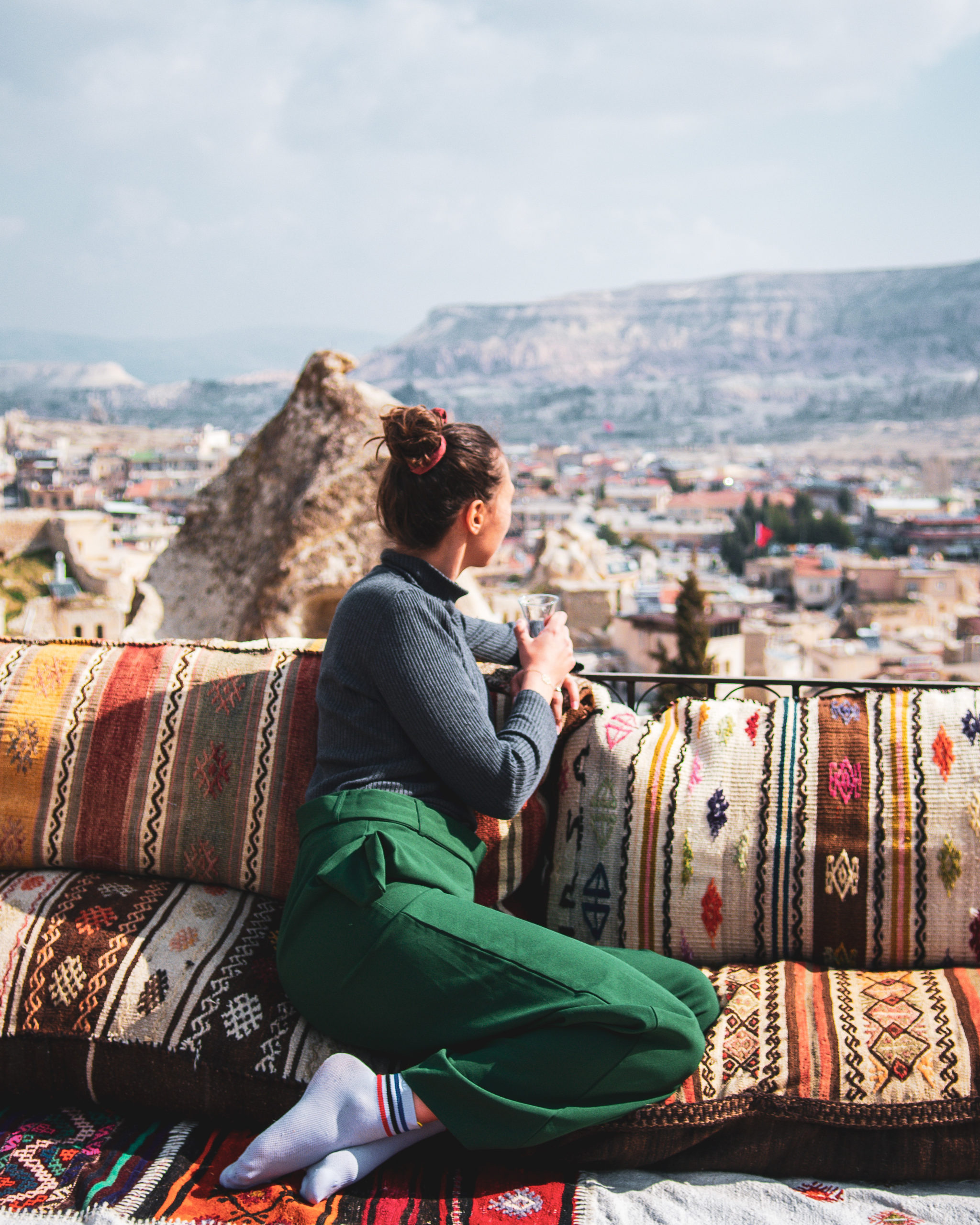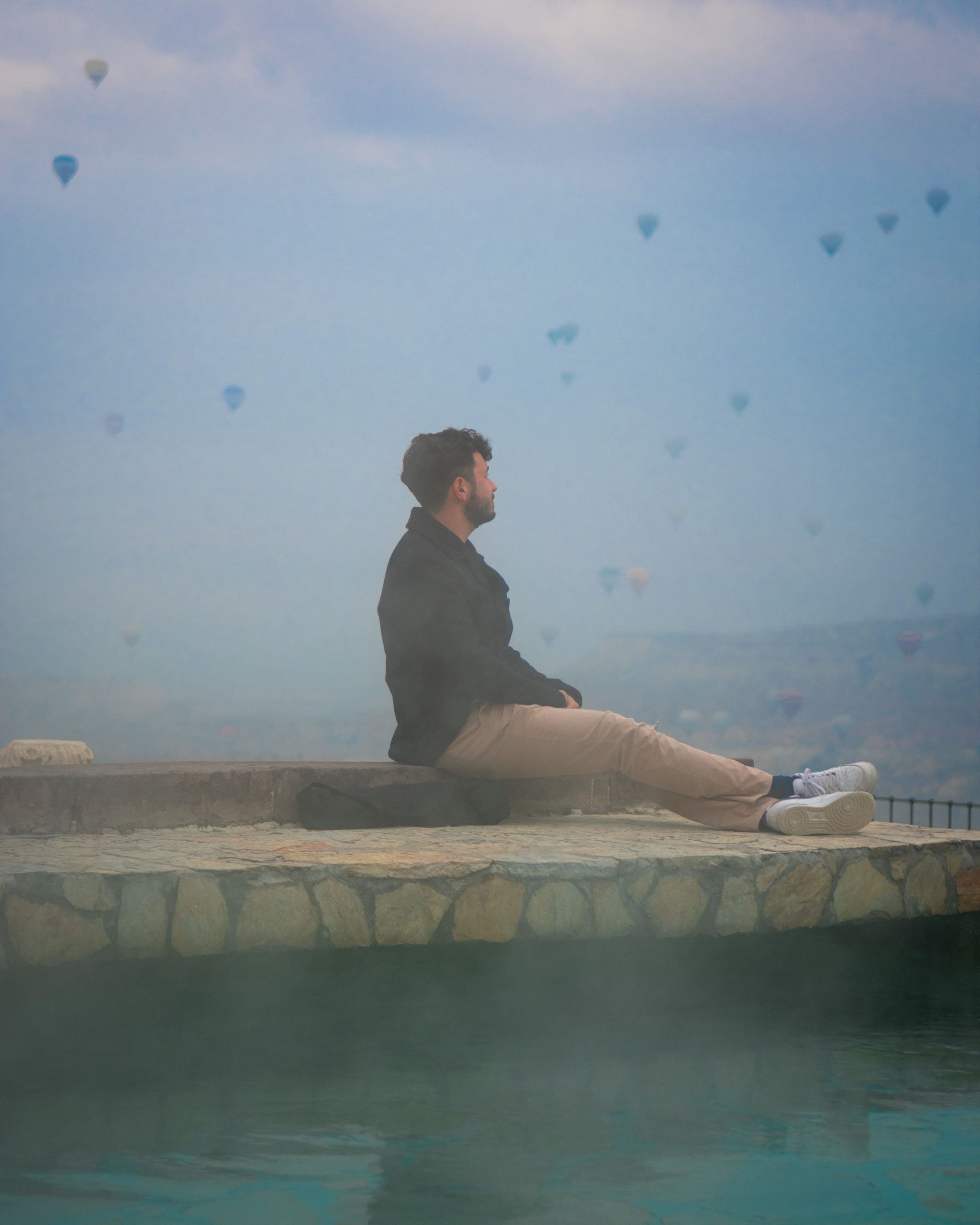 We hope you will enjoy your trip to Cappadocia!
HAVE YOU ALREADY CHECKED OUT OUR OTHER ARTICLE ON CAPPADOCIA?!
17 Incredible Things to do in Cappadocia: we share with you all the things we think you SHOULD do when in Cappadocia.
Marie & Karim
(If you liked this article or have any questions, please comment below! And make sure to follow our adventures on Instagram @InspiringExplorers